(REVOLT! signature is aired)
(The camera fades into an empty room. After a few seconds Sofia Clarke pops up from under the camera, uncomfortably close to the lens)
Sofia Clarke: Hey, hey, hey REVOLT! It's ya girl… SOFIA CLARKE and I'm joined by… no one! Just me this week guys, Allen is here but uhh he's a little preoccupied right now, and by preoccupied I mean he has to moderate the sit down later on tonight between Lexi Sheckler and Sienna Jade and well… let's just say he's a little nervous to do it.
Sofia Clarke: BUT YOU STILL GOT ME TO GIVE YOU THE RUNDOWN!! And oh boy it's a big night, we've got a little bit of everything! Our main event is… like… I know I consider it a dream match and I know a lot of you guys do to. We have The Prince of Phenomenal, fresh off his Middleweight Championship win last week taking on Chris Elite… AHHH I can't wait!
Sofia Clarke: AND… SCOTT DIAMOND!! I mean… he's not a part of the match BUT he'll be kicking off our show in just mere seconds! Strap in people… it's gonna be WILD!
…
(The camera zooms into the arena as "In the Air Tonight" by Phil Collins hits. Scott Diamond bursts through the curtain with a smug Albert Hitchman following closely behind, microphone in hand)
Bella Braxton: Ladies and Gentlemen, please welcome… SCOTTTTTTT DIAMMMMMONNNDDD!!
(The camera pans over to ringside)
James Peters: HELLLLOOO EVERYBODY James Peters and Rich Russillo welcoming you all to another episode of Saturday Night Resurgence… Scott Diamond and Albert Hitchman are out here tonight for one simple reason, last week Jackson Matthews issued the challenge, a match with Scott Diamond at REVOLT 2… tonight they're out here to answer that challenge.
(Diamond and Hitchman step through the middle rope. The music dies down as Hitchman brings the microphone up to his mouth)
Albert Hitchman: Should we be insulted? I'm… kind of feeling insulted. When Scott Diamond joined REVOLT! Pro Combat three months ago, it was so that he could re-establish himself as the premier force in professional wrestling… but… what's happened since then? How has Scott Diamond's REVOLT! experience been? Well, for starters he wasn't automatically given the Heavyweight Championship. He wasn't even given an opportunity to challenge for it. Instead it finds itself around the name of Andrei Sokolova, and yes… my reaction was the same as all of yours the first time I heard his name… who? I'm not knocking the guy for his talent… BUT let's be honest, the name Sokolova just doesn't have the same gravitas as SCOTT DIAMOND.
Albert Hitchman: Ever since then it's been a cavalcade of cheap shots, matches he didn't want to be in, it's been an all around terrible experience… now let me be clear, does Scott Diamond deserve to make his own matches? Does Scott Diamond deserve to be the Heavyweight Champion? Those are debatable questions but let me ask you a better question… why wouldn't REVOLT let Scott Diamond? Why wouldn't they let him make his own matches, why wouldn't they let him be the Heavyweight Champion? HE WAS the first and at one point the ONLY big name to jump ship from bigger promotions, HE was AND still is undoubtedly the biggest star they'll ever have here. It's not a question of whether he's deserving or not, it's whether a new, fledgling company should give their biggest star, a household name ACROSS the world the opportunities and things that he desires… and the answer to that question is, absolutely yes.
Albert Hitchman: But that hasn't been the case.
Albert Hitchman: And now, maybe the biggest slap in the face… challenged by… by a… I don't even know what to call him. A rodent. A pest. A "man" who was nothing but an example, anger release fodder for Scott Diamond… BUT NOW potentially an opponent, at a marquee event no less?
(There's a long pause. Hitchman begins to pace around the ring as Diamond stands stoic, a previous grin wiped off his face)
…
…
…
Albert Hitchman: We accept!
Albert Hitchman: BUT BE WARNED! This won't be a wrestling match, this won't even be a fight, what this will be Jackson Matthews is another example. An example in what happens when you bark up the wrong tree and stick your nose where it doesn't belong. An example to REVOLT! management about what happens when you don't give Scott Diamond the things he should be given… and an example to each and every single person who thinks that Scott Diamond has lost a step or two over the past few years. This isn't a cliche, it's the truth. The beast has been re-awoken… AND NO ONE IS GOING TO STOP HIM!!
(Hitchman tosses the microphone as the music picks back up and the camera fades into commercial)
(Commercial break)
Narrator: GETCHA MERCH… NOW 95% OFF!!
(Camera fades back to the ring)
Bella Braxton: The following contest is scheduled for one fall!
("Badass" by Saliva hits as Kevin Austin emerges from the curtain and makes his way to the ring)
Bella Braxton: Introducing first, from Los Angeles, California… weighing in at 264 pounds… KEVVVINNNN AUUUUSSSTIINNN!!
James Peters: The powerful Kevin Austin out first, I'm telling you Rich, it's only a matter of time before this guy really starts making waves!
("Rotting in Vain" by Korn hits as Heath Anthony approaches the stage)
Bella Braxton: And his opponent, from Dayton, Ohio… weighing in at 211 pounds… HEEAAAATTTHHHH ANNTTTHHHONNNNYY!!
Rich Russillo: But power isn't everything Peters! We saw last week, Heath Anthony has many talents… and he used those talents to his full advantage to pick up the victory last week, let's see if he can do it again!
(DING! DING! DING!)
James Peters: AND HERE WE GO!! KEVIN AUSTIN IMMEDIATELY CHARGING AT HEATH ANTHONY, DRIVING HIM BACK INTO THE CORNER AND DELIVERING A FEW SHOULDER THRUSTS!! YOU KNOW, I CAN'T BELIEVE YOU SOMETIMES RICH, HOW CAN YOU NOT BE IMPRESSED WITH THIS GUY… JUST LOOK AT HIM, EASILY OVERPOWERING HEATH ANTHONY HERE, GRABBING HIM BY THE NECK AND TOSSING HIM NEARLY HALFWAY ACROSS THE RING… ANTHONY GETS BACK TO HIS FEET… BUT AUSTIN DRIVES HIM BACK INTO THE ADJACENT CORNER, AND CONTINUES TO DISH OUT THE SHOULDER THRUSTS!!
Rich Russillo: I never said he didn't impress me! Of course he impresses me, he's one of the strongest men we have on the roster right now! I simply said that strength isn't everything, there are ways to get around it… if you're good enough!
James Peters: Kevin Austin grabs Anthony by the arm and whips him ONCE AGAIN into the corner… HE COMES CHARGING BUT ANTHONY GETS HIS FEET UP AND SENDS THEM RIGHT INTO THE FACE OF KEVIN AUSTIN WHO'S STAGGERED… AN OPENING HERE FOR ANTHONY WHO RUNS OUT OF THE CORNER… AND HE GOES LOW, ATTACKING THE KNEE!! TRYING TO ELIMINATE THE POWER GAME OF KEVIN AUSTIN!! AUSTIN DROPS DOWN TO HIS KNEE… Anthony gets up behind Austin… AND CONNECTS WITH AN INVERTED DDT!!
James Peters: Anthony now begins the process of methodically stomping all over the body of Kevin Austin, trying to weaken his limbs! Again all in an attempt to take the power out of Kevin Austin's game! Anthony knows what he's doing here! HE LIFTS HIS FOOT UP AND DELIVERS A STOMP TO THE RIGHT ARM! A STOMP TO THE LEFT ARM… A STOMP TO THE RIGHT FOOT… A STOMP TO THE LEFT FOOT… Anthony now makes his way over to the head of Kevin Austin… WHERE HE DROPS A KNEE ACROSS HIS FACE, JUST FOR GOOD MEASURE!
Rich Russillo: Incredibly smart tactic by Anthony here. You know, you always hear about how it's good to keep a high flyer down, but really… the same could be said for just about any opponent, especially a powerhouse like Kevin Austin… there isn't much he can do when he's laying in the center of the ring!
James Peters: Anthony gets Austin back to his feet but Austin meets him with a HARD uppercut right to the jaw! Anthony is staggered… HE FALLS BACK INTO THE ROPES BUT HE COMES BACK WITH A RIGHT HAND THAT'S EQUALLY AS HARD, STUNNING KEVIN AUSTIN WHO STUMBLES BACKWARDS… AUSTIN HOWEVER ABLE TO REGAIN HIMSELF, HE SWINGS FOR A SECOND RIGHT HAND BUT THIS ONE IS BLOCKED!! BLOCKED BY ANTHONY WHO MEETS AUSTIN WITH A KICK TO THE MID-SECTION… AND NOW AN ENZIGURI RIGHT TO THE SIDE OF KEVIN AUSTIN'S HEAD… BUT HE STILL DOESN'T GO DOWN!! WHAT IS THIS GUY MADE OF?! AUSTIN RUNS OFF THE ROPES… BUT RIGHT INTO A BIG BOOT FROM KEVIN AUSTIN!!
James Peters: Kevin Austin gets Anthony back to his feet and tosses him over his shoulders… SAMOAN DROP!! You get the feeling that Kevin Austin is just toying with him here. Anthony was able to get in a lot of offense but Kevin Austin now is able to get moves in with ease, no fight or effort being put up here by Anthony to reverse! Kevin Austin holds the arm of Anthony as he gets him back to his feet again… AND DELIVERS A KNEE RIGHT TO THE FACE!! NOW LIFTING ANTHONY UP… AND DELIVERING A GLORY BOMB!! THAT CRUCIFIX GLORY BOMB, THROWING ANTHONY HALFWAY ACROSS THE RING!! KEVIN AUSTIN IS HAVING HIS WAY WITH HIS OPPONENT HERE… NOW PICKING HIM UP AND THROWING HIM OVER HIS SHOULDERS!!
James Peters: LOOKING FOR STRAIGHT TO THE BANK… BUT ANTHONY SLIDES OFF OF AUSTIN'S BACK… INFECTED!! THAT BUZZSAW KICK RIGHT TO AUSTIN'S HEAD… AND NOW AS KEVIN AUSTIN WAS FALLING… ANTHONY CAUGHT HIM… RIGHT INTO THE SLEEPER HOLD!! SLEEPER HOLD APPLIED!! HE HAS IT ALL THE WAY LOCKED IN AND KEVIN AUSTIN IS FADING FAST… HE FLAILS OUT HIS ARMS, LOOKING FOR THE ROPES BUT HE'S NOWHERE NEAR… HIS FACE TURNING A BRIGHT RED, ALMOST PURPLE… HE REACHES HIS ARM OUT BUT… OH!! HE'S OUT!! HE'S OUT!! THE REFEREE CALLS FOR THE BELL!!
(DING! DING! DING!)
("Rotting in Vain" begins to play as Heath Anthony begins to celebrate his victory)
Bella Braxton: Your winner… HEEEEATTTTHHHH ANNNTTHHHONNNYYY!!
James Peters: WOW!!
Rich Russillo: I TOLD YOU PETERS!! I TOLD YOU!! Heath Anthony with a brilliant gameplan here tonight! Kevin Austin was dominating towards the end of this match but Anthony found that ONE opening and was able to take full advantage of it! Applying a sleeper hold and putting the big man OUT for the count!
(The image transitions from the ring to backstage as it focuses on a standing Allen Livingston who has a mic in his hand.)
Allen Livingston: Welcome back everyone. Right now we're about to enter a room where Lexi Sheckler is waiting for my arrival to conduct the sit down interview with her opponent for REVOLT 2, the Freeweight champ, Sienna Jade. Now, to catch you guys up – we tried getting Sienna to come into this room since Resurgence started but unfortunately she has refused to have a word with us. Everytime I walk near her she scoffs and says "Ew." … Which, I have no idea why. But! A few minutes ago we had our intern go out and uh… not necessarily LIE, but tweak the truth a bit so we can have the champ come in. See you guys in a bit!
(Allen gives a hesitating smile as he proceeds to walk towards a door that has a sign that reads "DO NOT ENTER, MEETING IN SESSION" The camera fades to commercial.)
(Commercial break)
(RESURGENCE comes back from commercial as the camera's focus on a room with two leather seats sitting across one another and a wooden stool place in the middle. In one of the seats, Lexi Sheckler sits as she gazes away without an expression on her face.)
Lexi Sheckler: So… Am I going to be waiting all day?
Allen Livingston: No! Of course not. We, we're just having a rough time trying to get Sienna to get in here–
Lexi Sheckler: I don't know why this sit-down meeting was created anyway. Having a legitimate, coherent conversation with a woman such as Sienna Jade is unheard of. Anything that I say goes in through one ear and comes jolting out of the other. But if you really want her to come, I can drag her here free of charge.
Allen Livingston: N-no, no violence! I just – I just need her to com– God damn it!
(Allen pulls out his cell phone from his pocket and begins to dial. He then places the phone near his ear.)
Allen Livingston: Where are you?! Oh, you're on your way? Fantastic! Thank you!
(Allen hangs up as his worried demeanor transitions to a giddy state.)
Allen Livingston: Looks like we won't have to wait any longer!
Lexi Sheckler: Wonderful. My excitement levels are through the roof.
(All of a sudden, the door is swung open as The Freeweight Champion, Sienna Jade, comes into frame. SIenna, wearing her ring gear with her title placed on her shoulder, walks in with a smile that immediately turns into a frown as she spots Lexi sitting in the middle.)
Sienna Jade: What the—
Allen Livingston: Welcome, Sienna! Please take a se–
(Sienna turns and gets towards the intern who is a young girl approximately in her early 20's who also appears scared shitless.)
Sienna Jade: You told me … (Sienna lowers her voice) *he* was going to be in here. I swear to God, I'm going to take those glasses and shove them straight up your ass if i find out you're lying!
Allen Livingston: Sienna, please! Take a seat…
(Sienna stares the intern down as she carefully makes her way to the open seat that is placed across of Lexi. Lexi gives a cocky smirk as Sienna appears wary.)
Allen Livingston: Thank you so much for joining me today for this sit-down meeting. Lexi, I want to start with you – how excited are you to not only be facing Sienna for the Freeweight championship, but to also be the main event of REVOLT 2?
Lexi Sheckler: I'm very honored that REVOLT has given me, well, us, the opportunity to show what the Freeweights can bring to the table. We have talented and not so talented individuals in the division but I will say the ones with actual skills outshine those who do not… But some untalented folks did manage to slip through the cracks now didn't they? But to say that I am 'excited' about our main event match – (Lexi shakes her head.) No. I'm not excited over something I was expecting this entire time. I expected for this to come, it just came at a sooner rate than I originally anticipated. Of course I was expecting something major come my way since my first day. I'm a woman of that caliber. I've shown everyone what I'm about and I never expected anything less.
Sienna Jade: Oh, get over yourself.
Lexi Sheckler: The pot calling the kettle black, eh?
Allen Livingston: Sienna, what do you mean by your comment?
Sienna Jade: Oh, don't try to get all Dr. Phil with me Ally boy. I mean what I said – the literal translation. (Sienna leans towards her seat.) GET OVER YOURSELF. You know damn well that if it wasn't for me then you wouldn't be in this position. If Ms. Extreme was the Freeweight champion, you'd be on the damn pre-show. I am the sole reason why we got that main event spot. ME.
Lexi Sheckler: So let me get this straight – if you were facing someone as mediocre as… well, your partner Kassidy Heart, you mean to tell me that you would still get that main event spot? Is that what you're saying? You think people would pay good money to watch you two do your run-of-the-mill version of wrestling?
Sienna Jade: You really want to bring Kassidy into this?!
Lexi Sheckler: I think I do, Sienna. You easily intimidated hag.
(Sienna rises to her feet as Lexi does the same.)
Allen Livingston: Please! Sit! (Both women gradually sit as Allen recomposes himself.) Okay… Sienna… What is it going to take to have Lexi beat you at REVOLT 2?
Sienna Jade: (chuckles) What's it going to take to beat me? Please, don't make me choke on my spit and die.
Lexi Sheckler: Maybe that way you'll finally get the hell out of REVOLT.
Sienna Jade: Cute, really. How long did it take for that old noggin' of yours to dust off the cobwebs and generate that lackluster response?
Lexi Sheckler: The same amount of time it's going to take for me to beat you for that championship, Sienna. A millisecond.
Sienna Jade: Strong words, Shecklez. But you're in for a rude awakening come April 7th. Not only will you enter REVOLT 2 as a championshipless amateur but you're going to leave as a battered, hopeless championshipless loser. There's no way in hell that you will take away this title that I worked so hard to obtain. I've gotten a taste of the good life and I'll be damned if my time here will be cut short.
Lexi Sheckler: (Slowly stands.) You can think that all you want, Sienna, but you've never been in the ring with someone like me. You can generate whatever plot you want so you can keep your title but the thing is that you can't accurately depict how our match will go down. I'm a woman of many tricks up her sleeves and you'll be the one in store for a rude awakening. You can study my past matches all you want, but the Lexi Sheckler you'll face at REVOLT 2 will be one the world hasn't seen yet. I'll make you bow down to my feet as I raise your… my title high in the air. April 7th you have a date with death. Just remember to not be late.
(Lexi smiles as she walks out of the frame. An unsettled Sienna sits as she tightly grasps her Freeweight title. Allen attempts to speak to her as Sienna is repulsed by his sight. The camera fades back to the ring)
Bella Braxton: The following contest is scheduled for one fall! Introducing first!
( 'Our Time Now' by Plain White T begins to play as Layla comes cartwheeling out from the curtain. Her feather boas flying wildly as the energetic young woman flips and spins to the entrance ramp before stopping at the top of the ramp, landing on her feet and beaming around at the applauding crowd while nodding her head and tapping one foot to her theme song. Once she is finished taking in the crowd she begins taking long, skipping steps down the ramp, alternating sides to try and high five and hug as many fans as possible, picking out a lucky few to give her feather boas before she finally makes it to ringside.)
Bella Braxton: Residing in Orlando, Florida… Weighing in at 104 lbs… THE GIRL NEXT DOOR.. LAAAAAAAAAAYLAAAAAAAAAAA LOCKHAAAAAAAAAAAART!!!!!!!!!!!!!!!!!
James Peters: It's always such a pleasure to see Layla out here interacting with the fans. She truly is a fan favorite and these people are behind her 100%.
(Layla's theme fades as 'Watch Me' by Jaden Smith begins to play through the speakers as Stella makes her way out of the curtains. She stands for a moment looking at the arena at pointing at her fans, before she jumps through the stage high-fiving her fans and getting into the ring.)
Bella Braxton: And her opponent! Residing in Los Angeles, California… Weighin in at 110 lbs… 'THE STAR' … STEEEEELLLAAAAAA STAAAAAAAAAAAAAAR!!!!!!!!!!!!!!!!!!!!!!!!
James Peters: Making her REVOLT! Pro Combat debut, Ms. Stella Star! Stella is determined to make a good first impression as she locks eyes with the always-so-pleasant Layla Lockhart.
Rich Russillo: Being nice to the Freeweights ain't gonna finally get your laid, Peters. Stella is a bad girl and whether she wants to admit it or not, she's out for blood.
(Both Stella and Layla meet in the middle as Layla smiles and extends her hand for a handshake. Stella gives a faint smile as she also goes in for the handshake… but swoops her hand away at the last minute. Layla chuckles as she takes a few steps back and Stella does the same.)
Rich Russillo: WHAT'D I TELL YA?!
(The referee checks both women as he rings for the bell.)
(DING! DING! DING!)
James Peters: Both women lock up in the middle of the ring as Stella immediately slides out. Stella begins to wave off Layla as these fans are showing their slight disapproval. Oooh but Layla is moving as she baseball slides the ATL native right in the back that sends Stella tumbling forward! Stella is down as Layla is going out after her! Layla Lockhart is taking her head and ramming it right into the apron! She goes for it again! Layla appears very intense tonight because I think she's ready to redeem herself after her loss last week to Sienna Jade. Layla tries for it again as Stella delivers a shot to the gut of her opponent. Stella is now striking Layla right in the face with one of those MMA style elbow strikes and tossing her back in! The referee is reprimanding her for exiting the ring in the first place.
Rich Russillo: Hey ref! Don't get all cocky now! Leave Stella alone! Oh, hold on… Stella is not happy at the referee giving her some lip! But Stella is about to to show the ref what she's all about. She's now stomping away a the floored Layla. Stella now picking up the light Layla and tossing her shoulder first right into the corner! And now she grabs her and puts her head underneath her arm… DDT! PLANTED ON THE SKULL OF LAYLA LOCKHART! Man, Stella is so deadly when she gets in the zone like this!
James Peters: You are right about that, Rich, indeed! Stella has shown that she's a very versatile human being. She will be sweet and kind to those who she deems deserve it but will be ruthless and cruel to those who she sees as a threat. Regardless, Stella picks Layla up and hits her with a devastating backbreaker! And here she goes for the cover!
Ref: ONE!! TWOOOOOOOOOOO!!!
Rich Russillo: Layla kicks out as Stella looks up at the ref in absolute frustration! That count seemed a bit slow to Stella. Stella is now delivering a plethora of shoot style kicks onto the chest of Layla Lockhart! ONE! TWO! THREE! FOUR! FIVE! SIX! JESUS!
James Peters: She goes for a big one to the side of the head as Layla ducks it and rolls herself up to her feet. WAIT! Layla follows through as Stella gets onto her knees. Shoot kicks now flying from Layla! That's the ability of Miss Lockhart here, she has the quickest reflexes of anyone here in the Freeweight division. She's as quick as a cheetah!
Rich Russillo: Stella immediately scrambles as she interwinds herself in the ring ropes, forcing the referee to come between the two competitors. Stella is showing some in-ring awareness! Something that not even the veterans around this joint have! Layla is catching a breather as out of nowhere Stella charges and hits Layla with a clothesline that sends Layla down! A big mistake from Ms. Lockhart, you have to be aware of your surroundings AT ALL TIMES. Even when it seems that you shouldn't be!
James Peters: Stella stands as she awaits for Layla to slowly get on her feet. Finally Layla rises as Stella kicks her in her shin which sends Layla down to one knee. Stella rolls underneath the bottom rope and pulls Layla over to that corner by her leg. I don't like the look in Stella's eyes right now. But she's certainly snapping back into that zone! Stella is now ramming her leg right into that metal post! Stella is now backing up…. What else does she have in store?! She comes charging in and OH MY GOD! SHE JUST LEAPED UP AND DROP KICKED LAYLA'S LEG! SMASHING IT BETWEEN HERSELF AND THAT METAL POST! STELLA HAS THIS IN THE BAG AS LAYLA IS WINCING IN PAIN! STELLA SLIDES IN AND GOES FOR THAT PIN! ITS DONE! WE GOT OUR WINNER!
Ref: ONEEEEEEEEEEEE!! TWOOOOOOOOOOOOOOO!! THRE—
Rich Russillo: WHAT! LAYLA, LAYLA JUST KICKED OUT! THE HEART THIS WOMAN HAS IS UNBELIEVABLE! Here comes Stella one more time and forcibly picks up Layla and demands her to stay on her feet. Stella wraps her arms around Layla and looks like she's going for a german suplex! And it connects! Stella sends Layla flying in the air – WAIT, NO! LAYLA LANDS ON HER FEET. LAYLA KICKS AN UNSUSPECTING STELLA AND ATTEMPTS A SUPERPLEX… IT CONNECTS! LAYLA IS STILL IN THIS! THAT SUPERPLEX TOOK EVERYTHING OUT OF HER BUT LAYLA IS IN DESPERATION MODE! SHE'LL DO ANYTHING TO GET THAT W!
James Peters: BOTH WOMEN ARE LAID OUT WITHOUT ANY MOVEMENT. THE REFEREE IS CHECKING BOTH WOMEN AND HE STANDS IN THE MIDDLE AS HE BEGINS TO COUNT. ONE!.. NO MOVEMENT… TWO!… WAIT, I THINK I SEE STELLA MOVING HER ARM SLIGHTLY… THREE… FOUR! Both women are crawling towards the ring ropes and slowly pulling themselves up. Stella just let out a loud groan primarily out of frustration. Layla is also getting fired up here and before this point she was fighting for survival but now she's determined to end this! Both women viciously lock up as Stella puts Layla in a headlock! Stella is squeezing the hell out of Layla's neck but Layla punches the stomach of Stella which forces her to let go! STELLA WITH AN UPPERCUT THAT KNOCKS THE SPIT OUT OF LAYLA'S MOUTH! STELLA IS DONE! STELLA IS SETTING LAYLA FOR THE DOUBLE KNEE FACEBREAKER, OR AS STELLA WOULD LIKE TO CALL IT 'CA$H" … BUT LAYLA BACKHANDS STELLA WHICH LEAVES HER STARTLED! AND ANOTHER BACKHAND SLAP! AND ANOTHER! LAYLA YELLS AS SHE HOOKS HER ARM AROUND STELLA… CAROUSEL OF PROGRESS! THE STANDING SIT-OUT SHIRANUI CONNECTS! LAYLA HOOKS BOTH OF STELLA'S LEGS! THE REFEREE BEGINS TO COUNT!
Ref: ONEEEEEEEEE!! TWOOOOOOOOOOOOOO!! THREEEEEEEEEEEEEE!!!
(DING! DING! DING)
( 'Our Time Now' by Plain White T picks up where it left off as Layla falls to her back out of exhaustion. Stella rolls towards the corner as Layla begins to get on her feet.)
Bella Braxton: AND THE WINNER OF THIS MATCH.. LAAAAAAAYLAAAA LOCKHAAAAAAART!!!!!!!!!!!!!!!!!!!!!!!
James Peters: Insanity! These two were so evenly matched up it's crazy! Really, this match could've gone either way. Both have definitely earned the respect from the REVOLT universe as they're on their feet giving a standing ovation. I'm definitely with them!
Rich Russillo: Both women showed such great athleticism but.. Uh oh.. Looks like Stella has gone to her feet and is meeting the victorious Layla in the middle.)
(An exhausted Stella walks towards Layla as Stella is still holding her cheek after the vicious slaps she received. A wary Layla is in fighting stance as Stella gets in her face… Stella slowly steps back and extends her hand for a handshake. Layla is hesitant as the roaring crowd encourages for Layla to shake it. Layla takes a few seconds and shakes her hand! Stella smiles as she removes her hand and starts making her way backstage. Layla stands in the ring slightly confused as the cameras fade to commercial.)
(Commercial break)
(A recap of Michael Bishop on Real Talk is shown)
Bella Braxton: This match is scheduled for one fall and is a tag team match! Introducing first, already in the ring, "The Violent Gentleman" JAAASSSONNNN COOOLLLLLINNNSSS and "The Vision" OOOSSSIIIIIRRRRIIIIISSSS!!!
James Peters: We're getting a look at some new blood here tonight in this tag match as "The Vision" Osiris seems to have brought a friend in Jason Collins. What do you make of "The Violent Gentleman", Rich?
Rich Russillo: That's a pretty hefty moniker to put on yourself before you even stepped foot here, Peters. We'll see if he lives up to it tonight.
("Go Legend" by Big Sean comes on the PA. The crowd gives a big response, and Hurricane Hawk walks out side by side with Ms. Extreme as the two wear matching dark bomber jackets over their ring gear, with Hurricane Hawk sporting his Light Heavyweight Championship over a shoulder.)
Bella Braxton: Their opponents, they are the team of MS. EXTREME AND THE REVOLT! LIGHT HEAVYWEIGHT CHAMPION, HURRICANE HAWK; THEEEEE LEGEND KILLASSSSS!!!!
James Peters: Here's two people we know can bring the violence! The team of Hurricane Hawk and Ms. Extreme have proven to be one hell of a tandem, even if they came up short against Maximus Grier and Kassidy Heart last week! The referee calls for the bell!
(DING! DING! DING!)
James Peters: Hurricane Hawk and Jason Collins start out and they meet in the middle with a collar and elbow tie up. Hawk gets the advantage as he grabs Collins' elbow and twists his arm around, only to strike him with a short arm clothesline! He then hits a jumping knee strike to Collins' head and then applies a sitting headlock! Hawk looking smooth and confident right away out of the gate! Collins gets to his feet however, and sends an elbow into Hawk's gut, causing Hawk to loosen his grip. Collins powders out and tags Osiris in!
Rich Russillo: This Violent Gentleman is looking not so violent.
James Peters: Osiris makes up for his partners early misstep as he comes rushing in the ring, connecting with a running dropkick. Hawk pops right back up, only to be met with another! And then a third! Osiris is a house on fire! He finally hits Hawk with a textbook suplex! He goes for the early cover!
ONEEE!!… TWOOO!!…
James Peters: Hawk kicks out confidently at 2. I don't think he expected Osiris to just bust out like this but he's getting to his feet. Osiris goes to run at Hawk but Hawk moves out of the way..Hawk jumps up-LEGACY CUT-NO! Osiris throws Hawk off of him just at the last second! That was close!
Rich Russillo: And Hawk telling Osiris he almost had him!
James Peters: Hawk smirks before tagging in Ms. Extreme! Extreme walks over to Osiris but he kicks her in the gut and hooks her with the DDT! Osiris just impressive tonight! But he doesn't go for the cover and instead cockily walks over to his partner and tags himself out!
Rich Russillo: Yeah, not sure how smart that was, especially against a competitor like Ms. Extreme.
James Peters: Collins comes in cocky and sure of himself but soon walks into a slap in the face by Ms. Extreme! Collins didn't like that as he turns around and looks like he's gonna kill Extreme! But she's not phased as she slaps him again! And again! He pie faces Extreme, but is answered with a spinning back kick for his troubles! She goes for the cover!
ONEEE!!… TWOOO!!…
James Peters: Collins kicks out and holds his face. I don't think Collins thought this was how his debut match here was going to go!
Rich Russillo: Yeah, well we've seen this before. Some cocky macho guy thinks he can come beat up a hot chick easy, but then gets his ass handed to him. He needs to take this more seriously.
James Peters: Extreme shows her ring savvy by quickly getting back on Collins and continuously stomps him. After the 6th one, Collins turns over onto his back and grabs Extreme's foot. He gets up with her foot still in his hand and pulls her towards him…capture suplex! He pops up and calls for a shining wizard but when he runs towards Extreme, she moves out of the way. She grabs Collins by the back and hits the Belly to Back Suplex! I think we know what's coming next and so does Hawk, as he drops down to the floor, runs to Osiris' side, and pulls his feet from under him, causing him to smash his face into the apron!
Rich Russillo: That's the hardest part of the ring, Peters. Just though you should know that.
James Peters: Extreme picks Collins up, taps him on the face disrespectfully and then hits BITCH CAMP! BITCH CAMP FOR THE WIN! SHE GOES FOR THE COVER!
ONEEE!!… TWOOO!!… THREEEE!!
(DING! DING! DING!)
James Peters: The Legacy Killas picking up some momentum here tonight!
Rich Russillo: I think Osiris screwed his own team here. He was holding his own until he tagged himself out. I guess you can't fix stupid, Peters.
James Peters: Yes, we may have seen a different outcome, but as it stands right now, Hurricane Hawk and Ms. Extreme are standing here victorious!
(Camera fades on Hawk and Extreme holding each other's arms up in victory)
(REVOLT 2 promo is aired)
Bella Braxton: The following contest is scheduled for one fall!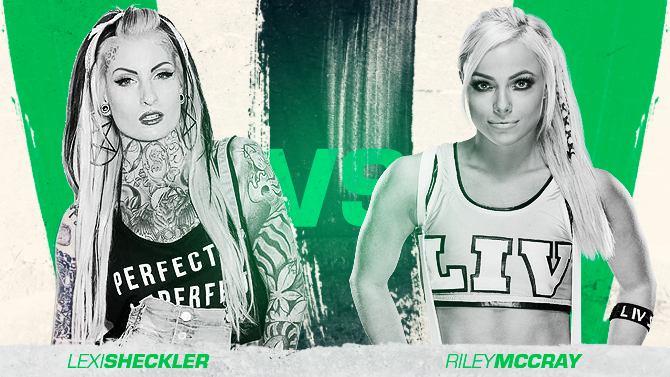 (The lights dim as "Don't Waste My Time" by Krept & Konan hits and Lexi Sheckler approaches the stage and makes her way to the ring)
Bella Braxton: Approaching the ring first, from San Clemente, California… LEXXXXIIIIIII SHEEEECCKKKKKKLLLLERRRR!!
James Peters: Out first is the #1 Contender to the Freeweight Championship and folks… what she has to do tonight isn't really too difficult. She has to win. A loss right here tonight will do her absolutely no favors, she can ill afford it.
("Chasing After" by Tantric hits as Riley McCray makes her way to the ring)
Bella Braxton: And her opponent… from Trenton, New Jersey… "RADDDD" RILLLEYYYYY MCCCCCRRRAYYYYYY!!
Rich Russillo: And here's the women that's gonna attempt to stop Lexi from doing just that… and if she can, oh boy… what would that mean?!
(DING! DING! DING!)
James Peters: As you mentioned Rich, imagine what a victory tonight would do for Riley McCray here! It would FIRMLY plant her in the middle of the Freeweight Championship picture and you would have to think she'd be next in line, facing whoever leaves with the title at REVOLT 2! McCray and Sheckler circle around the ring… AND MCCRAY RUSHES FOR SHECKLER, SHECKLER GOES HIGH BUT MCCRAY GOES LOW, TAKING OUT THE LEG OF SHECKLER, BRINGING HER DOWN TO THE CANVAS… APPLYING A HEADLOCK AND NOW SENDING KNEES INTO THE SHOULDER AND NECK OF SHECKLER… RILEY MCCRAY IS OUT TO MAKE A STATEMENT!!
James Peters: Sheckler is able to shift her weight, roll over near the edge of the ring… McCray keeps the headlock applied but Sheckler is able to get her foot on the bottom rope and the referee forces McCray to break the hold. McCray obliges, lets off and allows Sheckler to make it back to her feet… RILEY COMES CHARGING WITH A CLOTHESLINE BUT SHECKLER DUCKS HER HEAD AND SENDS MCCRAY OVER THE TOP ROPE, CRASHING HARD ONTO THE OUTSIDE… MCCRAY WITH AN AWKWARD LANDING, TWISTING HER LEG… AND FROM THE RING SHECKLER LOOKS ON WITH A WICKED SMILE.. SHE NOW KNOWS EXACTLY WHAT TO TARGET!!
Rich Russillo: This is going to put McCray at a REAL disadvantage here, let's hope the injury isn't as bad as it looked!
James Peters: Sheckler heads to the outside, pulling McCray to her feet and rolling her into the ring. AND NOW SHECKLER LIKE A HYENA ATTACKING THE LEG, DIVING ON TOP OF IT AND DELIVERING A SERIES OF STRIKES!! RIGHTS, LEFTS, FOREARMS, ELBOWS INTO THE KNEE AND LOWER LEG OF MCCRAY!! MCCRAY ROARS OUT IN PAIN, SHECKLER DELIVERS THE LAST FEW ELBOWS INTO THE SIDE OF THE KNEE BEFORE LETTING UP AND DRAGGING MCCRAY BACK TO HER FEET… SHE MEETS HER WITH A KICK TO THE MID-SECTION… MCCRAY BENDS FORWARD… AND NOW SHECKLER WITH A PUNCH DIRECTLY TO THE HEART OF MCCRAY!! MCCRAY GRABS HER CHEST AND STUMBLES BACK INTO THE CORNER, BREATHING HEAVY… HEAVING… SHECKLER COMES CHARGING!!…
James Peters: BUT MCCRAY IS ABLE TO ROLL OUT OF THE CORNER AT THE LAST SECOND!! SHE HOBBLES TO HER FEET… NOW DELIVERING A CHOP TO THE CHEST OF SHECKLER, GIVING HER A TASTE OF HER OWN MEDICINE!! AND NOW A FEW ELBOWS TO THE SIDE OF THE HEAD… SHE GRABS SHECKLER BY THE ARM AS SHE BEGINS TO CLIMB TO THE TOP ROPE, BRINGING SHECKLER ALONG WITH HER… MCCRAY'S LOOKING FOR SOMETHING SPECIAL HERE… SHE LEAPS OFF THE TOP ROPE, STILL HOLDING ONTO SHECKLER AND DELIVERS AN AERIAL HIP TOSS!! WOW!! SHECKLER LANDING HARD ON HER LOWER BACK, MCCRAY HOOKS THE LEG… THIS MIGHT BE IT!!
Ref: ONEEE!!… TWOOO!!… NO!!
Rich Russillo: AMAZING MOVE THERE BY RILEY MCCRAY!! DO YOU KNOW THE LEVEL OF STRENGTH IT TAKES TO PULL SOMETHING LIKE THAT OFF PETERS?! A LOT more than what I thought Riley McCray was capable of. Now let's see if she can follow it up!
James Peters: McCray gets to her feet… and she sets herself up in the corner. Confidence radiating off of her, you get the sense that she wants to put this away! Sheckler begins to stir, getting back to her feet… SHE MAKES IT BACK TO A VERTICAL BASE AND TURNS AROUND AS MCCRAY COMES CHARGING!! LOOKING FOR THE RI-BUSTER… BUT OH NO!!
Rich Russillo: THE LEG!!
James Peters: RILEY'S LEG GAVE OUT!! HER RIGHT LEG, THE ONE THAT WAS TWEAKED EARLIER IN THE MATCH ON THE FALL TO THE OUTSIDE, IT JUST GAVE OUT, BRINGING MCCRAY DOWN TO HER KNEES… AND NOW SHECKLER'S GONNA TAKE ADVANTAGE, MAKING HER WAY OVER… PUTTING MCCRAY IN A POWERBOMB CLUTCH… AND NOW FLIPPING OVER, DELIVERING THE KING ME!! IT'S ACADEMIC FROM HERE AS SHECKLER GETS THE COVER!!
Ref: ONEEE!!… TWOOO!!… THREEE!!
(DING! DING! DING!)
('Don't Waste My Time' by Krept & Konan plays as Lexi Sheckler gets to her feet and begins celebrating her victory)
Bella Braxton: Your winner… LEXXXIIIIIII SHEEECCCCKKKKLLLLLERRRRR!!
James Peters: AND JUST… LIKE… THAT… IT'S OVER!! Lexi Sheckler picking up a victory over Riley McCray here tonight as she continues to make her way towards REVOLT 2 and that eventual main event championship match against Sienna Jade.
Rich Russillo: Don't make this all about Sheckler though, Peters. Riley McCray showed a lot tonight… WHO KNOWS how this would've went had her leg not given out… let's hope she's alright, she has a bright future ahead of her!
(Commercial break)
(Bella Braxton stands in the middle of the ring with a mic in hand.)
Bella Braxton: The following contest is a tag team match scheduled for one fall! Introducing first!
('Ace of Spades' by Motorhead begins to play as the audience immediately begins to boo. An unamused Jordyn Ace emerges from backstage as she makes her way down the ramp. Jordyn rolls her eyes at the fans at ringside and continuously tells them to shut the hell up.)
Bella Braxton: Residing in Sin City Nevada, weighing in at 136 lbs… 'THE GAMBLER' … JORDYYYYYYYYYYYN AAAAAAAAAAAAAAAACE!!!!!!!!!!!!!!!!!!!!!!!!!!!!!
James Peters: Welcome back everyone to Saturday night Resurgence! Tonight we see the She-Devil Jordyn Ace team up with Elissa Stafford to take on the Jaded Hearts. Jordyn doesn't seem too excited about tonight's matchup with that expression on her face.
Rich Russillo: Do ya blame her, Peters? But I do think you need to put on your glasses, though. I don't see an 'unamused' expression on her face. I see anger. Anger that's slowly boiling and is ready to explode.
(Jordyn enters the ring as she places the white towel that was on her neck on the nearest turnbuckle. She begins to stretch as her music eventually fades. Suddenly, 'Dream (Jorgen Odegard Remix)' by Imagine Dragons begins to blare throughout the arena as fans get on their feet. As the theme starts to pick up the pace, blue lights flash around the stage and arena until Elisa appears under a silvery blue spotlight, turning to face the camera with a smile and wink before making her way down the ramp.)
Bella Braxton: AND HER PARTNER! Residing in Chapel Hill, North Carolina… Weighing in at 110 lbs… THE GOLDEN LIONESS… ELISAAAAAAAAA STAAAAAAAAFFOOOOOOOOORD!!!!!!!!!!!!!
James Peters: Quite an odd combination of personalities but I'm here for it!
Rich Russillo: I think Elisa's optimistic nature is annoying Jordyn as Jordyn appears absolutely disgusted.
(Elisa enters the ring and hops on a turnbuckle as she poses for the fans. Jordyn stays focused as she jumps in place waiting for the Jaded Hearts.)
Bella Braxton: AND THEIR OPPONENTS!
("Confident" by Demi Lovato blasts through the amplifiers as the beautiful Kassidy Heart emerges. Kassidy poses as she takes a few steps towards the ramp. Kassidy stops as she gives a menacing smile to the public. Suddenly, "Resurge" by Gone is Gone begins to play as Sienna Jade emerges with her Freeweight title strapped around her waist. Kassidy and Sienna embrace with a hug as they both begin to make their way down the ramp.)
Bella Braxton: Introducing at a combined weight of 255 lbs… the team of Kassidy Heart and the Freeweight Champion Sienna Jade… THE JADED HEAAAAAAAAAAAAAARTS!!!!!!!!!!!!!!!!!!!!!!!
Rich Russillo: I think this is my new favorite tag team?!
James Peters: I wouldn't see why they wouldn't be, RIch. Ever since these two teamed up they have been an unstoppable force. They've proven to work flawlessly together and if I was either Jordyn or Elisa… I wouldn't feel too confident.
(Both teams take their respective corner as Kassidy starts things off for the Jaded Hearts and Jordyn takes the lead for her team. The referee checks both competitors and asks for the bell.)
(DING! DING! DING!)
James Peters: You can definitely feel the tension between these two. Now, if you're barely tuning in, last week Jordyn and Kassidy had quite the unpleasant first ever interaction as Jordyn almost slammed her body towards Kassidy's out of anger due to how her debut match turned out. Kassidy took much displeasure to this which is why I think she's very eager to get her hands on the She-Devil tonight! Now, focusing back on the match – These two fearless competitors are deciding to meet in the middle as they lock up! Jordyn with the power advantage gets Kassidy in a side headlock but Kassidy pushes Jordyn off and sends her towards the ropes. Ace comes back and charges towards Heart who leapfrogs over her. Jordyn comes racing back as this time Kassidy ducks down to the ground to avoid her. BUT Jordyn comes racing back and hits Kassidy with a menacing lariat that sends her down to the mat! Jordyn runs back into the ropes and comes jolting back to Kassidy who is attempting to get on her feet … A RUNNING BIG BOOT! And here goes Jordyn with the quick cover!
Ref: ONEEE!
Rich Russillo: And Kassidy Heart immediately kicks out. It'll take a hell of a lot more than that to keep Kassidy down. Unfortunately, it seems as if Jordyn is just getting started. What is she going to do now? She lifts Kassidy up and wraps her arms around her… GERMAN SUPLEX!
James Peters: Not quite yet! Kassidy is using all of her strength to keep herself grounded so she's not flung into the air! Kassidy tilts her head forward… AND WITH SUCH VELOCITY SWINGS HER HEAD BACK! HITTING JORDYN ACE SQUARE IN THE NOSE WITH THE BACK OF HER HEAD! JORDYN IMMEDIATELY LET'S GO AS SHE PUTS HER HANDS ON HER FACE. You can hear Sienna cheering for Kassidy as Kassidy goes behind Jordyn and wraps her arms… GERMAN SUPLEX! AND IT CONNECTS! OH WAIT, BUT KASSIDY IMMEDIATELY POSITIONS HERSELF AND JORDYN… ANOTHER GERMAN SUPLEX! AND ONE MORE! I BELIEVE KASSIDY CALLS THIS THE KASSPLODER PLEX! UNBELIEVABLE! KASSIDY HOOKS THE LEG!
Ref: ONE!! TWOOO!!!!!
Rich Russillo: And a kick out by Jordyn Ace! Kassidy is NOT happy about this as she covers her again!
Ref: ONE!
James Peters: And Jordyn kicks out once more at a much faster face! Kassidy grabs Jordyn by her hair and drags her to her corner. TAG! Sienna and Jade exchange spots as the Freeweight champion quickly drags Jordyn into the middle of the ring. She quickly grabs Jordyn and lifts her up to just toss her into the ring ropes. Jordyn comes back and gets caught in a BIG powerslam! The Freeweight champ is showing off her own strength here! Sienna then hits a leg drop to the throat of Jordyn Ace and now quickly runs and springs off the ropes. Springboard Moonsault! She hooks the leg!
Ref: ONE! TWOOOOOO!!!
Rich Russillo: KICK OUT! Jordyn lets out a loud groan as Sienna grabs her face and squeezes it with her hand. God, the disrespect! Jordyn slaps Sienna's hand away as Sienna begins to stomp on Jordyn out of frustration. BUT JORDYN GRABS INTO SIENNA'S FOOT AND THROWS HER OFF BALANCE! SIENNA FALLS ON THE GROUND AS JORDYN PUTS HER IN AN ANKLE LOCK! THE CROWD IS GOING WILD AS SIENNA DESPERATELY TRIES TO FIND AN ESCAPE! BUT HERE COMES KASSIDY WHO JUMPED OFF OF THE RING APRON AND IS NOW RUNNING TOWARDS SIENNA. SIENNA, WITH HER HANDS EXTENDED, IS NOW BEING PULLED BY KASSIDY TO THE NEAREST RING ROPE! AND SIENNA WRAPS HER ARMS AGAINST THE BOTTOM ROPE AND JORDYN IS FORCED TO LET GO!
James Peters: Good god, I sweated bullets in those few seconds. I genuinely thought Sienna was gonna tap out! But Jordyn has quickly taken lead as she corners Sienna in a turnbuckle. Elisa is asking for Jordyn to tag her in but Jordyn seems hesitant. Elisa is BEGGING to be tagged in and Jordyn complies! The crowd erupts in cheers as Elisa finally gets her hands on the Freeweight champion! Even though Elisa is quite small you can tell how much passion and heart she has for this business! Elisa is hyping herself up as she yells at the top of her lungs… Rich, you gotta understand, she's been holding this in since this match started! … SAPPHIRE BLITZ! A FLURRY OF PUNCHES TO THE FACE AND SHOOT KICKS TO THE CORNERED SIENNA JADE AS SHE FINISHES IT UP WITH AN UPPERCUT THAT HAS SIENNA FALL DOWN FACE FIRST! Elisa grabs Sienna and forces her to stand in the middle of the ring. Elisa quickly runs and climbs onto a turnbuckle and TORNADO DDT ON THE CHAMP! Sienna's head was planted RIGHT on the ground as Elisa goes for the cover to win it all!
Ref: ONE!! TWOOOOOOOOOO!! THR—
Rich Russillo: KASSIDY HEART BREAKS THE PIN! A SECOND MORE AND ELISA WOULD'VE WON THIS! SHE WOULD'VE PINNED THE FREEWEIGHT CHAMPION! Oooh, Elisa is NOT happy! She stands toe-to-toe with Kassidy BUT SHE QUICKLY MOVES OUT OF THE WAY AS JORDYN ACE COMES FLYING IN WITH YET ANOTHER BIG BOOT THAT SENDS KASSIDY ALMOST FLYING! KASSIDY FALLS BACK AND ROLLS OUT OF THE RING AS JORDYN FOLLOWS! NOW, THESE TWO ARE BRAWLING AS THE REF DOESN'T KNOW WHAT TO DO! Elisa giggles to herself as… OH, MY GOD! RDG! FROM SIENNA JADE! BRIDGING FISHERMAN SUPLEX! THE REF BEGINS TO COUNT!
Ref: ONEEEEEEEEEEEE!! TWOOOOOOOOOOOOOOOOO!! THREEEEEEEEEEEEE!!!
(DING! DING! DING!)
("Resurge" by Gone is Gone picks up where it left off as Sienna quickly rolls out of the ring and finds Jordyn and Kassidy still brawling. Sienna thinks quickly as she sees the steel steps from the corner of her eye. Sienna grabs the steel steps and runs towards Jordyn…)
Bella Braxton: HERE ARE YOUR WINNERS… JADED HEA–
James Peters: OH MY GOD! SIENNA WAS TRYING TO HIT JORDYN WITH THE STEEL STEPS BUT JORDYN MOVED THE LAST SECOND AND NAILED KASSIDY RIGHT IN HER MIDSECTION! SIENNA CAN'T FATHOM WHAT SHE HAS DONE AND IMMEDIATELY BEGINS APOLOGIZING ENDLESSLY! JORDYN HAS MADE IT TO THE TOP OF THE RAMP AS SHE GIVES THE MOST DEVILISH SMILE.
(The camera's show Kassidy and Sienna on the ring floor as Kassidy is grabbing her midsection in pain. Jordyn is shown smiling at the top of the ramp at the demise she caused as RESURGENCE goes to commercial.)
(A series of Talib Bari snapchat videos are shown)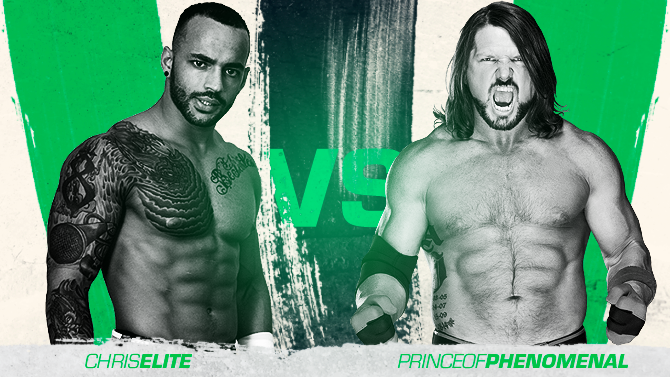 (Camera fades back to ringside as "If I Had a Heart" by Fever Ray hits and The Prince of Phenomenal makes his way to the ring)
Bella Braxton: The following contest is scheduled for one fall! Approaching the ring first, from South Beach, Florida… weighing in at 220 pounds… HE IS THE REVOLT PRO MIDDLEWEIGHT CHAMPION!!… THE PRINCE!! OF PHEEEENOMMMEENNNAAALLL!!
James Peters: HERE WE GO!! MAIN EVENT TIME!! Out first is the NEW Middleweight Champion, The Prince of Phenomenal, looking to keep up his winning ways tonight but that certainly isn't going to be easy. What a treat we're in for tonight!
("Down and Out" by Camron feat. Kanye West hits as Chris Elite approaches the stage)
Bella Braxton: And his opponent, from Brooklyn, New York… weighing in at 210 pounds… CHRISSSSS ELLLLIIITTTEEE!!
Rich Russillo: No it certainly won't. This is a match that A LOT of people have been dying to see… let's get it on!
(DING! DING! DING!)
James Peters: The bell sounds and NEITHER MAN WASTING ANY TIME HERE! EXPLODING OUT OF THEIR CORNERS… LOCKING UP!! ELITE LOOKING TO BREAK THE HOLD, TRYING TO SLIDE UNDER POP… BUT PROVING TO BE A MISTAKE HERE AS POP STEPS TO THE SIDE AND STOMPS ELITE RIGHT IN THE MIDDLE OF THE SPINE!! There aren't too many in this company that can compete with Elite's speed, but POP is one of them! Elite gets back to his feet, POP in the corner, pacing around… looking to lock up again… BUT ELITE HAS OTHER IDEAS AS HE COMES CHARGING WITH A DROPKICK CONNECTING AND SENDING POP INTO THE TURNBUCKLE!!
James Peters: POP hits hard and the impact brings him down to his knees… Elite takes a few steps back… HE COMES CHARGING LOOKING FOR A SHINING WIZARD… BUT POP GRABS THE FOOT OF ELITE AND FORCES HIM DOWN, ELITE GOING HEAD FIRST INTO THE MIDDLE TURNBUCKLE… DAZING HIM… POP FROM BEHIND LOOKS TO ROLL HIM UP… BUT ELITE GETS OUT OF IT BEFORE THE REFEREE COULD EVEN SLIDE INTO POSITION, BOTH MEN POP BACK TO THEIR FEET AND RUSH TOWARDS EACH OTHER… BOTH MEN THINKING CLOTHESLINE… THEIR ARMS INTERLOCK, BUT WOW!! LOOK AT THIS!! ELITE FLOATS OVER POP… AND HE CONNECTS WITH A DDT!! WOW!! WHAT A MANEUVER!!
Rich Russillo: DO YOU KNOW THE TYPE OF ATHLETICISM THAT TAKES PETERS?! CHRIS ELITE WAS JUST ABLE TO FLIP OVER THE BACK OF POP AND DELIVER A DDT!! CROWN THAT MAN THE KING OF PHENOMENAL!!
James Peters: POP rolls over onto his side and reaches out towards, the ropes, a dazed, glossed over look in his eyes… he uses them to pull himself towards his feet… Elite grabs him and pulls him into the middle of the ring where he delivers a hard right hand! POP takes a step back but finds his footing and delivers one of his own! Elite is staggered, POP grabs his arm and sends him into the ropes, Elite comes rebounding… POP drops the head… BUT ELITE HAD IT SCOUTED, HE RAISES HIS BOOT UP TO MEET THE SKULL OF POP BUT POP SAW THE BOOT COMING!! SOME GREAT BACK AND FORTH WE'RE SEEING HERE FOLKS… AND POP QUICKLY TAKES ELITE DOWN WITH A FOREARM RIGHT TO THE JAW!!
James Peters: POP backs into the corner and bends forward, hands on his knees… this one hasn't been going for that long but it's been incredibly quick and high octane. Elite gets back to his feet… POP COMES CHARGING, BUT ELITE SIDESTEPS AND SENDS POP THROUGH THE MIDDLE ROPE, ONTO THE OUTSIDE!! POP ABLE TO LAND ON HIS FEET… HE TURNS AROUND… AND OH BOY!! HERE COMES ELITE!! ELITE FLYING OVER THE ROPES AND CRASHING INTO POP, SENDING HIM INTO THE BARRICADE!! POP HITS HARD AND DROPS… ELITE QUICKLY MAKES IT BACK TO HIS FEET, LOOKING TO TAKE ADVANTAGE HERE!! HE GRABS POP BY THE HAIR, PULLING HIM TO HIS FEET AND ROLLING HIM BACK INTO THE RING!!… ELITE HOPS ONTO THE APRON AND GLANCES OVER AT THE TURNBUCKLE… HE'S GONNA CLIMB!!
Rich Russillo: IF there's a negative in Chris Elite's game, this is it! I've often chastised him for going to the top rope, he doesn't have a great history with going high risk…
James Peters: BUT A CONNECTION HERE COULD BE A REAL TURNING POINT IN THIS MATCH UP… ELITE SETS HIMSELF AT THE TOP AS POP REMAINS DOWN ON THE CANVAS… HE LEAPS… THE PEOPLE'S MOONSAULT!! IT CONNECTS!! THE PEOPLE'S MOONSAULT CONNECTS, ELITE FOLLOWS THROUGH WITH THE PIN… THIS MIGHT BE IT!!
Ref: ONEEE!!… TWOOO!!… NO!! POP GETS THE SHOULDER UP!!
James Peters: Elite gets back to his feet, POP moves onto his stomach… trying to get himself to his feet… Elite aids him the rest of the way up… ELITE APPLIES A FRONT FACELOCK, NOW HOOKING POP'S ARM AROUND HIS NECK… LOOKING FOR A VERTICAL SUPLEX BUT POP'S FIGHTING!! POP SENDS A FEW KNEES INTO THE TOP OF ELITE'S HEAD… ELITE HAS NO CHOICE BUT TO DROP HIM… POP ABLE TO LAND ON HIS FEET… PELE KICK!! A PELE KICK FROM THE MIDDLEWEIGHT CHAMPION, CATCHING ELITE ON THE CROWN OF HIS HEAD!! ELITE IS STAGGERED, POP STEPS UP AND DELIVERS AN ENZIGURI, THIS KICK DELIVERED TO THE BACK OF ELITE'S HEAD AND HE GOES DOWN!!
James Peters: POP HAS A REAL OPENING HERE FOR THE FIRST TIME IN THIS MATCH, ELITE IS REELING!! POP HEADS OUT ONTO THE APRON… WAITING FOR ELITE TO MAKE IT BACK TO HIS FEET!!
Rich Russillo: NO!! WHAT ARE YOU DOING?! DON'T GIVE HIM AN OPPORTUNITY TO GET BACK INTO THIS!!
James Peters: POP REMOVES HIS ELBOW GUARD… AND WE KNOW THAT WHEN HE DOES THAT HE'S ENSURING THAT HE GETS A CLEAN SHOT WHEN HE… LEAPS OFF AND DELIVERS A SPRINGBOARD FOREARM!! THAT COULD NOT HAVE BEEN MORE PERFECT!! ELITE'S OUT, POP SCOOTS BACK INTO THE COVER, HOOKING THE LEG!!
Ref: ONEEE!!… TWOOO!!… NO!! KICK OUT!!
James Peters: OH MAN SO CLOSE!! POP rolls over and gets to his feet, Elite begins to stir, eyeing the corner… using the turnbuckle to make it back to his feet… BUT THAT PROVIDES POP A CHANCE… HE COMES CHARGING… BUT ELITE DUCKS OUT OF THE CORNER!! NOT REALLY SURE WHAT POP WAS GOING FOR THERE BUT IT DOESN'T MATTER MUCH NOW!! POP CONNECTS CHEST FIRST, BOUNCING OFF AND TURNING AROUND… INTO THE LEGACY CUTT– NO!! PUSHED OFF!! POP REVERSES THE LEGACY CUTTER, HE COMES CHARGING AT ELITE, LOOKING FOR A CLOTHESLINE… BUT ELITE SNATCHES HIM… LEGACY CUTTER, AND THIS TIME IT CONNECTS!! CHRIS ELITE SPIKES THE MIDDLEWEIGHT CHAMPION WITH A LEGACY CUTTER… THIS MIGHT DO IT!! HE CRAWLS INTO THE COVER, HOOKING BOTH LEGS!!
Ref: ONEEE!!… TWOOO!!… BUT POP MANAGES TO KICK OUT AGAIN!!
Rich Russillo: POP is showing the real heart of a champion here! He's been on the ropes for a large part of this match but he continues to fight!
James Peters: Elite sits up, letting out a big sigh… he takes a look towards the turnbuckle again but shakes his head, deciding against it. He grabs POP by the arm and gets him to his feet… HE CONNECTS WITH A HUGE, LOUD KNIFE EDGE CHOP BEFORE SENDING HIM INTO THE ROPES… EXPECTING A REBOUND BUT POP HOLDS ONTO THE ROPES!! ELITE COMES CHARGING TOWARDS HIM BUT POP GETS HIS KNEES UP AND SENDS THEM INTO THE CHEST OF ELITE, PUSHING HIM AWAY… NOW POP EXPLODES OUT FROM THE ROPES… WITH A CLOTHESLINE!!… ELITE GETS BACK TO HIS FEET… POP CHARGES AT HIM WITH A SECOND CLOTHESLINE… THE SECOND ONE CONNECTS, THIS TIME ELITE SLOWER TO HIS FEET BUT HE MANAGES… ELITE GOES FOR A THIRD CLOTHESLINE BUT THIS ONE'S DUCKED… ELITE DUCKS UNDER THE CLOTHESLINE, POP SPINS AROUND… AND OH!! RIGHT INTO THE BOX OFFICE SMASH!!… NO!! POP, POP GOT HIS HANDS UP TO BLOCK IT!!… HE PUSHES ELITE BACK… ELITE LUNGES FORWARD… BUT POP DELIVERS A SECOND PELE KICK!! ELITE FALLS FORWARD, DROPS TO A KNEE… POP COLLECTS HIM, PUTTING HIM IN A POWERBOMB CLUTCH… LOOKING FOR THE CROWN OF THORNS!! HE GETS ELITE UP… POSITIONING THE LEGS… AND IT… CONNECTS!! THE CROWN OF THORNS CONNECTS!! THE COVER!!
Ref: ONEEE!!… TWOOO!!… THREEE!!
(DING! DING! DING!)
('If I Had a Heart' by Fever Ray hits as The Prince of Phenomenal pushes Elite off of him. The referee hands him his championship as he gets to his feet and begins to celebrate his victory)
Bella Braxton: Your winner… THEEEE PRINCE OF PHEEEENOMMMENNNNALLLLL!!
James Peters: AND POP DOES IT!! POP WINS THIS GREAT MAIN EVENT HERE ON RESURGENCE!!
Rich Russillo: We're witnessing a run for the ages here folks! Ever since POP made his return at REVOLT 1 he's been killing it lately, the world has to wonder what's next for him?!
(POP continues to celebrate at the top of the ramp as the camera focuses in on a disgruntled Chris Elite in the middle of the ring)
James Peters: And what's next… for him?
(The camera fades to black and the REVOLT! logo buzzes)