(A recap of last week's Resurgence airs including Scott Diamond taking out Jackson Matthews, Kassidy Heart and Sienna Jade forming a team, and ending with Liquid Swords standing victorious)
James Peters: HELLLLOOOOOO EVERYBODY AND WELCOME TO RESURGENCE! REVOLT 2 SEASON IS OFFICIALLY UNDERWAY! YOU KNOW WHAT THAT MEANS? TENSIONS ARE GETTING HIGH AND BIG ANNOUNCEMENTS WILL BE MADE!
Rich Russillo: Christ why are you screaming? Anyways that's right, with REVOLT 2 less than a month away, we have great things to look forward to like uhhh… ya know…. Um…
James Peters: MAXIMUS GRIER! LIQUID SWORDS! LEGACY KILLAS! WHAT'S THE UPDATE ON JACKSON MATTHEWS? LEXI SHECKLER, SIENNA JADE, KASSIDY HEART, A DEBUT OF A HIGHLY ANTICIPATED FREEWEIGHT IN JORDYN ACE! AND SO MUCH MORE! STARTING NOW…
("I Fall Apart" by Post Malone hits to boos as Osiris walks out to the ring with a mic in hand)
James Peters: Looks like we're kicking things off with "The Vision"! This man has his best days ahead of him that's for sure, especially following last weeks embarrassing loss!
(Osiris stands in the middle of the ring getting ready to address the crowd as the music dies down)
Osiris: Last week, I was made a mockery out of and had everything that I have ever stood for chewed up and spit back into my face. I was humiliated and it was all to the delight of you people. You people enabled a man like Suneo Honekawa walk through those curtains and come out here for the sake of being nothing more than comedic relief, and you put his livelihood and wellbeing at risk by standing him across the ring from a man such as myself. A man like him knew no better and for the majority of the match he suffered the consequences for his ignorance, a joke like himself was treated accordingly and he was used as my personal ragdoll.
Osiris: It brought me nothing but pure pleasure and delight to see a man of such small of a stature get placed onto a pedestal by you people as some underdog who could miraculously pull off a win against the likes of "The Vision". Unfortunately I let you people get to my head as well, I let you take advantage of my rare moments of enjoyment while inflicting pain onto that sorry excuse of a competitor, and one slip up costed me EVERYTHING. My reputation, my sanity, my momentum, all down the toilet with one three count and that's why tonight I'm here to right my wrong. Tonight I'm calling you back out here Suneo, come stand face to face with me like a man and if these idiots in the crowd truly believe in you and aren't just hoping to see you wreck yourself, they'll want you to come out and back up their support too. I'm waiting.
(Osiris leans on the rope as "Fun Time" by Sammy Nestico hits to cheers as Suneo Honekawa runs out slapping hands with fans and pumping up the crowd with his antics, Osiris looks on visibly annoyed)
Osiris: So you actually had the balls to come out here and show your face. You might be a piece of shit wrestler and a fluke, but you're brave. Or maybe you're just dumb and have no idea what exactly stands before you and what you're getting yourself into.
Suneo Honekawa: Oh I know exactly what I'm gettin' myself into, Oasis…. ANOTHER VICTORY!
(The crowd cheers loud)
Suneo Honekawa: You hear that? They know it, I know it! They lead me to victory against you last week and we can do it any other week you just name the time place date location and Suneo will be there!
Osiris: Is that right? Then how's right now sound.
(Osiris charges at Suneo who flinches hard and runs out of the ring before he could get hit)
Suneo Honekawa: Woah woah woah Oasis! I didn't mean right now! I gotta uhhh…. do my pre-fight routine before getting into these things man!
Osiris: Do what you please. Your fate is already sealed.
Suneo Honekawa: Alright…
(Suneo starts doing jumping jacks to the delight of the crowd as Osiris gets annoyed and runs out of the ring towards him but Suneo starts running away)
James Peters: Well Osiris has seen enough of the antics and wants to get this over with but Suneo has nothing things in mind as he's hightailing it around the ring! This is like a game of cat and mouse as Osiris and Suneo are literally running in circles around the ring with Osiris trying to get his hands on him! Osiris finally stops in his tracks as Suneo paces back down the ramp taunting Osiris while the crowd eggs it on, but for some reason Osiris isn't phased???…
(Osiris' angry expression turns into a smirk as Suneo down the ramp continues on with his usual antics)
James Peters: Suneo sticks his tongue out and gestures an L with his fingers as he continues to make his way do— WAIT WHAT THE HELL?!?! WHO IS THAT?!?! SUNEO HAS JUST BEEN AMBUSHED BY A MAN WHO CAME CHARGING FROM THROUGH THAT CURTAIN!!!! HE'S NOW POUNDING AWAY AT SUNEO AS THE CROWD BOOS INTENSELY TO THE DELIGHT OF OSIRIS….. WAS THIS A SETUP?
Rich Russillo: I know who this is, it's REVOLT's newest signee Jason Collins! But what's he gotta do with this?
James Peters: JASON IS NOW DRAGGING SUNEO UP THE RAMP AS OSIRIS WAITS FOR HIM IN THE RING, HE THROWS HIM INSIDE OF THE RING AND NOW BOTH MEN ARE STOMPING ON HIM.
Osiris(without mic): LAUGH AT THAT! THIS IS YOUR HERO RIGHT?
James Peters: Osiris now picks up Suneo….. AND HE HITS THE FATAL BLOW AS SUNEO IS OUT COLD!!!! BUT WAIT HE'S NOT DONE…….. HE GOES TO THE TOP ROPE AND LANDS A SIMPLE START!!!! RIGHT ONTO THE LIFELESS BODY OF SUNEO!!!!
("I Fall Apart" by Post Malone hits as Osiris and Jason Collins raise one another's arms taunting the crowd and basking in the damage they just caused to Suneo)
Rich Russillo: Now that's how you bounce back!
James Peters: What a disgusting act from Osiris and getting his friend involved only makes matters worse! All he had to do was accept a loss!
Rich Russillo: You sound like an idiot, if he accepted a loss from a joke competitor like that his credibility would be ruined! THIS is how you bounce back, kick the mans ass and align with a new competitor! Osiris and Jason Collins are looking like a force tonight, hopefully this new duo sticks around together! Up next we'll see this talent make his in ring debut against three other competitors, stay tuned!
(Commercial break)
(REVOLT 2 commercial)
(Resurgence comes back on air with Jason Collins, Christian Windgate, and Wallace Simm already in the ring waiting)
('Rotting in Vain' by Korn hits as Heath Anthony makes his way up the ramp sporting his jacket and hockey mask, he then removes the hockey mask before entering the ring)
Bella Braxton: The following contest is scheduled for one fall, already in the ring…. JASON COLLINS, CHRISTIAN WINDGATE, AND WALLACE SIMMMM!!!!!!
Bella Braxton: And making his way to the ring, from Dayton, Ohio, weighing in at 211 pounds…. "THE MAD KING"….. HEATH ANTHONYYYY!!!!!!!
(DING! DING! DING!)
James Peters: This contest starts off with all four men going at it with fists flying everywhere as no one quite has the advantage yet!! This is just an all out brawl!!! Heath Anthony begins to gain an upperhand as he's going at it with Wallace Simm.. he irish whips him across the ropes and hits him with a dropkick sending Wallace to the floor! Heath now diverts his attention over to a brawling Jason Collins and Christian Windgate as he levels Christian from behind with a vicious roundhouse kick! What an assist to Jason as Jason is looking to take advantage of this by heading to the top rope on the laid out Christian..
James Peters: But wait!!!! HEATH HAS OTHER PLANS FOR JASON AS ONE KICK TO THE TURNBUCKLE HAS JASON SLIPPING BALLS FIRST INTO THE TOP TURNBUCKLE AND HE'S GOING TO FEEL THAT IN THE MORNING! JASON ROLLS OUT OF THE RING!
Rich Russillo: This has been a dominant performance so far! Heath has been the only assertive person so far in this matchup!
James Peters: Wallace Simm gets back up and charges towards Heath for a clothesline but Heath quickly dodges it and hits Wallace right in the jaw with a jumping knee! Wallace is dazed and out of it as Heath is looking to take advantage by locking Wallace into a sleeper hold and going for a quick submission victory here… Wallace looks completely out of it and he's lifting his arm up….. Is he gonna…….. AND OUT OF NOWHERE CHRISTIAN WINDGATE BREAKS UP THE SUBMISSION, STOMPING ON THE TWO MEN ON THE GROUND, HE PICKS UP HEATH AND TRIES TO GO FOR A SUPLEX BUT IT'S REVERSED INTO A TRIANGLE CHOKE AND NOW CHRISTIAN IS THE ONE LOCKED IN A SUBMISSION!!! HEATH IS PUTTING ON QUITE THE SHOW HERE TONIGHT PARTNER!
Rich Russillo: Christian should've just minded his business..
James Peters: BUT WAIT!!!! WHEN DID HE GET UP THERE? OUT OF NOWHERE WALLACE SIMM IS ON THE TOP ROPE AND HE'S GOING TO BREAK UP THE SUBMISSION WITH A FLYING ELBOW!! AND IT CONNECTS!!!……… BUT ONLY ONTO CHRISTIAN WINDGATE AS HEATH MOVES OUT OF THE WAY, WALLACE REALIZES HE ONLY HIT HALF OF HIS TARGET AS HE SLOWLY BACKS UP AND BUMPS INTO HEATH WHO HE KNOWS AWAITS HIM… HEATH TURNS HIM AROUND AND HITS A CROWN AND COURT RIGHT ONTO WALLACE SIMM!!!!!! GAME OVER!!!!
Referee: ONEEE!!… TWOOO!!… THREEEE!!
(DING! DING! DING!)
("Rotting in Vain" picks back up as Heath Anthony has his hand raised in victory)
Bella Braxton: Here is your winner… HEATHHH ANTHONYYYY!!!!!!
James Peters: One of the more impressive debuts I have seen so far here partner
Rich Russillo: An absolute clinic! We'll see how he fairs against stronger competition in the future before I fully jump on board though!
[Previously in Harlem, New York]
(Malcolm Jones, Chris Elite, Astraea Jordan, and the rest of the crew are all seen at Malcolm's friend Daquan's house, as the crew is scattered throughout the livingroom and dining room, some people are on the couch playing NBA 2K while Malcolm, Chris, Astraea, and Big Mike all sit at a roundtable eating Chinese food and discussing plans)
Chris Elite: So you know, l'm up at this birthday party the other day….
Big Mike: Oh you talkin' about Charlie Ruckus?
Chris Elite: Exactly
Big Mike: Oh, yeah I couldn't make that shit..
Chris Elite: So I'm up at that birthday party.. I ain't bring him nothing. So I see everybody up there got stuff for him, so I walk up to the table–
Malcolm Jones: You ain't got no soy sauce up there B?
Big Mike: Nah they ain't put no fuckin' soy sauce in the bag man..
Malcolm Jones: Why these fuckin Chinese food people always do that shit man?
Chris Elite: Malc, Malc, Malc….. fuck the soy sauce, man! Malc, can I tell a story? Ight so I walk up to the table right? Pick up the cake… then mushed it in his face and told him "happy birthday"! People in the party lookin' at me like I'm buggin', I showed that dude mad love, B.
Big Mike: WE lookin' at you like you buggin man. You buggin man.
Astraea Jordan: He really be thinking that type of shit is funny too..
Malcolm Jones: You took the whole cake and mushed it in his face?
Chris Elite: Whole cake..
Malcolm Jones: Wassup with this dude right here man? I'd understand if it was one of them bums like Maximum, but Charlie is the homie..
Chris Elite: That's love right there B!
Astraea Jordan: Why you messing up a whole birthday party like that? I know his girl was there too..
Chris Elite: Man I made that shit lit if anything, besides when y'all start caring about the wellbeing of people? Let's be honest that's the energy we gonna need if we wanna stay successful here. We gotta start crashing parties and doing what we gotta do to make our presence felt.
Big Mike: I mean… facts.
Malcolm Jones: You got a point, but I'm doing it against bozos like Reginald Dampshaw, you're doing it against well… nobody relevant.
Chris Elite: Trust the process fam, I got it all mapped out I just ain't say much because I wanted it to be a surprise but fuck it they can't stop what's destined either way.
Malcolm Jones: What you mean?
Chris Elite: It's simple, when you a man of high stature like myself and got connects all over the world from the rap game to the streets to the ring, you know people in high places and you get the scoops before everybody else, you feel me? Basically I been informed that Maximum Queer and TLA have an official contract signing scheduled for next week, they really think they bout to go into REVOLT 2 with a Welterweight Championship match, and I'm not on it akekeke
Astraea Jordan: What you gonna do then?
Chris Elite: I'm gonna crash that bitch, fuck you mean? I already got hittas lined up, everybody you see in that room playing 2K and a whole street team from my hometown in BK, we not playing games with these bozos. So I'm putting the REVOLT staff, Maximum, TLA, Talib Bari, Mike Silver, or Ronn Banks himself.. you gonna need the motherfuckin US Army to stop me from blowing this bitch the fuck up if I don't find myself in the match at REVOLT 2. I'm strong arming this whole company and running in the headquarters with bats if I have to ju heard?
Malcolm Jones: That's how you gotta get things done, by force. Let these dudes know it's not a joke no more. One lost to the Dick Swords and now they think that we falling back? We only get stronger from defeat. You'll be on your way to a Welterweight Championship match, I'll be on my way to a Light Heavyweight Championship match. And you Astraea… by the time REVOLT 3 hits you damn sure gonna be in that Freeweight Championship match. If we gotta force these people's hands to let them know it's not a joke then that's what we're just gonna have to do. You know what they say about people like us, you gotta be twice as good to get half as much. But fuck that.. We a HUNNID times better than anyone in that locker room and we ain't settling for scraps, we want the whole pie. We coming.
Big Mike: We could toast to that.
(They raise their glasses with Hennessy in it besides Astraea who sticks to her Chardonnay and toasts then sips)
(Camera fades back to the ring)
(Bella Braxton stands in the middle of the ring with a mic in hand.)
Bella Braxton: The following contest is scheduled for one fall! Introducing first!…
('Cashing After' by Tantric begins to blare throughout the arena as Riley McCray emerges onto the top of the ramp. Riley has a board in hand as she begins prancing side to side, energizing herself for what is about to come. Riley puts her board down and rides down the ramp with it until she reaches ringside.)
Bella Braxton: Residing in Trenton, New Jersey… Weighing in at 126 lbs… "RAD" RILEY MCCRAAAAAAAAAAAAAY!!!!!!!!!!!!!
James Peters: Riley looks awfully energetic despite that nasty loss she took last week against the newly formed Jaded Hearts.
Rich Russillo: Let us not forget that HER OWN PARTNER BETRAYED HER. The fact that she's here today really goes to show her character and her passion for this profession.
(Riley is shown in the ring warming up as the lights go out. 'Ace of Spades' by Motorhead begins to sound through the amplifiers. A few moments pass as Jordyn Ace finally appears at the top of the ramp. She locks eyes with Riley and slowly makes her way down the ramp and towards the ring.)
Bella Braxton: And her opponent… Residing in Sin City, Nevada… Weighing in at 136 lbs… THE GAMBLER… JORDYN AAAAAAAAAAAAACEEEEEEEEE!!!!
James Peters: The newest Freeweight signed with REVOLT! Pro Combat, Jordyn Ace!
Rich Russillo: An incredibly intimidating individual, that's for sure. We have Riley who is seeking vengeance and retribution and Jordyn who is trying to make a name for herself. I'm sure we're in for a treat, Peters.
(Jordyn enters the ring and removes her towel that was placed on her neck prior. She begins to jump in place as Riley continues to warm up. The referee checks both Freeweights and signals for the bell.)
(DING! DING! DING!)
James Peters: Jordyn and Riley immediately lock up as Jordyn transitions quickly into a side headlock and takes Riley down the ground! Whoa, better pay close attention, Rich, these women are moving at such a fast pace! Riley quickly lifts her legs up and manages to trap Jordyn's neck and throat as she pulls her down! But Jordyn kicks up and both women are back on their feet! They circle one another around the ring but Jordyn grabs a hold of Riley's arm and Irish whips her – no! Reversed! Jordyn is whipped into the ropes! BUT HERE COMES JORDYN WITH A BIG BOOT TO THE SIDE OF RILEY'S FACE! RILEY FALLS LIKE STACKED BOXES TUMBLING DOWN! Jordyn goes for the pin BUT BEFORE THE REF COULD COUNT RILEY KICKS OUT! They're both back on their feet AND JORDYN WITH A DOUBLE PALM STRIKE TO RILEY'S STOMACH!
Rich Russillo: With her opponent hunched over, Jordyn twists Riley's arm into a cross armbar, showing the REVOLT universe that she is a force to be reckoned with. She has Riley caught but it's going to take a lot more to take out the Radical one! Jordyn is wrenching back as hard as she can but it's not enough for the armbar to connect! RILEY HANGS ON TO THE BOTTOM ROPE AS THE REF DEMANDS JORDYN TO LET GO OF HER MOVE! ONE! TWO! THREE! And finally, Jordyn releases her treacherous maneuver. Jordyn jumps to her feet as she charges towards Riley but is stopped by the referee. Riley is underneath the ropes as a raging, rabid Jordyn Ace is being held back. Jordyn finally focuses her attention on the referee as she shoves him to the side… BUT OH MY GOD! HERE COMES RILEY MCCRAY FROM THE TOP ROPE! FLYING CROSSBODY! AND SHE LANDS RIGHT ON THE BODY OF JORDYN ACE! RILEY TAKES ADVANTAGE AND GOES FOR THE COVER!
Ref: ONE!!!!!!!!!!!!!
James Peters: AN IMMEDIATE KICK OUT FROM JORDYN ACE! She gets up on her knees but that's right where Riley wanted her! A DEVASTATING KICK TO JORDYN'S CHEST! AND ANOTHER KICK! A THIRD! A FOURTH! A FIFTH! SIX! SEVEN! EIGHT! NINE! AND SHE LINES JORDYN UP… AND GOES FOR A ROUNDHOUSE KICK! JORDYN EVADES IT JUST IN TIME! Riley's taken off-balance and Jordyn sweeps the leg! Jordyn hovers over McCray as…SHE LOCKS IN THE SEATED CROSSFACE! ITS LOCKED IN AND THERE'S NOWHERE FOR RILEY TO GO! SHE'S DOING EVERYTHING SHE CAN TRY AND ESCAPE! SHE'S TRYING TO SCRATCH AND CLAW HER WAY FORWARD BUT THE CROSSFACE IS BLOCKING ANY MOVEMENT! SHE'S SWINGING HER FREE ARM BACK TRYING TO WEAKEN JORDYN'S GRIP AND FORCE HER TO RELEASE THE GOLD! OH, MY GOD, SHE'S BITING JORDYN'S HAND! SHE'S CHOMPING ON HER KNUCKLES!!
Rich Russillo: JORDYN IS STUNNED AND RELEASES! RILEY SCRAMBLES FORWARD, USING THE ROPES AS LEVERAGE TO GET BACK TO HER FEET AND SHE'S MET WITH A LASER-FOCUSED STARE FROM JORDYN ACE!
James Peters: Anyone would begin to shake in their boots if they got the Jordyn Ace stare but Riley stands valiant and shows Ms. Ace that she cannot use her intimidating tactics with her! This seems to anger Jordyn more as JORDYN CHARGES RILEY AND CLOTHESLINES HER! BUT LITTLE DID JORDYN KNOW RILEY WENT IN WITH A CLOTHESLINE OF HER OWN! DOUBLE CLOTHESLINE TAKE KNOCKS BOTH COMPETITORS DOWN! They're both dazed and confused but gradually, ever so gradually, they're getting back on their feet… Jordyn is the first up! Riley doesn't take much longer but she has her back turned to Jordyn… who violently Irish whips her to the ropes… ACE OF SPADES! ACE OF SPADES! THE POP-UP POWERBOMB, IT CONNECTS!
Rich Russillo: ARE YOU SURE? JORDYN HAS HER UP ON HER SHOULDERS BUT STOPS BECAUSE THE EVER SO RESILIENT RILEY MCCRAY IS HOLDING ONTO JORDYN'S HAIR. SHE HAS HER ARMS WRAPPED AROUND JORDYN'S HEAD AND WILL BE DAMNED IF SHE EVER LET'S GO! SHE KNOWS THAT SHE WILL BE DONE FOR IF SHE LOSES THAT GRIP! JORDYN IS DESPERATELY TRYING TO EXECUTE HER FINISHING MOVE BUT RILEY BEGINS GIVING STIFF FOREARMS TO JORDYN'S HEAD WHICH CAUSES HER TO STUMBLE. JORDYN WOBBLES TOWARDS THE ROPES AS SHE EVENTUALLY SETTLES ON THE TURNBUCKLE. RILEY HOPES OFF AND IS NOW ACROSS HER OPPONENT. JORDYN FINDS HER TARGET AND CHARGES! BUT WITHIN A BLINK OF A SECOND RILEY PULLS JORDYN DOWN INTO A SCHOOLGIRL! AND SHE GRABS JORDYN'S TIGHTS OUT OF DESPERATION!
Ref: ONEEEEEEEEEEEEEE!!! TWOOOOOOOOOOOOOOOOO!! THREEEEEEEEEEEEEEEEEE!!!!!!!!!!!!!!!!!!!!!!
(DING! DING! DING!)
(Riley's theme picks up where it left off as a shocked Jordyn Ace comes to terms with what just happened. Riley is filled with joy as the referee raises her arm in victory.)
Bella Braxton: Here is your winner… RILEY MCCRAY!!
James Peters: OH MY GOD! WHAT DID WE JUST WITNESS?!
Rich Russillo: I'LL TELL YOU WHAT WE JUST WITNESSED, WE JUST WITNESSED RILEY MCCRAY BEING THE SNAKE SHE IS AND RUINING JORDYN'S DEBUT MATCH WITH REVOLT! PRO COMBAT!
James Peters: RUIN?! SHE DID WHAT SHE HAD TO — OH MY GOD! JORDYN ACE JUST VICIOUSLY ATTACKED RILEY MCCRAY FROM BEHIND! JORDYN IS FUMING! SHE'S STEAMING! SHE DID NOT WANT HER REVOLT DEBUT TO BE THIS WAY! OH GOD, PLEASE JUST STOP THIS ASSAULT! FINALLY, JORDYN STANDS AND FORCIBLY STANDS RILEY MCCRAY IN THE MIDDLE OF THE RING… ACE OF SPADES! POP-UP POWERBOMB FINALLY CONNECTS! JORDYN SCREAMS IN ANGER AND FRUSTRATION AS VEINS POP OUT OF HER NECK. MULTIPLE REFEREE'S HAVE COME TO THE AID OF RILEY MCCRAY AS JORDYN IS DEMANDED TO GO TO THE BACK. INSANITY WE HAVE JUST WITNESSED.
(Jordyn's theme begins to play as Jordyn angrily stomps her way backstage. After a few moments, Riley rejects the help of several referees as she stands on her own, often stumbling down to one knee but getting up regardless. The crowd gives her a standing ovation as Riley simply gives a thumbs up and manages to slowly make her way backstage. RESURGENCE goes to commercial.)
(Preview for Impact's interview on Fight Grid for Real Talk with Sofia Clarke airs)
(A recap of Jackson Matthews' debut and surprise win against Xavier Williams at REVOLT 1 airs as a bandaged up Jackson Matthews sitting in his living room is shown)
Jackson Matthews: Moments like that are ones that I'll never forget. Never in a million years did I think I'd be standing across the ring against the likes of Xavier Williams, in his last match at that. But I was ready for the moment.
("JACKSON DRIVES XAVIER CHEST FIRST INTO THE CORNER AND ROLLS BACK!! CHAOS THEORY GERMAN SUPLEX!! XAVIER WILLIAMS DROPPED ON THE BACK OF HIS HEAD!! JACKSON SHOOTS BACK TO HIS FEET AND STALKS AS A DAZED XAVIER WILLIAMS PUSHES HIMSELF BACK UP TO HIS FEET!! WOW!! JACKSON MATTHEWS WITH A RUNNING SINGLE LEG HIGH KNEE TO THE JAW OF XAVIER WILLIAMS!! XAVIER'S DOWN AND JACKSON SHOOTS INTO THE COVER!!
ONE!!… TWO!!… THREE!!!!!")
Jackson Matthews: I've re-lived that moment in my head a million times alone. Years of hard work and never giving up to achieve my goal all finally paid off in that one moment. I was here, I had finally arrived. I was on cloud 9… and then I got my wake up call.
("SCOTT DIAMOND!! SCOTT DIAMOND JUST FLOORED JACKSON MATTHEWS INTO THAT BACKSTAGE INTERVIEW SET UP!! DIAMOND HAS OVER ONE HUNDRED POUNDS ON THE MAN!! WHAT DOES HE HAVE TO PROVE!!")
Jackson Matthews: I quickly realized that this is a cutthroat business and you have to be ready for all comers if you want to survive, from a Welterweight like Xavier… to a beast of a Heavyweight like Scott Diamond. But I'm not here to prop up Scott Diamond, I have no respect for that man. He tried to use me as some sort of outlet to relieve tension and he thought I'd tuck my tail and move on, but I'm "All Heart" Jackson Matthews, get used to the name. When the idea of an actual match against me came into play, HE was the one who tucked his tail and hid behind his manager to get an upper hand over me and attack me.
(A recap from last weeks Resurgence airs with Scott Diamond ambushing Jackson and leaving him in a bloody mess)
Jackson Matthews: He put me down. But where he miscalculated is that he thought he could KEEP me down. You see these bruises and bandages all over me, this is only temporary, this will only help me grow stronger and know how to function against men like yourself in the future. This is what will drive me to be the best I can be, and to get my revenge on you. Because this image of me sitting on my couch recovering won't last forever, I'll heal up and when I do I'm coming for you Scott Diamond, I'm coming for you Albert Hitchman, and I'm coming with a vengeance. "All Heart" isn't just a fancy nickname I came up with to put on a t-shirt and sell merch with, it's a lifestyle. "All Heart" is what brought this virtual noname out at REVOLT 1 to confront one of the biggest legends in this business when all of the odds were stacked against me and I STILL won. "All Heart" is why REVOLT thought signing me was a great investment in the first place. Most importantly, "All Heart" is why I REFUSE to back down from Scott Diamond and why we will cross paths again to a different outcome. Which brings me to my next point, I suffered a few minor injuries at the hands of Scott that will keep me out for a few weeks. The good news is that after speaking to the medical staff, I should be back and ready just before REVOLT 2. What a coincidence right? What a great time that would be to get my hands on you Scott. So I'll throw the ball in your court, the challenge is officially laid, me versus you at REVOLT 2, no blindsided attacks, just a straight up one on one head to head matchup. We've seen how much of a fucking joke you are in that ring these days without the antics to cover it up but now the whole world is watching and you're on notice so either you accept my challenge or you prove me right that you're a pussy, so what's it gonna be? I expect an answer soon.
(Camera fades back to the announcer tables)
James Peters: Strong words from "All Heart" Jackson Matthews, lets see if Scott Diamond or Albert Hitchman has a rebuttal next week! Moving onto other things, up next we have our Freeweight Champion in action against the debuting Layla Lockhart! Layla steps out of the shadow of her sister Malice in her first taste of in ring action here on REVOLT against the biggest challenge she could possibly get, lets see if she'll be ready..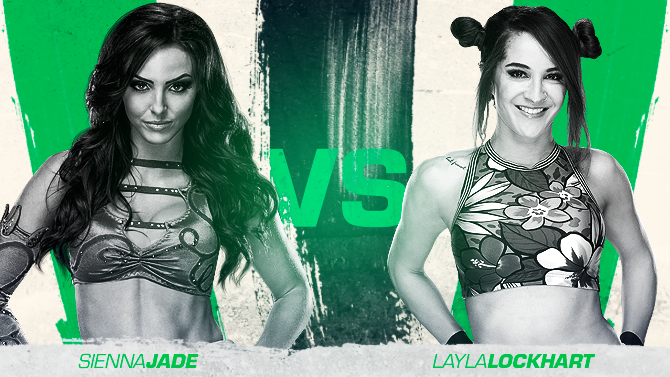 Rich Russillo: The only action I want to see from the Freeweights is R-rated.
James Peters: Oh come on, I barely had my lunch. I don't need to barf it out.
Rich Russillo: This is why you're still a virgin, Peters.
(Many signs are shown such as "#ASTRAEA BETTER, THE REV IS COMING FOR YOU and BLICKY UH" plus many more! The camera eventually focuses on Bella Braxton who is standing in the middle of the ring!)
Bella Braxton: The following contest is scheduled for ONE FALL!
Crowd: ONE FALL!
Rich Russillo: Oh god, not one of *these* crowds. :mjcry: Where's my mountain dew?!
('Our TIme Now' by Plain White T's begins to blare throughout the arena as the audience stands on their feet and erupts in enormous cheers. Layla comes cartwheeling out from the curtain as her entrance music hit, her feather boas flying wildly as the energetic young woman flips and spins to the entrance ramp before stopping at the top of the ramp, landing on her feet and beaming around at the applauding crowd while nodding her head and tapping one foot to her theme song. Once she is finished taking in the crowd she begins taking long, skipping steps down the ramp, alternating sides to try and high five and hug as many fans as possible, picking out a lucky few to give her feather boas before she finally makes it to ringside.)
Bella Braxton: Introducing first, residing in Orlando, Florida… Weighing in at 104 lbs… THE GIRL NEXT DOOR.. LAAAAAAAAAAYLAAAAAAAAA LOCKHEAAAAAAART!!!!
Rich Russillo: How many hearts we got in REVOLT again?
(Layla manages to get in front of the commentating team and stares down Rich who begins to panic.)
Rich Russillo: Hey! Don't look at me like that!
James Peters: She may be nice and bubbly but Layla Lockheart has proven to be a feisty youngster ready to make REVOLT her own playground. Better watch what ya say, Rich!
(Layla slides under the bottom rope as she immediately climbs on the top turnbuckle and begins to engage with the fans. Her music eventually fades as "Resurge" by Gone is Gone begins to play through the amplifiers. The crowd immediately boos as Sienna Jade emerges from the curtains. Sienna, with a frown on her face, raises her championship high as she is seen mouthing the words "SHUT UP" towards the raging crowd. Sienna begins to stomp her way down the ramp as she makes it to the steel steps. Sienna takes a look around and appears disgusted as she finally enters the ring.)
Bella Braxton: AND HER OPPONENT! Residing in San Diego, California… Weighing in at 135 lbs… SHE IS THE REVOLT! PRO COMBAT FREEWEIGHT CHAMPION… SIEEEEEEEEEEEEEENAAAAAAAA JAAAAAAAAAAAAAAAADE!!!!!!!!!!!!!!!!!!!!!!
James Peters: Our Freeweight champion doesn't look too happy tonight!
Rich Russillo: Probably not after what that beast Sheckler said earlier, but we have to remind ourselves that our champion shouldn't have to against the likes of Layla Lockheart on a weekly basis. She has proven herself! She needs a vacation!
James Peters: Listen, Rich, Sienna has said it herself – the real work begins when you get that championship so if that means putting in more hours then so be it! She knows what she signed up for!
(Sienna angrily goes to the nearest turnbuckle and climbs it as she raises her gold high in the air. Sienna jumps from the top onto the mat as she gives her title a kiss and hands it off to the ref. Layla begins to jump in place with laser focus embedded in her eyes as Sienna's frown becomes more prominent. The referee checks both gals and signals for the bell.)
(DING! DING! DING!)
James Peters: This match is immediately starting off as both Sienna and Layla begin to circle one another in the middle of the ring. Sienna reaches out her arms in hopes of latching onto Layla like a baby monkey but Layla is too quick for the champion!
Rich Russillo: It's important to note that there is a significant size difference between these two females so we'll see how this plays out during the match!
James Peters: That's a good factor to point out, Rich! It appears as if Layla's slender body is aiding her as she swiftly avoids Sienna's attempts to catch her in her clutches. Finally, Sienna wraps her arms around the torso of Layla from behind and lifts her up! Layla begins to kick her feet as Sienna places her back on the floor. Layla is attempting to unhook Sienna's arms but Sienna lifts her up one more time! But Layla begins to give large, painful elbows to the side of Sienna's head causing her to put her feet back on the mat! Finally, Layla manages to dig her fingers in between the clasped palms of Sienna and slowly begins to open up her hands hoping to let Layla free! Now it's just a game of strength, Rich! Layla is almost there as she is ALMOST freed from Sienna's clutches… AND LAYLA GIVES A HUGE HIP THRUST BACKWARDS CAUSING SIENNA TO BEND AS SHE LETS OUT A LOUD GROAN! Layla tries to take advantage but SIENNA WITH A SWINGING NECKBREAKER! Sienna stands as she observes her opponent who's on the ground and then goes for the cover!
Ref: ONE!
Rich Russillo: Ms. Lockheart immediately kicks out! Sienna isn't missing a beat as she forcibly grabs Layla by her hair and pulls her to her feet! Sienna drags Layla to the nearest turnbuckle and begins to press the rubber sole of her boot in Layla's esophagus! The ref begins to count.. One! Two! Three! Four! And finally Sienna let's go! Oh lord, the look in Layla's eyes is soul crushing. Layla is grabbing her neck as she begins to cough wildly but it appears as if the ruthless champion is not done yet! Sienna grabs Layla by her hair once more as Layla lets out a loud screech that's making my ears bleed! Sienna stands Layla up as she pushes Layla's head back with the palm of her hand. Sienna slowly licks her other hand as she raises it up high… Oh God, I think we know what's going to happen…
James Peters: A CHOP TO THE CHEST OF LAYLA LOCKHEART! GOOD GOD, LAYLA ALMOST FAINTED! YOU COULD HEAR THAT SKIN TO SKIN IMPACT FROM A MILE AWAY! A sinister smile has emerged on Sienna's face as she licks her hand one more time… ANOTHER CHOP! God, Sienna please stop this! Sienna begins to maniacally laugh as she squeezes Layla's distressed face with one hand. Sienna finally let's go as Layla collapses on her bottom! Sienna is feeling herself as she walks in the middle of the ring and begins to taunt the crowd! Ooooh, our fans DO NOT like that! No one wants to see their favorite wrestler be abused that way! Sienna laughs as she tells the crowd to buzz off as she walks towards Layla once more! Sienna brings Layla to the middle of the ring and is looking to end things once and for all! It's time for her famous finishing move… R… D… G!
Rich Russillo: Sienna is ready to hook Layla's head underneath her arm for that bridging fisherman suplex… BUT LAYLA IS TRYING TO FIGHT OUT OF IT! LAYLA IS SHOWING SOME LIFE AS SHE BEGINS TO GIVE STIFF FOREARMS TO MIDSECTION OF SIENNA! Layla quickly escapes as she throws herself towards the ring ropes… Layla comes bouncing back AND DELIVERS A SICKENING ENZIGURI THAT KNOCKS THE CHAMP DOWN TO THE GROUND! SIENNA QUICKLY SCURRIES AND RISES TO HER FEET AS LAYLA DELIVERS A SINGLE LEGGED DROP KICK! SIENNA ONCE MORE MANAGES TO RISE IN A SLOWER PACE BUT SHE'S FACED WITH YET ANOTHER SINGLE LEGGED DROP KICK! SIENNA'S WOBBLY BODY MANAGES TO RISE BUT IT LOOKS LIKE THAT'S NOT GOING TO LAST LONG AS SIENNA IS HIT WITH A FACE LIFT! HOW DID THAT SEQUENCE HAPPEN SO QUICKLY?!
James Peters: Rich, that's Layla's speed for ya! As Sienna was rising, Layla managed to get some momentum from the cheering fans and gave her enough strength to deliver a double knee facebreaker! Layla quickly hooks the champion's leg and goes for the cover!
Ref: ONEEEEEEEEEEEEEEEE!!! TWOOOOOOOOOOOOOOOOOOOOOOO!!!
Rich Russillo: KICK OUT! The champ refuses to go down!
James Peters: I can only imagine! She has a reputation to take care of, Rich! Layla appears cool, calm and collective as she and Sienna rise to their feet at the same time. Sienna and Layla lock up as now it's Layla's turn to take Sienna to the turnbuckle! It looks like Layla is going to bash Sienna's head on the top turnbuckle but before Sienna's head and the padding connect, Sienna puts a halt to it as she places her leg on the turnbuckle to stop the entire thing! Sienna reverses and SMASHES Layla's face on the harsh padding! Ouch!! Layla feels her throbbing forehead as she walks towards the middle of the ring… SIENNA NOTICES AND BEGINS TO GO THROUGH THE RING ROPES… SIENNA YELLS OUT "IT'S TIME TO FINISH THIS!" OH GOD, SHE'S GOING FOR HER FINISHING MOVE RICH! AND THERE SHE GOES! RAW SIENNA! RAW SIENNA! SPRINGBOARD DROPKICK! AND IT CONNECTS!
Rich Russillo: NO! IT DOES NOT! AS SOON AS SIENNA JUMPS FROM THAT TOP RING ROPE SHE REALIZES LAYLA HAS MOVED THEREFORE HER AIM AND ACCURACY IS RUINED! SIENNA LANDS ON HER FEET AND STANDS IN THE MIDDLE OF THE RING… BUT SHE'S MET WITH A SAVATE KICK! THE SAVATE KICK CONNECTS! SIENNA FALLS FACE FIRST INTO THE MAT! NOW LAYLA FRANTICALLY GETS NEAR SIENNA AND… LAYLA LOCK! THE UNDERHOOK CROSSFACE IS IN FULL FORCE! SIENNA DOESN'T KNOW WHAT TO DO!
James Peters: SIENNA IS WIGGLING HER ARMS LEFT AND RIGHT DESPERATELY TRYING TO REACH ANY ROPE IMAGINABLE! OH, MY GOD, LAYLA IS PULLING EVEN TIGHTER! SIENNA NEEDS TO RETHINK WHETHER THIS IS WORTH GETTING INJURED OVER! YOU CAN SEE LAYLA'S HANDS DIG INTO SIENNA'S FACE AS SIENNA SEEMS TO BE FADING OUT… CAN LAYLA BE GIVING SIENNA HER FIRST LOSS AS THE FREEWEIGHT CHAMPION?
Rich Russillo: NO! SIENNA IS STILL IN IT! SIENNA MANAGES TO GRAB THE BOTTOM RING ROPE AS LAYLA IMMEDIATELY LET'S GO! WHAT GREAT VETERAN TACTICS– WAIT, WHO'S THAT?
James Peters: IT'S KASSIDY HEART! COMING TO SUPPORT HER FELLOW JADED HEART ALLY! KASSIDY IMMEDIATELY JUMPS ON THE RING APRON AS THE REFEREE SHIFTS HIS ATTENTION TO GETTING KASSIDY OUT OF HERE! SIENNA IS ON HER FEET AND GIVES A VICIOUS POKE TO THE EYES TO AN UNSUSPECTING LAYLA LOCKHEART! HEY, THAT'S CHEATING! THE REFEREE NOW PAYS HIS ATTENTION BACK TO THE TWO COMPETITORS AS LAYLA IS RUBBING HER EYES. SIENNA TAKES ADVANTAGE. R……….D………….G! BRIDGING FISHERMAN SUPLEX! IT CONNECTS!
Ref: ONEEEEEEEEE!! TWOOOOOOOOOOOOOOO!! THREEEEEEEEEEEEEEEE!!!!!!!!!!!!!
(DING! DING! DING)
(An exhausted Sienna immediately legs go of the bridging suplex as scurries to the corner of the ring. Sienna is met by Kassidy who has the Freeweight title in her hands. Kassidy provides Sienna with her title as they both smile. Kassidy lends Sienna her arm to latch onto as Sienna pulls herself up.)
James Peters: MY GOD, WHAT A MATCH WE JUST SAW FROM THESE TWO FREEWEIGHTS! BUT THE CHEATING, REALLY SIENNA?
Rich Russillo: CHEATING? LAYLA LOST FOCUS ON WHAT MATTERED WHICH WAS SIENNA! DON'T HATE THE PLAYER BABY, HATE THE GAME.
(Sienna and Kassidy are both celebrating as Resurge fades to commercial.)
(Preview for tomorrow night's Rebellion airs, Mr. DEDEDE taking on the Prince of Phenomenal LIVE tomorrow!)
(Resurgence comes back on air as Kassidy Heart and Sienna Jade are shown backstage immediately following Sienna's match laughing together walking down the hall)
Sienna Jade: That was great! She had no idea what was coming and got caught up, great assist out there, we really do make a good team.
Kassidy Heart: You're telling me? I'm just mad we didn't get together earlier than we did! Where have you been this whole time?
Sienna Jade: I know right! But hey better late than never, with us together there isn't a person in this division that will come close to stopping us. But man, I almost feel bad for that little Layla girl….. ALMOST. First her sister abandons her, leaving her to fend for herself, and then she's duped into signing a contract as a fighter here just to be booked against a woman she had no chance against in her first match here, tough luck.
Kassidy Heart: Awww poor girl, she'll be fine, to be honest she needed that reality check. I wish I could have gotten one as early as she did. I was just like her only looking to be a people pleaser and do what was perceived to be the "right" way when in reality I was holding myself back. I haven't felt more free in my life not having to worry about catering to these out of shape drunken virgins who only like me for my looks but claim to care about "women's wrestling". They only cared about getting off but I can't help them with that anymore, I can't be a sweetheart anymore and I can't be "everybody's favorite girlfriend", because at the end of the day the only relationship I'm looking to be in is with success. And teaming with you will bring me just that.
Sienna Jade: Wow, now that's the spirit I like! You stick with me and you'll be as successful as you can possibly be and you'll have done it YOUR way, not anyone else's.
Kassidy Heart: That's, the plan… the Freeweight division truly isn't ready for Jaded Hear–
(Suddenly a livid Jordyn Ace is storming down the hall as she bumps into Kassidy Heart, stares her down, and then keeps it moving to the displeasure of Kassidy)
Kassidy Heart: Umm, what the hell? Excuse you!
Sienna Jade: Heel dog watch where you're going!
Kassidy Heart: Oh my gosh she really does look like a dog! I think the sad puppy is just down because she flunked in her debut match!
Sienna Jade: Oh no sis don't call her a puppy, at least those are cute.. she just looks rough and masculine, and based on that performance she's certainly not fit to be a champion like I am. These new chicks are getting bold man I tell you.
Kassidy Heart: Well she's gonna have to answer to that either way. I don't take kindly to disrespect.
Sienna Jade: As you shouldn't.
(Suddenly, a unknown man walks up to Sienna Jade and hands her a round top box with a card attached)
Sienna Jade: Uh what's this? Another admirer? I mean I'm flattered and all but this is starting to get out of hand. Wait is that a box of flowers, if there's any way to win me over, roses would be the way..
Kassidy Heart: Let me find out you've been hiding a mystery man on us girl!
(Sienna opens the box and card as her excited expression turns into pure disgust as it is a box of black roses and a card that has a black lipstick kiss mark on it and a note written on it)
Sienna Jade: What the hell is this?
Kassidy Heart: Okay this is kind of weird.. What's the note say?
Sienna Jade: "Only a month remains until your demise. Keep that championship warm for me, Mark the date, April 7th – the day your life ends. xoxo L.S."
Kassidy Heart: That's Lexi isn't it?
(Sienna Jade doesn't speak, the expression on her face is a mixture of concern and anger as she looks on and the camera fades to black)
(The camera fades back into the arena where we hear "Dream (Jorgen Odegard Remix)" by Imagine Dragons play. As the theme starts to pick up the pace, blue lights flash around the stage and arena until Elisa Stafford appears under a silvery blue spotlight, turning to face the camera with a smile and wink before making her way down the ramp.)
Bella Braxton: THE FOLLOWING CONTEST IS SCHEDULED FOR ONE FALL! Introducing first, from Chapel Hill, North Carolina! Weighing in at 110 POOUNDSS!!!!!!……"THE GOLDEN LIONESS" EELLLISSAAAA STAAAAFFOOORRRDDD!!!
James Peters: The fun-loving Elisa Stafford may not be so jolly as tonight she is facing one of the most terrifying, vicious, and brutal competitors in REVOLT today. Nonetheless, she is still a gifted young athlete who wants nothing more than to reach and fulfill her dreams.
("Don't Waste My Time" by Krept & Konan then plays to a mixed reaction as Lexi Sheckler walks out from backstage, making no means to play as she slides into the ring. She then spits over her shoulder as a sign of disrespect.)
Bella Braxton: AND HER OPPONENT! From San Clemente, California! Weighing in at 147 POOUNDSSS!!!!!……"THE BLACK LABEL" LEXXIIIII SHEEEEECCKKLLLEEEEERRRR!!!!!
Rich Russillo: Well, watch those dreams be crushed tonight, Peters, because Sheckler is in no mood to play around tonight. She is always hungry for a victory and as one of the top faces of the Freeweight Division, you know just how badly she wants to take that crown from Sienna Jade.
(DING! DING! DING!)
James Peters: The bell has rung and ELISA STAFFORD IMMEDIATELY CHARGES TOWARDS SHECKLER! BUT SHECKLER LEAPS UP AND CATCHES STAFFORD'S HEAD BETWEEN HER LEGS! OH WOW! KING ME! KING ME! THE FRONT FLIP PILEDRIVER BY LEXI SHECKLER CONNECTS AS SHE ABSOLUTELY LEVELS ELISA STAFFIRD ON THE MAT! DAMN! AND THE NUMBER ONE CONTENDER IMMEDIATELY GOES FOR THE PIN!
Referee: ONEEEEE!!!!!!…….TWOOOOOOO!!!!!!!……THREEEEEEE!!!!!!!
(DING! DING! DING!)
("Don't Waste My Time" by Krept & Konan blasts from the arena speakers as Lexi Sheckler stands up, raising her arms and smiling at the camera. Stafford is unconscious in the middle of the ring.)
Bella Braxton: AND HERE IS YOUR WINNER…….LEXXIIIIII SHEEEECCKLLLEEEEERRR!!!!!!
Rich Russillo: :heh:!!!!!
James Peters: :damn: :damn: : damn: !!!!!!
Rich Russillo: Sienna Jade should probably run.
James Peters: I'm with you on that one, Lexi Sheckler is not here to play games, REVOLT 2 may just end up being her night.. But on another note… up next we have our MAIN EVENT of the evening!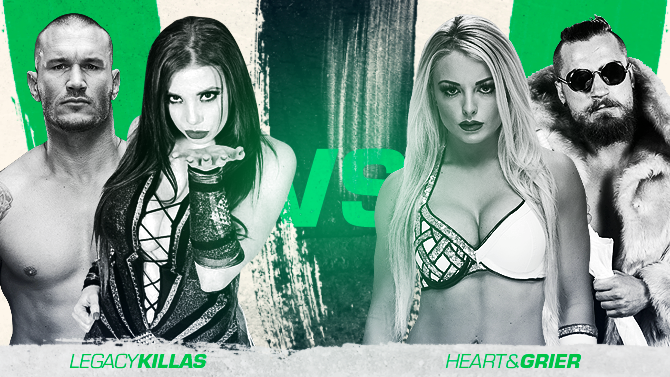 (Recap of Legacy Killas' win over Liquid Swords two weeks ago plays)
('Confident' by Demi Lovato plays and Kassidy Heart walks out to the stage with confident smile on her face.)
(Shortly after, 'Long Live The Chief' by Jidenna plays and Maximus Grier walks out beside Kassidy, proudly holding his REVOLT! Welterweight Championship. The two walk down the aisle side by side.)
(DING! DING! DING!)
Bella Braxton: The following tag team contest is scheduled for ONE FALL! Introducing first, they are the team of KASSIDY HEART AND THE REVOLT! WELTERWEIGHT CHAMPION OF THE WOOOORLD, MAXIMUUUUUUUUS GRIEEEEERRRRR!!!
(Grier & Heart complete their entrance and begin strategizing in the ring, until their music is replaced with "Go Legend" by Big Sean. The crowd gives a big response, and Hurricane Hawk walks out side by side with Ms. Extreme as the two wear matching dark bomber jackets over their ring gear, with Hurricane Hawk sporting his Light Heavyweight Championship over a shoulder.)
Bella Braxton: Their opponents, they are the team of MS. EXTREME AND THE REVOLT! LIGHT HEAVYWEIGHT CHAMPION, HURRICANE HAWK; THEEEEE LEGEND KILLASSSSS!!!!
(Hawk and Ms. Extreme slowly enter the ring from opposite sides, and Hawk steps in holding up his Light Heavyweight Championship in Maximus Griers' face. Maximus returns, pulling his Welterweight title off his waist and holding it in Hawk's face. The ladies of each respective team pull Hawk and Grier away.)
James Peters: The Legacy Killas are coming into this match, no doubt, with supreme confidence. These two are riding high after garnering a win over the Liquid Swords, albeit a controversial victory.
Rich Russillo: Kassidy Heart and Maximus Grier don't have nearly the amount of experience as The Legacy Killas do – not on an individual level and certainly not as a team. However these two have made sure to get acquainted this week, these two have sparred together and become quite good friends over a short period of time.
(DING! DING! DING!)
James Peters: This isn't freaking Nickelodeon Rich, these two aren't going to beat the odds with the "power of friendship," they're going to need to communicate literally at all times in the duration of this match up to even have any remote chance at keeping up with a unit that have proven to take two of the greatest of all time to task – and WIN. Kassidy Heart is starting this big time tag team match up off with Ms. Extreme, as the two circle the ring and look for the first opening they can find… Heart sends a couple of kicks, neither hit the mark, but when she fires off a third Ms. Extreme catches the boot and knocks her down with a STIFF ELBOW to the face, and follows up with a cover!
Ref: OOOOOOOOOOOOOONE!!! TWOOOOOOOOOOOOOOOOO!!!
Rich Russillo: Kassidy Heart kicks out! She might have been temporarily stunned by that shot, but she's recovered and is sent back to the mat with a snapmare by Ms. Extreme, but when Extreme attempts a side headlock Heart manages to counter out of it with a wrist lock escape, and a fine transition into a body-scissors from behind! Ms. Extreme is fighting aggressively to escape that hold, looking to pry apart the legs of Kassidy Heart…. Ms. Extreme manages to pull down that knee pad, and SENDS AWAY SOME ELBOW SHOTS INTO THE EXPOSED LEFT KNEE! Kassidy releases the hold, quickly trying to create space and distance for herself, before she gets TAKEN DOWN WITH A CHOP BLOCK TO THE BACK OF THAT LEFT KNEE! Maximus Grier steps into the ring and immediately checks up on his partner, with the official as well also tending to that knee that could have very well had tendons separated after that brutal hit!
James Peters: Kassidy is insisting that she's fine and that she can continue.
( Hurricane Hawk steps in the ring, and a cautious referee asks for Hawk to stay away. )
Hurricane Hawk (off-mic): Whole lotta simping going on in this ring right now! Can she not compete? Is she too hurt? Can we go?
James Peters: Kassidy Heart is trying to get herself back up, but definitely looks like that knee is in a lot of pain. Those chop blocks can single handedly end a person's career when hit as clean and effectively as it was by Ms. Extreme – speaking of which, is now getting involved and pulling Kassidy Heart up by her hair! Maximus Grier goes right after her – but Hawk steps in his way, which causes Grier to SHOVE Hawk away! HAWK SHOVES BACK! AND NOW GOES CHARGING AT MAXIMUS FOR A CLOTHESLINE! GRIER DUCKS UNDER THAT, AND MEETS HAWK WITH A RUNNING TIGER KNEE TO THE JAW – WHICH SENDS HIM THROUGH THE ROPES AND DOWN TO RINGSIDE! The official intervenes, trying to stop Hawk from charging back into the ring…. AND HEY! KASSIDY HEART FIRES AWAY WITH EUROPEAN UPPERCUT SHOTS! Ms. Extreme retreats into the corner, looking a bit rattled by those shots, but she charges back at Kassidy Heart … ONLY TO BE TURNED INSIDE OUT WITH A RUNNING CORKSCREW EUROPEAN UPPERCUT! FOLLOWS UP WITH THE COVER!
Ref: OOOOOOOOOOOOOOOONE!!! TWOOOOOOOOOOOOOO-
Rich Russillo: Kick out right at two! Kassidy drags herself up and officially tags in her partner Maximus Grier, and at the same time Extreme tags in Hurricane Hawk, allowing Hawk to rush into the ring – WHOOPS! LOOKS LIKE HE TRIPPED OVER A ROPE! AND MAXIMUS GRIER BLASTS HIM WITH A BRUTAL LOW DROPKICK, BOTH BOOTS SLAMMING AGAINST THE HEAD OF A KNEELING HAWK, AND TAKING HIM BACK OUT OF THE RING! Maximus Grier dives out of the ring with uncanny speed and follows up on Hawk who's on the floor sitting back against the barrier, and Grier sends a wicked flurry of stomps mainly to the abdomen of Hurricane Hawk, and those stomps are coming in fast and furious! Not to quote a cliche here but he's stomping a legit mudhole on the guy!
James Peters: And he's not stopping there, the Welterweight Champion scrapes the Light Heavyweight Champion up from the ground and brings him right over here where our Mexican announce desk is… just to SMASH HIS FACE INTO THE – NO, HAWK STOPS HIMSELF, AND INSTEAD COUNTERS WITH A POP-UP STYLE BACK SUPLEX, DRIPPING GRIER HEAD FIRST ONTO THE ANNOUNCE DESK!!!!
Ref: 1! 2! 3!
Rich Russillo: BRUTAL COLLISION! TAKE ANOTHER LOOK AT THIS!
( We get a replay, showing Hawk grabbing Grier from behind and delivering a pop-up back suplex, with slow motion on the back of Grier's head hitting the table and his body folding over before collapsing to the floor. We return to ringside, where both men are recovering. )
James Peters: Hawk's taking a little bit to dust off the cobwebs, but he's pretty much in the driver's seat at this point. Hurricane Hawk brings Grier up by his deadweight and rolls him onto the apron and back into the ring, and Hawk tags in Ms. Extreme, allowing her to step back into the ring. Hawk pulls Grier up from the mat, and Grier rushes for a WILD FLURRY OF FOREARM SHOTS! HE'S COMING AT HAWK WITH JUST ABOUT EVERYTHING HE HAS – BUT MS. EXTREME TURNS GRIER AROUND! SUPERKICK!!!!! WHAT A WICKED SHOT, AND GRIER TURNS AROUND JUST TO STUMBLE RIGHT INTO A KICK TO THE MIDSECTION! GENERATION KNOCKOUT!!!! IMPALER DDT FROM HURRICANE HAWK! AND NOW MS. EXTREME SLIDES OVER GRIER WITH A COVER!
Ref: OOOOOOOOOOOOOOOONE!!! TWOOOOOOOOOOOOOOOOOOO-
Rich Russillo: Kick out by Maximus Grier! Kassidy Heart is calling for the tag from her corner, but just as Grier even gets the inclination to move in that direction, Ms. Extreme applies a ONE-LEGGED BOSTON CRAB! Very smart move on the part of Ms. Extreme, it's not an easy hold to apply but it's an effective way to keep your opponent immobile and apply pressure on that lower back! Maximus Grier is putting up as much of a fight as he can, trying to claw his way closer in the direction of Kassidy Heart, but Ms. Extreme definitely has good torque on that half crab and is centering all of her weight onto the hold … now Grier attempts to turn his own body and perhaps find a different way out of this hold, but Ms. Extreme is fighting it tooth and nail, doing all she can to prevent him from getting onto his back and preventing him from escaping the pressure……. Ms. Extreme's losing control and fast!!! ……………… Kassidy Heart is willing Maximus Grier on, and NOW GRIER MANAGES TO CURL HIS BODY FORWARD, AND ENDS UP IN FRONT OF MS. EXTREME AND SENDING HER FLYING WITH THE LEG STRENGTH! Maximus is on his way to his partner, HAWK IS TAGGED IN BY EXTREME! AND HE RUSHES OVER TO GRIER TO DELIVER A PICTURE PERFECT DROPKICK, SENDING GRIER FLYING INTO KASSIDY HEART AND BUMPING HER OFF THE APRON!
James Peters: Oh! Tough break for the Welterweight Champion! He needed that reprieve bad, but he will not find it, Hawk drags Grier into the center of the ring and drops over him with the firm cover and hook of the leg.
Ref: OOOOOOOOOOOOOOOOONE!!! TWOOOOOOOOOOOOOOOOOO!!!
James Peters: GRIER HANGS ON! Kick out right before three! Hurricane Hawk looks over at Grier slightly irritated, but still smiling, still in the driver's seat. And Hawk walks over to his corner to tag back in his partner Ms. Extreme, and Rich it's pretty clear which team has the advantage overall. The Legacy Killas have been able to make by far the most tags this evening, and that's why they've established a firm control of this match up albeit taking their fair share of lumps. The two begin to circle around Maximus Grier, and Hawk delivers a STOMP TO THE BICEP! THERE'S EXTREME WITH A STOMP TO THE CALF! HAWK WITH A STOMP TO THE PEC! EXTREME WITH A STOMP TO THE RIBS! HAWK WITH A STOMP TO THE SHOULDER! THE TWO BEGIN THE ART OF "JAYWALKING", DELIVERING CALLOUS, MERCILESS STOMPS TO ANY OPEN EXTREMITY … BEFORE MS. EXTREME SEALS THE DEAL WITH A KNEE DROP TO THE HEAD! She hovers over Maximus Grier with a lateral press.
Ref: OOOOOOOOOOOOOOOOOOONE!! TWOOOOOOOOOOOOOOOOOO!!!
Rich Russillo: Yet ANOTHER kick out by Maximus Grier! You can tell his tank is getting real close to empty, he's taking quite a bit of abuse so far as Ms. Extreme now has him clamped down with a side headlock. Ms. Extreme is strategically draining the energy out of the Welterweight Champion, keeping him grounded and subdued for as long as she can. Maximus again has to find that inner strength and fight for any type of leverage, and Ms. Extreme batters away a fist every time Maximus even remotely makes any sort of progress. After a moment Grier's back up to a knee, and Ms. Extreme releases the headlock just to hit an elbow to the face! Shoot kick to the shoulder! But Grier is shaking his head, seemingly unfazed! Now Ms. Extreme climbs up to the middle turnbuckle… and SPRINGS OFF OF IT FOR THE SATELLITE DDT!!!! BUT GRIER COUNTERS WITH A BIG TIME FLAPJACK!!! MOMENTUM TAKES HER BACK UP TO HER FEET, BUT GRIER SENDS HER DOWN WITH A MASSIVE KNIFE EDGE CHOP! AND FOLLOWS UP WITH AN OVERHEAD PELE KICK, SENDING HURRICANE HAWK OFF THE APRON!
James Peters: AND GRIER, COMPLETELY WINDED, BRUISED AND BATTERED MAKES A MAD DASH OVER TO HIS CORNER … TO FINALLY TAG IN KASSIDY HEART!!! GRIER RUSHES BACK OVER TO MS. EXTREME, RIP-CORD KNEE STRIKE TO THE FACE!!! KASSIDY DRILLS MS. EXTREME WITH A SUPERKICK TO THE SIDE OF THE HEAD! AND GRIER BACKS INTO HIS CORNER AS KASSIDY APPLIES A REAR WAISTLOCK, AND DELIVERS THE KASSPLODER PLEX!!! GERMAN SUPLEX SENDING MS. EXTREME INTO AN ENZUIGIRI TO THE BACK OF THE HEAD BY MAXIMUS!!! MAXIMUS SPRINTS ACROSS THE RING NOW AND HITS A BASEBALL SLIDE JUST AS HURRICANE HAWK LOOKS TO RUSH BACK IN THE RING, AND KASSIDY HEART STACKS MS. EXTREME ONTO HER SHOULDERS WITH THE SCHOOL BOY ROLL UP!
Ref: OOOOOOOOOOOOOOOONE!!!! TWOOOOOOOOOOOOOOOOOOO!!!
Rich Russillo: HEY SHE'S GOT HER FEET PROPPED ON THE MIDDLE ROPES! THE REF DOESN'T SEE IT!
Ref: THREEEEEEEEEEEEEEEEEEE!!!
( Ms. Extreme kicks out right after three. )
( DING! DING! DING! )
( 'Long Live The Chief' by Jidenna plays and Kassidy Heart bails out of the ring, and jumps into Maximus Griers arms with a big hug. )
Bella Braxton: Here is your winner, the team of KASSIDY HEART AND MAXIMUUUS GRIEERRR!!!!
Rich Russillo: WHAT A HUGE VICTORY! THESE TWO JUST DEFEATED THE LEGACY KILLAS, WHO NOT EVEN TWO WEEKS AGO MANAGED TO SCORE A WIN OVER THE LIQUID SWORDS!
James Peters: Well wait a minute! That was an illegal pinning hold! She had her feet propped up on the second rope! There's no way that should count, should it?
Rich Russillo: Not sure how many times I've gotta explain this to you JP, but the referee can only call what he sees, and clearly he didn't spot the rope leverage, so you can't expect any retroactive decisions to be made.
James Peters: We need to get vision tests for these officials then, because this is becoming ridiculous! I mean seriously, the no-calls are becoming a BIG problem in this tag division, and I'm afraid if this problem doesn't get nipped in the bud it could potentially affect a championship match down the line!
Rich Russillo: As far as I'm concerned Grier and Heart managed to make the equivalent of a late fourth quarter rally, and boy did it pay dividends! If you ask me, this win is as justified as The Legacy Killas' win from two weeks ago! Live by the sword and die by it, am I right? No pun intended of course!
(Maximus and Kassidy are on their way down the ramp as Hurricane Hawk and Ms Extreme are arguing with the ref)
(Camera fades to black and the REVOLT Logo Buzzes)