(EARLIER TONIGHT. Prince of Phenomenal is shown walking down the hall with the Middleweight Championship draped over his shoulder as he's suddenly stopped in his tracks)
???: So we meet again.
(POP turns around confused as he notices a grinning Lucian Baal)
Prince of Phenomenal: Is that how you approach your champion? Rudely walking up to me without scheduling an appointment to do so? I don't appreciate that, but since I'm free tonight I guess I'll entertain you. What can I do for you? I'm a charitable champion too you know.
Lucian Baal: Ha you're funny. It's nice to see that the years haven't damaged your sense of humor as much as they've damaged your reputation. I was just congratulating you on your huge week last week, you have certainly been on a role as of late and it's truly admirable, however all good things must come to an end.
Prince of Phenomenal: You're right about that, nothing lasts forever… except for my ability in that ring. You see, I talk a lot but time and time I've backed it up no matter what promotion I've been a part of. Prince of Phenomenal isn't just a catchy ring name, it's what I represent, it's what I live by. If what I am not doing is Phenomenal then I am not being myself. That's what separates the two of us, because while I'm winning a championship and defeating the likes of Mr. DEDEDE in the same night, you're too busy playing pity pat with the likes of Liam Archer, there's levels to these things and you aren't on mine.
Lucian Baal: Whatever fantasy world you've been living in you need to come out of it right now. Here's the reality of the situation here "Prince", you had your time a long while ago, your peers and even men who were considered less than you back then like myself had long passed you up. You got complacent and faded to obscurity while the likes of myself have risen in this business to not only become as great as you should have been… but GREATER. This Middleweight division deserves a champion that will prove to be consistent and not burn out and run off, that is me.
Prince of Phenomenal: The bust of the decade is criticising ME.. on consistency. (Prince of Phenomenal bursts out a loud laugh). Sorry sorry I couldn't contain myself there, but that's some amusing shit right there. Don't throw stones if you live in a glass house, George. Isn't it funny how you're known for being in a tag team with Alexander Da Vinci, a man who I basically defeated to cement my legacy in this business… and a man who you've had five years to surpass and still haven't. Any time I was away from this business I could have easily come back and held it in the palm of my hands like I have done before. The talent has always been there and it always will be, but for a number of reasons the motivation waned. REVOLT has rejuvenated my motivation and that doesn't spell anything good for the rest of this division. So I'll accept all comers, you know where to find me.
Lucian Baal: Dwell on the past all you want, considering that's all you're good for being… a representation of a past era that has long come and gone. I am the present and the future, and the future includes that title in my hands and you fading back into obscurity in whatever rock you climbed out of. I have a little thorn in my side in Liam later tonight, but once I'm done with him.. you're mine.
Prince of Phenomenal: Good luck with that, I'll be waiting George.
(Prince of Phenomenal walks off confidently as Lucian looks on and the camera fades out)
(The camera zooms inside the arena as it lights up in bright red, black and white. We pan around the thousands of screaming, rabid fans. A close up of a few signs is shown before the camera fades over to the commentary table and we're greeted by a smiling James Peters and Rich Russillo)
James Peters: HELLLLOOOOOO EVERYBODY AND WELCOME TO SUNDAY NIGHT REBELLION!!…
("I Am a God" by Kanye West hits as the arena lights begin flickering, alternating between black and white before Mr. DEDEDE and Impact walk out from behind the curtains to the stage with the REVOLT! Tag Team Championships draped over their waists. The two cavalierly saunter down the ring, DEDEDE surveying the crowd and Impact paying them no mind in contrast. Impact closes his eyes for a brief moment, then proceeding with his march down the ramp. Three quarters of the way down the ramp, DEDEDE runs under the bottom rope and into the ring, doing his signature wide-eyed grinning taunt. Impact walks up the steel steps and into the ring, by which time DEDEDE has a microphone in his hand from the timekeeper's area)
Peters: These are two living legends in the flesh. The best ever, and many would say still the best today! DEDEDE has a microphone in hand. After last week's exchange with Talib Bari resulting in the referee officiating their match vs. the Legacy Killas a few weeks ago getting fired, what could they possibly want to say tonight?
Russillo: Maybe trying to exact a little vengeance on The Legacy Killas? Or expand their outreach to other divisions in REVOLT?
(Impact gestures his thumb toward DEDEDE, who then holds the mic up near his mouth)
Mr. DEDEDE: Now, I realize many of you think Impact and I were maybe a little bit too quick to judge last week, a little bit trigger-happy because we forced Talib Bari's hand. We're listening. That's why, right now, I'm going to step outside the box a little bit and do something I don't ordinarily do. From Liquid Swords to the… (DDD does air quotes) "Legacy Killas," I'd like to extend an invitation to Hurricane Hawk and Ms. Extreme to come out here so that the four of us can clear the air…
(Impact mockingly shrugs for a moment before grinning and nodding, seemingly in approval)
Russillo: Well? Are The Legacy Killas going to come out? They know they got away with a fast one a couple of weeks ago and might not be so lucky tonight. But DDD seems to be in good spirits. Impact's body language appears relaxed, confident. Where are they?
("Go Legend" by Big Sean hits as Hurricane Hawk and Ms. Extreme walk down the ramp dressed in their ring gear, the crowd buzzing in anticipation of the two duos being in the ring with one another again. Hawk already has a microphone in hand as he walks down the ramp with Ms. Extreme, holding the middle rope down with his leg's weight to let Ms. Extreme enter first before walking into the ring himself. As they were walking up the ramp, Impact got another mic from the timekeeper's area)
Impact: Delighted to make your acquaintance. (Impact extends his arm to Hawk, DDD doing the same to Ms. Extreme. The Legacy Killas both reluctantly shake the hands of Liquid Swords)
Hurricane Hawk: So what is it? What are we out here for? So you guys can complain more about our match? You just can't be satisfied unless you're at the forefront of everything, can you? Both Ms. Extreme and I respect what you guys have done and the fact you continue to excel at a high level. But we don't respect the fact that you're trying to take away from what we're doi-
(cutting Hawk off) Impact: We understand your gripe. Nobody likes to feel discredited. I mean, who's to say you two wouldn't have defeated us had fortune not smiled upon you to begin with? Who's to say that if we get that rope break we don't still somehow end up losing?
(DEDEDE shrugs his shoulders as Hawk looks on, possibly wary of Liquid Swords' hidden intent)
Hawk: Give me a break. You two? The two men who have presided over some of the most ruthless runs in the history of this business? You want to "clear the air"? The way I see it, you can get that referee fired and backtrack after the fact all you want, but the reality is this little message you're trying to send here, you're just trying to butter the two of us up so we won't beat your ass… (Hawk points to the Tag Team Championship over DEDEDE's shoulder) … And take those titles. Isn't that right, partner?
(Ms. Extreme smiles and nods toward Hawk as he exchanges the grin. The two look at each other and are temporarily distracted)
Russillo: WHAT?! IMPACT PUSHES HAWK WHILE THE MAN WAS BLINDSIDED, AND HE BUMPS INTO HIS PARTNER MS. EXTREME! MS. EXTREME IS SENT FLYING OVER THE ROPES! HAWK IS HORRIFIED AT WHAT HE JUST DID TO HIS PARTNER MS. EXTREME, AND A FLYING FOREARM TO THE BACK OF HAWK'S HEAD BY IMPACT! HAWK STUMBLES BACKWARD — RIGHT INTO A SINGLE-KNEE EVISCERATION FROM IMPACT! DDD WATCHES WITH GLEE AS IMPACT JUST LAID WASTE TO HURRICANE HAWK BY DIVERTING HIS ATTENTION TO HIS PARTNER MS. EXTREME'S WELL-BEING!
Peters: Oh, no! DEDEDE isn't one to be outdone, as he rolls outside of the ring and he seems to be sizing Ms. Extreme up for a Spear. Ms. Extreme is clinging to the barricade to get up. She's still clearly affected by that tumble outside the ring. DDD is FROTHING at the mouth, running his fingers through his blond locks with that maniacal, bloodthirsty look in his eyes, and he charges!
Russillo: SPEAAAAAAAAAAAAARRRRRRRR!!!!! DEDEDE JUST SPEARED MS. EXTREME THROUGH THE DAMN BARRICADE! THIS MAN'S AN EQUAL OPPORTUNITY ASSKICKER! HE DOESN'T GIVE A DAMN WHETHER YOU'RE MAN, WOMAN, OR WHATEVER ELSE!
Peters: AND DEDEDE'S LOOKING UNDER THE RING… AND HE'S GOT A STEEL CHAIR! AND ANOTHER STEEL CHAIR! HE TOSSES THE CHAIRS INTO THE RING WHERE IMPACT LOOKS ON WITH THAT SICKENING, SMUG LOOK OF SATISFACTION ON HIS FACE, THESE TWO MEN NODDING AT ONE ANOTHER AS DDD RE-ENTERS THE RING AND HAWK RISES TO HIS FEET IN A DAZE, BOTH IMPACT AND DDD HAVE STEEL CHAIRS IN HAND… CON-CHAIR-TO!!! IMPACT AND DEDEDE JUST BASHED HAWK'S SKULL IN, SANDWICHING HIM BETWEEN THE TWO STEEL CHAIRS! THIS CAPACITY CROWD HEARD EVERY BIT OF THAT THUD! WOW! THE CROWD IS DISGUSTED! THE BOOS ARE RAINING DOWN ON THE LIQUID SWORDS RIGHT NOW AS THE TWO MEN HIGH FIVE EACH OTHER, ROLLING OUT OF THE RING AND LOOKING DOWN AT MS. EXTREME, PICKING UP THEIR TAG TEAM CHAMPIONSHIPS AND WALKING BACK UP THE RAMP!
("I Am a God" by Kanye West hits as Impact and Mr. DEDEDE walk up the ramp. Ms. Extreme lays lifelessly on the outside mat, the barricade she used to hold herself up collapsed from DDD's spear. Hawk lays motionlessly in the middle of the ring, his eyes closed shut and his head swollen and red…)
Peters: This isn't the end of this, not by a long shot! Ms. Extreme and Hawk, as fierce of competitors as they are, they're going to rebound from this! The pettiness of the Liquid Swords knows no bounds. They have enough skill to match with anyone on their own, but to stage a dishonorable attack on The Legacy Killas like this for no damn reason? I'm SICK!
(Impact and DDD hold each other's arms high at the top of the ramp, the camera fading out, cutting to commercial…)
(Commercial break)
(The camera fades into the ring where "Young and Bitter" by Hot Tag Media blasts through the speakers as Dustin Diamond steps out from the backstage, shadowboxing the air before walking down to the ring.)
Bella Braxton: THE FOLLOWING CONTEST IS A TRIPLE THREAT MATCH SCHEDULED FOR ONE FALL! INTRODUCING FIRST! Introducing first, from New York City, New York! Weighing in at 205 POOUNDSS!!!!!…..DUSSSTIINNN DIAAAAMOOOONNDDDD!!!!!
James Peters: And here we go with some triple threat action with three of REVOLT's newest signees, Dustin Diamond coming up here first! The kid was born and raised in New York City, New York, and had an affinity for amateur wrestling before moving onto the independent scene where he became quite well-known throughout the circuit. He made his debut last week, taking the victory and tonight let's see if he can bring his streak to 2 – 0 with tonight!
("A Different Kind of Dynamite" by Thousand Foot Krutch blasts through the speakers as Jackson Blayde walks out after the bass drops for the song, looks at the ring before cracking his neck, then walks to the ring and steps up on the apron to get in. He stands on the apron for a moment before pausing to beat his chest and scream "BOW BEFORE ME!" to the crowd.)
Bella Braxton: AND SECOND! From Memphis, Tennessee! Weighing in at 217 POOUNDSS!!!!!….HE IS "THE PRINCE" JAAACKSSOOONNN BLAAAAYYYYYYDEEEEEEEE!!!!!!
Rich Russillo: A new debutant tonight, Jackson Blayde seems to be the most promising out of these two but I digress. He believes himself to be the rightful King of Combat sports and with a track record like his, I wouldn't be blaming him. He's practiced in all forms of wrestling and combat styles and tonight in REVOLT, we will witness first-hand just whether or not he can walk the walk along with his talk.
("Kingdom" by Downstait then blasts through the speakers as Equinox rises from the smoke-filled stage, spreading his arms wide as he wears his signature masks. He walks faster as the beat increases in speed, high-fiving and greeting fans before climbing onto the top rope from the apron, and somersaulting into the ring.)
Bella Braxton: AND LAST! From Saint Louis, Missouri! Weighing in at 226 POOUNDSS!!!!….HE IS "THE KING OF HIGHSPOTS" EQQUIIIINOOOOXXXXXXX!!!!
James Peters: The newest addition to the Welterweight roster, a man who was renowned throughout the world for his agility and speed in the ring, along with his beautiful athleticism. He loves the wrestling business and wants nothing more than to put on a show for the fans and the crowd, along with providing for his family. And tonight, we'll see him live!
(DING! DING! DING!)
James Peters: The bell has rung which means that this match has officially begun as now you can see all three men in the ring; Jackson Blayde, Equinox, Dustin Diamond, all staring at each other and waiting to see who will strike first! AND IT'S JACKSON BLAYDE WHO IMMEDIATELY CHARGES FIRST TOWARDS EQUINOX! HE GOES FOR A LARIAT – BUT EQUINOX DUCKS IT! Blayde turns around, ONLY TO MEET EQUINOX WHO BARRAGES THE PRINCE WITH MULTIPLE STRIKES! Forearms, elbows, shoot kicks! A VICIOUS ROUNDHOUSE KICK BY EQUINOX STRAIGHT INTO THE HEAD OF JACKSON BLAYDE KNOCKS HIM FOR A LOOP! OH! AND HERE COMES DUSTIN DIAMOND REBOUNDING FROM THE PARALLEL ROPES! A CLOTHESLINE SENDS JACKSON OVER THE TOP ROPE AND NOW THERE ARE ONLY TWO MEN IN THE RING! Equinox and Dustin Diamond making quick work of Blayde, taking him out early which is a nice strategy but now it's just them, which means now they must fight! Equinox and Diamond turn to each other and begin to circle around the ring, waiting for a chance to strike…..and it seems that Diamond wants a test of strength! And Equinox obliges as he raises his arm along with Dustin and the two attempt to wrestle each other and see who is stronger in this case! Equinox the heavier man though able to push Dustin down, but he is holding his ground and is unrelenting! Diamond with the quick escape now though as he spins around and sweeps the leg of Equinox from out under him!
James Peters: Dustin now quickly shifts to move towards a side control but Equinox tries to get out! But he can't as Dustin now has him trapped in a grounded facelock, oh boy! I don't think he wants to be here at this very moment! Dustin Diamond is a prolific amateur wrestler from his college years and Equinox is in a bad position right now! AND HERE'S DUSTIN WITH A KNEE TO THE FACE OF EQUINOX AS HE HAS HIM TRAPPED IN THE FACELOCK! THEN A SECOND KNEE! A THIRD KNEE AND EQUINOX REELS BACKWARDS! Brutal knees from Dustin as Equinox looks to rest in the corner but Diamond isn't letting him! BUT EQUINOX SHIFTS POSITION AS HE GRABS DUSTIN AND SWITCHES PLACES WITH HIM! NOW DUSTIN IS TRAPPED IN THE CORNER WHILE EQUINOX BARRAGES HIM WITH RAPID-FIRE SHOOT KICKS TO THE CHEST! Equinox runs to the opposite corner then returns! WOW! A SPINNING JUMPING KNEE STRIKE FROM EQUINOX STRAIGHT INTO THE JAW OF DUSTIN KNOCKING HIM FOR A LOOP AND SPINNING HIM AROUND! EQUINOX GRABS HIM FROM BEHIND! GERMAN SUPLEX WITH A BRIDGING PIN BY EQUINOX, WHAT A MOVE!
Referee: ONEEE!!!!!…..TWW—
Rich Russillo: BUT THERE'S JACKSON BLAYDE WHO HAS RECOVERED AS HE BREAKS UP THE PIN! Now he's attacking him, clearly wanting payback after Equinox and Dustin double teaming on him earlier in the match!
James Peters: Jackson Blayde with these vicious and machine-gun like fists to the head of Equinox, clearly in a haze of rage as he lifts up the Highspot Hero once more! HE HOOKS THE HEAD! EQUINOX IS TRYING TO FIGHT IT BUT BLAYDE WITH CLUBBING ELBOWS TO THE BACK OF EQUINOX! SNAP DDT BY JACKSON BLAYDE SPIKING EQUINOX RIGHT ONTO HIS HEAD, WOW! DID YOU SEE THE WAY HE DROVE HIM DOWN WITH THAT ONE? Equinox actually sits up from the momentum of the DDT, clearly dazed from that move as Jackson Blayde rises to his feet and rebounds off the ropes…..FOR A PENALTY KICK ACROSS THE SPINE OF EQUINOX! YIKES! He lets out a pained shout from that Penalty Kick as you can clearly see Blayde is not happy with being taken out like that early on in the match, and now he shifts his focus onto Dustin Diamond who only now has recovered from the Jumping Spinning Knee Strike and German Suplex from Equinox! Jackson Blayde moves over to Diamond who is resting in the corner AND BEGINS TO VICIOUSLY STOMP HIM IN THE CHEST! HE'S STOMPING A MUDHOLE INTO HIM, AND DUSTIN IS TRYING HIS BEST TO DEFEND HIMSELF BUT CAN'T! Now Jackson has Diamond sitting in the corner, AND HE PLACES HIS BOOT ACROSS THE THROAT! HE'S CHOKING THE LIFE OUT OF DUSTIN BUT HE CAN'T DO ANYTHING ABOUT IT BECAUSE THIS IS A TRIPLE THREAT MATCH!
Rich Russillo: Now Jackson stops after a while, he could've choked him but eventually adrenaline would have been pumping in the veins of Dustin which would've stopped his assault either way, it was better for him to stop now and recover than not stop and become exhausted.
James Peters: He realizes that as Dustin grabs his throat and lets out sharp breaths after Jackson Blayde attacked him, and now The Prince lifts Dustin up back to a vertical base! HE LIFTS DIAMOND IN THE ARGENTINE HOLD! HE MIGHT BE LOOKING FOR A BRUTAL BACKBREAKER HERE ONTO DUSTIN WHO IS TRYING HIS BEST TO ESCAPE, BUT JACKSON HAS HIM LOCKED IN! OH! BUT HERE COMES EQUINOX WHO HAS RECUPERATED FROM EARLIER! HE'S ON THE TOP ROPE! WHAT THE HELL?! HE LEAPS OFF THE TOP! A CROSSBODY BY EQUINOX ONTO JACKSON BLAYDE AS HE STILL HELD DUSTIN DIAMOND, WOW! NICE WORK, HE TOOK OUT TWO BIRDS WITH ONE STONE WITH THAT MANEUVER! Jackson Blayde and Dustin Diamond now rolling out of the ring after that, trying to recover, but Equinox isn't having it! He rebounds off the ropes THEN FLIES OFF! OH MY GOD! SHOOTING STAR PLANCHA FROM THE INSIDE OF THE RING TO BLAYDE AND DIAMOND ON THE OUTSIDE BY EQUINOX! WOW! I'M STARTING TO SEE WHERE HE GETS THAT NICKNAME FROM, WHAT A GREAT MOVE BY THE KING OF HIGHSPOTS! Equinox now grabs Blayde from the outside and rolls him into the ring! Now he's on the apron and he's rallying the fans up who are feeling this man right now! Equinox is on the top! HE'S PERCHED LIKE AN EAGLE WAITING TO STRIKE ON THE DOWNED JACKSON BLAYDE! THIS MIGHT BE IT! THE DARK KINGDOM! THE DARK KINGDOM!
James Peters: WAIT….DUSTIN DIAMOND FROM THE OUTSIDE! HE STANDS UP ON THE APRON AND PUSHES EQUINOX OFF OF THE TOP TURNBUCKLE BEFORE HE COULD HIT THE SWANTON BOMB! WOW! Dustin Diamond barely saving the match for himself as he is on the apron and is now clearly mad! He wants to win this right here right now, as he slides into the ring and sees Equinox who is grabbing his spine in pain! DIAMOND GRABS EQUINOX AND HOOKS HIS LEG! FISHERMAN SUPLEX BY DUSTIN DIAMOND SENDING HIM DOWN TO THE MAT IN PAIN AND NOW DIAMOND LOOKS AT JACKSON BLAYDE AND IS WAITING TO END IT ALL! HE WANTS HIM UP AND FACING HIM, TELLING JACKSON TO STAND UP! HERE HE COMES! THE PERFECT DIAMOND! THE PERFECT – NO! JACKSON PUSHES DUSTIN OFF OF HIM BEFORE HE COULD CONNECT! AND NOW DUSTIN TURNS AROUND…..OH MY GOD! SLICE BLAYDE! SLICE BLAYDE BY JACKSON, THAT RUNNING KICK BY JACKSON BLAYDE STRAIGHT INTO THE HEAD OF DUSTIN DIAMOND!
Rich Russillo: DID YOU HEAR THE SOUND OF THAT? WOW! AND THE SELF-PROCLAIMED KING OF COMBAT SPORTS GOES FOR THE PIN!
Referee: ONEEEEE!!!!!……TWOOOOO!!!!!……
James Peters: BUT EQUINOX FROM THE OUTSIDE TRIES TO BREAK THE PIN UP!
THREEEEEEE!!!!!
(DING! DING! DING!)
("A Different Kind of Dynamite" by Thousand Foot Krutch then plays as Jackson Blayde quickly rolls to the outside, barely making the three count as Equinox rushed in to break it.)
Bella Braxton: AND HERE IS YOUR WINNER…….JAAAAACKKSSOOONNN BLAAAYYYDEEEEE!!!!
James Peters: AND JACKSON BLAYDE PICKS UP THE DEBUT VICTORY TONIGHT, BUT OH HOW CLOSE WAS THAT? Equinox saw what was happening and tried to break it up, and honestly came so close but tonight he was just a fraction of a second too late as The Prince picks up the victory tonight! Wow! All three of these men showed heart, passion, and determination to win this Triple Threat contest and especially Jackson Blayde and Equinox who made the best out of their situation and showed just what they could do when in front of the big lights! Neither man here tonight should be disheartened, they showed well but in the end it was Jackson Blayde who picked up the victory, and the glory.
(Jason Skilled and his mouthpiece RJ Skilled are seen standing by backstage with Sofia Clarke)
Sofia: Last week your son — client — managed to get the better of Shackleford. That being said, there was a bit of an assistant from you. Shackleford's attention was turned to-
RJ: That's his own damn fault. If you're dumb enough to get suckered, you're dumb enough to get beaten down. That's what happens when you get trapped. And have you seen my boy? This is what a MAN looks like. That boy Shackleford could never.
Sofia: Surely you think Shackleford is going to respond in some kind of way, though?
RJ: Well, sure. Everybody's got a plan until they get knocked in the mouth. It ain't that easy. Shackleford wants to come down here, I've got an insurance policy. (RJ points to Jason, looking at him proudly) … And if he wants to come for Jason, well, obviously something's wrong with him in the head in that case, but I got his back. Jason and I, we're unstoppable. We're taking Revolt by storm and we're goi-
Russillo: SHACKLEFORD FROM OUT OF NOWHERE LEANS INTO A PUNCH, DECKING JASON SKILLED WITH BRASS KNUCKLES IN HIS HAND! SHACKLEFORD JUST KNOCKED JASON SKILLED THE HELL OUT! RJ SKILLED IS TERRIFIED!
RJ: Don't you come for me! DON'T YOU COME FOR ME! YOU GONNA REGRET THIS!
(RJ tries to run, but Shackleford easily catches up to him, yanking him by the back of his suit)
Shackleford: What was that you were saying about an insurance policy? Your insurance policy just got his ass laid out!
RJ: JUST YOU WAIT! YOU GOT A DEATH WISH! YOU JUST WROTE YOUR DEATH SENTENCE!
Peters: AND SHACKLEFORD NOW HAS RJ IN THE LEG! NO, NOT RJ! HE'S NOT IN THE PHYSICAL CONDITION TO WITHSTAND PUNISHMENT FROM THE LIKES OF SHACKLEFORD! AND SHACKLEFORD LOCKS IN THE ANKLE LOCK!
RJ: (screaming in pain)
Shackleford: WHERE'S YOUR INSURANCE POLICY NOW? WHERE'S YOUR INSURANCE POLICY NOW? THIS IS WHAT HAPPENS WHEN YOU FUCK WITH ME!
Peters: AND THE GRAPEVINE TO POOR OLD DAD! SHACKLEFORD HAS THE GRAPEVINE VARIANT OF THE ANKLE LOCK APPLIED, HE'S SNAPPING RJ IN HALF RIGHT NOW!
(Shackleford finally lets up after prolonging the move. RJ clutches at his ankle, writhing in pain, as Jason is laid out nearby)
Shackleford: That's one for me. Don't you EVER think you can screw me over.
(Shackleford walks off the set)
Russillo: Wow… Shackleford making a STATEMENT right there. After the events of last week, can you blame him? Shackleford did sucker Jason, but it's an eye for an eye in this dog-eat-dog industry! That whole thing RJ was saying about insurance policies, that unraveled REAL quick!
James Peters: Up next… Lucian Baal takes on Liam Archer!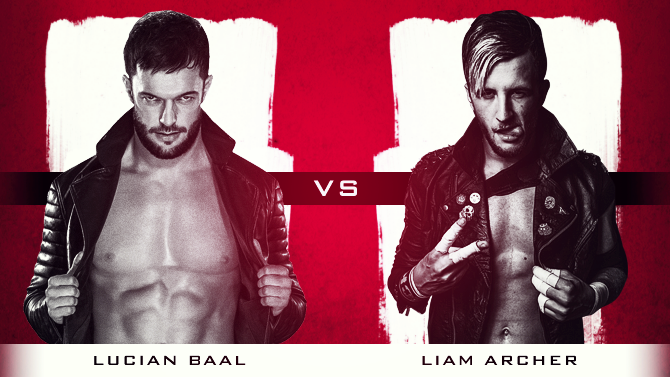 (Commercial break)
("End of Days" by Jim Johnston plays, smoke covers the ramp and stage. Liam Archer is shown, turned away from the camera. He then pops the collar of his jacket and slowly turns around as he raises a fist. He then walks down, nodding at all the fans, until he springboards into the ring. He then gets on the top rope and spreads his arms before jumping down and sitting in the corner)
Bella Braxton: The following match is scheduled for one fall! Introducing first, from Ballymun, Dublin, Ireland, weighing in at 225 pounds… LIAMMM ARCHERRR!!!!
Peters: Archer has the opportunity of a lifetime tonight. He's got the chance to go toe to toe with an esteemed competitor in Lucian Baal. You wonder what kind of performance he's truly capable of when push comes to shove. Tonight is the opportunity to show the world if Liam Archer is a challenge or a chump.
(The entire arena blacks out throughout the intro of Lucian Baal's theme. "Lullaby" by Frank Carter and The Rattlesnakes hits, white lightning begins to flash rapidly over the left side of the arena while the right side remains completely darkened. White smoke fills the darkened side while black smoke fills the lighted side. Lucian makes his way to the ring wearing a white leather jacket, matching his trunks, with the words "BAAL CVLT" on the back)
Bella Braxton: And his opponent, from Warwickshire, England, weighing in at 211 pounds… LUCIANNNN BAAAALLLLLLLLLL!!!!
Peters: Lucian's been sharpening the metaphorical pencil since arriving on the scene in Revolt. Tonight, he has the chance to sharpen the sword. Is it going to be the no-nonsense Lucian Baal, or is it going to be the methodical Lucian Baal?
(Ding! Ding! Ding!)
Peters: This contest between Liam Archer and Lucian Baal is underway! The agile Baal circles archer, Liam throwing his hand out there to try and signal a tie-up, and Baal obliges — No! Baal faked like he was going to knot up with Archer only to connect with an armdrag takedown on Liam Archer! Archer is immediately up to his feet, coming out with intense energy, and Lucian meets him with another maneuver, this time a hip toss — but as Baal flips him, Archer lands on his feet, connecting with an open-hand chop to the sternum of Baal, and another open-hand chop to that chest! And here's the trifecta — NO! LUCIAN BLOCKS THE THIRD ATTEMPTED OPEN-HAND SLAP AND CONNECTS ON THE FOLLOW-THROUGH WITH A CLOSED-FIST PUNCH TO LIAM ARCHER, SENDING ARCHER STAGGERING BACK! LUCIAN BAAL CHARGES FORWARD, TRYING TO CONNECT A LARIAT ON LIAM ARCHER, BUT ARCHER SIDESTEPS THE LARIAT — AND A HAND THRUST CONNECTING STRAIGHT INTO THE THROAT OF BAAL! THE ACTION IS FAST HERE TONIGHT AS ARCHER LOOKS TO FOLLOW THAT UP WITH A RUSSIAN LEG SWEEP — AND IT CONNECTS, SENDING BAAL PLUMMETING BACK-FIRST INTO THE MAT! HOW ABOUT THEM APPLES, RUSSILLO?
Russillo: Can't be denied that Liam Archer has come into tonight's match prepared. It looks like he may have even scouted Lucian Baal a bit.
Peters: Baal is slowly, groggily rising to his feet — BUT ARCHER DOESN'T ALLOW LUCIAN ANY TIME TO RECOVER, IMMEDIATELY SETTING HIM UP FOR DARK DESIRES! THAT DOUBLE UNDERHOOK DDT, THIS IS GOING TO FINISH THIS BOUT ALREADY — BUT LUCIAN TWIRLS OUT OF IT IN THE NICK OF TIME, CONNECTING WITH AN ELBOW TO THE FACE OF LIAM ARCHER, SPEARING HIM UP AGAINST THE TURNBUCKLES IMMEDIATELY AFTERWARD! LUCIAN FOLLOWS THAT UP WITH A HEADBUTT TO THE MIDSECTION OF THE CORNERED ARCHER, AND ANOTHER HEADBUTT TO THE MIDSECTION, PUNCTUATING IT WITH AN ELBOW TO THE SHOULDER AS HE'S BACKED AGAINST THE TURNBUCKLES! LUCIAN NOW SCALES UP THOSE TURNBUCKLES, TO THE SECOND RUNG OF THE ROPES, AND HE'S NOT WASTING ANY TIME LOBBING THOSE HAYMAKERS INTO THE FACE OF LIAM ARCHER! ARCHER IS TRYING TO MOVE OUT OF THE WAY AND DODGE, BUT LUCIAN CONNECTS!
Russillo: Lucian isn't trying to get upstaged by a relatively inexperienced competitor such as Archer. This tenacity he's exhibiting right now reflects that.
Peters: BUT ARCHER HAS HIM! ARCHER HAS LUCIAN ENSNARED, TAKING HIM UP IN THAT POWERBOMB POSITION, AND HE'S GOING TO SLAM HIM AGAINST THE MAT — BUT LUCIAN CRAFTILY MANAGES TO MANEUVER HIS WAY OVER THE HEAD OF ARCHER, FALLING TO A VERTICAL BASE AND TURNING AROUND AT ALMOST EXACTLY THE SAME TIME AS HIS OPPONENT, THE TWO NOW BOTH SENDING HAYMAKERS IN EACH OTHER'S DIRECTION, BUT NOBODY'S HOME FOR EITHER MAN! LIAM AND LUCIAN ARE BOTH EFFORTLESSLY DODGING EACH OTHER'S PUNCHES AND DEMONSTRATING IMPRESSIVE EVASIVENESS IN THE PROCES, AND NOW LUCIAN BAAL SEEMINGLY OUT OF HAND-TO-HAND COMBAT TRICKS DARTS OFF THE ROPES, BUT ARCHER WITH A VERTICAL LEAP OVER THE HEAD OF LUCIAN — AND BAAL'S MOMENTUM SENDS HIM SPRINGING OFF THE ROPES ON THE OTHER END, MEETING LIAM IN THE MIDDLE OF THE RING FOR A CLOTHESLINE — BUT A SHOULDER TACKLE FROM LIAM SENDS LUCIAN STAGGERING BACK INSTEAD, AND NOW HE'S FALLEN RIGHT ON HIS ASS! BAAL IS SHOCKED!
Russillo: Shocked is the word, for sure! Lucian definitely didn't think Liam Archer had that kind of power, especially when Baal had the momentum coming off the ropes! Archer taunts Lucian and orders him back to his feet with hand gestures, and Lucian Baal immediately obliges — but right as Lucian gets up, Archer SMACKS the taste out of his mouth! Did I see a tooth? Or was that just spit? Whatever the case, Lucian is pissed, violently kneeing Archer in the gut, and now taking him up — HOISTING HIM IN THE AIR, DELAYING WHAT SEEMS TO BE A VERTICAL SUPLEX JUST TO PROVE HOW POWERFUL HE IS, MAYBE A LITTLE BIT INSULTED BY ARCHER — BRAINBUSTER! LUCIAN BAAL CONNECTS WITH THE BRAINBUSTER, ABSOLUTELY PLANTING LIAM ARCHER! I THOUGHT VERTICAL SUPLEX, BUT LUCIAN HAD OTHER IDEAS AS HE DROPS INTO THE COVER, HOOKING LIAM ARCHER'S LEG!
Ref: ONEEEEEEEEE!!!!!… TWOOOOOOOOO!!!!… THRRR—
Peters: BUT A KICKOUT FROM LIAM ARCHER! THE RESILIENT, DOGGEDLY DETERMINED FIERY YOUNG COMPETITOR WON'T BE DENIED JUST YET, BUT LUCIAN BAAL IS PISSED, AND HE'S TAKING LIAM ARCHER RIGHT BACK UP, SMACKING HIM IN THE MOUTH AS HE FORCES HIM TO A VERTICAL BASE! LUCIAN HAS CLEARLY DISRUPTED ARCHER'S EQUILIBRIUM, THE MAN MIGHT NOT KNOW WHERE HE IS, AND BAAL IS ADDING INSULT TO INJURY AFTER THE EARLIER DISPLAY BY ARCHER, NOW SMACKING LIAM IN THE MOUTH! LUCIAN IS MOUTHING SOMETHING AT LIAM ARCHER…
Lucian: COME ON! FIGHT! FIGHT!
Peters: BUT THAT'S GOING TO BE TO NO AVAIL AS LUCIAN BAAL HAS THE DOUBLE UNDERHOOK WRENCHED IN ON LIAM ARCHER NOW, AND HE'S GOING TO GO FOR THAT LUX AETERNA! THE LIFTING SINGLE UNDERHOOK DDT! … BUT ARCHER RESOURCEFULLY JUTS HIS HEAD UPWARD BEFORE THE UNDERHOOK CAN BE APPLIED TIGHTLY ENOUGH, HEADBUTTING BAAL IN THE CHIN — AND REELING HIM IN FOR THE SMALL PACKAGE PIN! COULD IT BE?!
Ref: ONEEEEEEE!!!!!… TWOOOOOOOO!!!…. THRRRR—
EEEEEEEEE!!!!!
(Ding! Ding! Ding!)
("End of Days" by Jim Johnston hits, the referee raising Liam Archer's hand for a moment as the crowd reacts with shocked "ooh's" and "aah's" — as Liam quickly rolls out of the ring and sprints up the ramp, Lucian rising to his feet with his mouth agape holding two fingers up to the referee to signify his displeasure)
Bella Braxton: The winner of this match by pinfall… LIAMMMM ARCHERRR!!!!
Peters: Wow! Liam Archer has knocked off Lucian Baal! It was a back-and-forth affair between these two, and just when it looked like Baal had enough of Archer and was about to put him away, Archer pulls off what many would consider an upset!
Russillo: And you can see in Lucian's expression right now that he's PISSED. He in no way, shape, or form expected to lose to Liam Archer tonight. He's as shocked as most of the crowd is right now. Take it in, Liam Archer!
(Commercial break)
(We return from commercial to see Talib Bari standing in the ring, microphone in hand. The ring canvas is lined with a black carpet. Two red cup-like swivel chairs are on each side of Talib Bari. Bari smiles at the audience as a faint REVOLT! chant begins to break out. He raises the microphone up to his mouth and begins to speak)
Talib Bari: Thank you. Thank you. Thank you.
(The crowd continues to cheer. Talib Bari waddles out of the ring to take a selfie video with members of the crowd, he gives high fives to a few of them before walking back into the ring)
Talib Bari: On the real though, we got some business to take care of here. Two cats who don't like each other… two cats who have been causing a lot of problems for each other, let's get them out here now. First… I GIVE TO YOU… Reginald Dampshaw III!
("Jerusalem" by Emerson, Lake & Palmer begins to play as Reginald Dampshaw III steps onto the stage. He meets eyes with Bari, a smug look forming across his face as he continues his way down the ramp. He steps into the ring, Bari offers his hand but Dampshaw refuses to shake it. He looks at the seats set up in the ring and shakes his head in disgust, opting to stand instead)
Talib Bari: And now… MALCOLM JONES!!
("Paradise" by Big Sean begins to play as Malcolm Jones walks down the ramp with a swagger. He obnoxiously steps into the ring, intentionally going out of his way to knock shoulders with Dampshaw on his way to giving Bari a handshake. Jones sprawls out on one of the chairs and smiles at the crowd)
Malcolm Jones: What it do.
Talib Bari: Alight so this is we got fellas, a big, huge ass problem… but let's be real now, there's a very simple solution to all of this. That's why I'm proposing that–
Reginald Dampshaw III: Don't you dare do what I think you're about to do. This bottom feeding cretin doesn't deserve it. There's only ONE solution, ONE RIGHT decision and it doesn't involve this man… only me. I DESERVE ANOTHER MATCH FOR THE LIGHT HEAVYWEIGHT CHAMPIONSHIP!!
Malcolm Jones: This guy… *Jones gets up from his seat and gets up close with Dampshaw* BOY… you lost. And ain't nobody tryna hear about excuses, it's time to move on. I've wanted that title since day one. I've gone after that title since day one. You cost me an opportunity for that title. That ain't no fairytale screwjob neither like the one you're trying to spin, it's a real one. You tried, you failed. It's time I try.
Reginald Dampshaw III: To do what, Malcolm? Be a champion? YOU?! No. Do you want to talk about fairytales? Because YOU being a champion is the biggest one of all. You're not supposed to be a champion, you're not meant to be a champion. A championship belt around your waist has no value. It's just another piece of jewelry to add to the collection.
Talib Bari: :whoa:
Malcolm Jones: Whatchu tryna say?
Reginald Dampshaw III: You know what I'm saying Malcolm. A thug like you isn't made for gold. You're more fit for steel and iron.
Talib Bari: :whoa:!!!!!!!!
Malcolm Jones: Oh but YOU'RE the kind of person that's fit to be champion? I don't know man, them royals got a SKETCHYY history, *pointing to the crowd* y'all know what I mean. There's a lot of brother, sister, cousin lovin' going on there. If THAT'S what a champion is supposed to be, Ion know… maybe I should rethink all this, I ain't into none of that sus white folk shit.
Talib Bari: :whoa:!!!!!!!!!!!!!!!!!!!!!! alright now, alright now… let's all calm down. Look, I came out here to do one thing, and while the both of you have made compelling cases as to why the other shouldn't be getting this opportunity, I'm sticking to my guns. At REVOLT 2 it's gonna be you Dampshaw taking on you Jones… and the winner gets a shot at the Light Heavyweight Championship.
(The crowd cheers it's approval)
Talib Bari: BUT that's only if y'all both put a stop to this right now, alright? I'm giving you both the rest of the night off to cool your heads. You're welcome.
(Talib Bari steps out of the ring… leaving Dampshaw and Jones in an intense staredown as the camera fades to commercial)
(The camera fades back into the arena where we see Bella Braxton standing and both Suneo Honekawa and Angelo Brando already standing in the ring after their entrance themes have faded out.)
Bella Braxton: THE FOLLOWING CONTEST IS SCHEDULED FOR ONE FALL! Introducing first, already in the ring! Coming in at a combined weight of 436 POOUNDSS!!!!……THEY ARE THE TEAM OF ANGELOO BRANDOOOO AND SUNEEOOO HOOONEEEKAAAAAWAAAAAAAAAA!!!!!!!
James Peters: Welcome back to Rebellion everyone where tonight we'll be getting a first-hand look into tag team action tonight, right now with the team of Angelo Brando and Suneo Honekawa, two of REVOLT's up and coming talent.
Rich Russillo: Oh boy…this isn't going to end well for either of them.
(The lights dim as "For Whom The Bell Tolls" by Metallica plays as The Revenant walks out, as some security guards guards the tunnel entrance. He then proceeds down to the ring, with his manager Bo Maro accompanying him.)
Bella Braxton: AND THEIR OPPONENTS! FIRST! From Chicago Illinois! Weighing in at 245 POOUNDSS!!!!….."THE DREADKNIGHT" THEEE REEVEEENNAAAANNNTT!!!
Rich Russillo: The #1 contender to the World Heavyweight Championship is here tonight and he means business, especially considering who his partner is tonight. He's vicious as he is foul-mouthed and I know that with him and Sokolova, tonight it won't fare well for their opponents.
("goosebumps" by Travis Scott ft. Kendrick Lamar blasts through the speakers to a mixed reaction from the crowd as Andrei Sokolova walks out with the REVOLT! Heavyweight Championship wrapped around his waist. He slowly walks down to the ring, keeping his eye on The Revenant who also sees him before sliding in. The two men look at each other and begin to trash-talk.)
Bella Braxton: AND LAST! Residing in Doncaster, England! Weighing in at 245 POOUNDSS!!!!……HE IS YOUR REVOLT! HEAVYWEIGHTT CHAAAMPPIOONNNN…..ANNDREEIIIII SOKKKOOOLLOOOOVAAAAAAA!!!!
James Peters: THERE HE IS! REVOLT's very own Heavyweight Champion here tonight teaming with none other than his opponent at REVOLT 2, The Revenant! These two definitely share some mutual animosity heading into that match but tonight they're going to have to find a common ground if they want to succeed as a tag team.
(DING! DING! DING!)
James Peters: The bell has rung which means that this match has begun but it still seems like that Andrei Sokolova and The Revenant are having some difficulty choosing who to start the match! They're continuing to argue with one another and taking time which might prove to be their downfall….and finally Andrei relents as The Revenant looks to almost hit him! The Revenant is going to be starting this match off as he turns around – OH! AND HERE COMES ANGELO BRANDO IMMEDIATELY WITH A RUNNING FOREARM SMASH TO THE REVENANT CATCHING HIM OFF-GUARD! WOW! Angelo Brando taking complete advantage of the distraction as he capitalizes on it, now viciously clubbing The Revenant and hitting him with all forms of strikes! BUT LOOK AT THIS! THE REVENANT IS JUST STANDING TALL! HE ISN'T EVEN AFFECTED BY HIS STRIKES! HE'S STANDING TALL LIKE A MOUNTAIN AND BRANDO IS IN DISBELIEF! Angelo now rebounds off the ropes to try and attack The Revenant….WHO RESPONDS WITH A SPEAR! A SPEAR TAKING DOWN ANGELO AS THE REVENANT STANDS UP! And just like that, Angelo Brando has been taken out and The Revenant looks pleased with himself, stepping back – BUT OH! ANDREI SOKOLOVA JUST TAGGED HIMSELF IN! He didn't even let The Revenant soak in all the glory and now The Revenant is not pleased as he attempts to argue with Andrei and the referee, but the ref pushes him back to his team's corner! Andrei Sokolova simply smirking to himself as he turns around and looks at the downed Angelo! He rebounds off the ropes! RUNNING SENTON BY THE HEAVYWEIGHT CHAMP SMASHING RIGHT INTO HIS CHEST!
Rich Russillo: That knocked the air straight out of his lungs!
James Peters: Andrei now standing up once more and looking at the defenseless Brando, and lifts him up! HE HAS HIM IN A VERTICAL SUPLEX POSITION…..BUT HE'S NOT DROPPING HIM! ANDREI IS JUST KEEPING ANGELO UP THERE IN THAT POSITION AND NOW THE CROWD BEGINS TO COUNT FOR HOW LONG! FIVE! SIX! SEVEN! EIGHT! NINE! TEN! AND NOW ANDREI DROPS HIM WITH THAT VERTICAL SUPLEX! A beautiful stalling vertical suplex by Andrei Sokolova, making that blood flow to the head of Angelo, making him dizzy before dropping him down right on his back! Great tactic, and now Andrei goes back to his corner….and tags The Revenant in? He just slapped his partner across the back and now tells him to go do some work! What the?
Andrei Sokolova (no mic): Show me if you can do better.
The Revenant (no mic): Oh, you'll see. Watch me, "champ."
Rich Russillo: It appears that Andrei wants to see if The Revenant can do better than that vertical suplex he did earlier! They're measuring each other's abilities and strengths to try and one-up each other at every turn!
James Peters: That seems to be the case as The Revenant now steps into the ring and lifts up the downed Angelo Brando back to a vertical base! The Revenant now hooks his arms, AND LIFTS ANGELO UP AGAIN! OH NO, THE POOR MAN! AND NOW IT'S THE REVENANT WITH A STALLING SUPLEX OF HIS OWN AS HE LIFTS UP BRANDO! THE CROWD COUNTING NOW! FIVE! SIX! SEVEN! EIGHT! NINE! TEN! ELEVEN! TWELVE! THIRTEEN! FOURTEEN! FIFTEEN! SIXTEEN! SEVENTEEN! EIGHTEEN! NINETEEN! TWENTY! WOW! AND NOW THE REVENANT DROPS ANGELO AFTER HOLDING HIM UP IN THE AIR FOR TWENTY SECONDS! WHAT A DISPLAY OF ATHLETIC ABILITY AND STRENGTH FROM THE DREADKNIGHT! You can now see Andrei in his corner clearly impressed by The Revenant's showcase of power as he knowingly grins, before looking towards Angelo once more, and he climbs onto the mount! AND HERE IS THE REVENANT WITH BRUTAL MMA-LIKE SHOTS! ELBOWS, FOREARMS ON THE MOUNT RIGHT INTO THE HEAD OF ANGELO BRANDO! HE CAN'T EVEN DEFEND HIMSELF RIGHT NOW! This is honestly hard to watch, Suneo Honekawa hasn't even been tagged in yet to help his partner and you can see him clearly getting frustrated on the apron! The Revenant continues to barrage Brando who doesn't even look conscious by this point before stepping off and now tagging in Andrei Sokolova! Now it's The Revenant who's asking The Champion if he can do any better!
James Peters: Sokolova smiling and sarcastically clapping at The Revenant before turning his attention towards Angelo Brando – WHO SPRINGS TO LIFE AND LEAPS! HE TAGS IN HIS PARTNER, SUNEO! SUNEO NOW RUSHES TO THE RING, THIS MIGHT BE THE SAVING GRACE THEY NEEDED! BUT SOKOLOVA GOES BEHIND HONEKAWA AND WRAPS HIS ARMS! THE RECKONING! THE RECKONING BY ANDREI SOKOLOVA AS HE CONNECTS WITH THAT DOUBLE CHICKENWING GUTBUSTER, COMPLETELY KNOCKING THE WIND OUT OF SUNEO'S SAILS! This is savagery right here, these two men are using Suneo and Angelo as nothing more than crash-test dummies to use to showcase their abilities and they know it! Andrei Sokolova now standing up and looking down at Honekawa as he lifts him by the head! And Sokolova turns his attention to The Revenant and tells him to "watch this!" Sokolova lifts up the head of Suneo! CHAOS CONTROL! CHAOS CONTROL! THE ROLLING CUTTER CONNECTS AND HONEKAWA LOOKS COMPLETELY OUT OF IT BY THIS POINT! ANDREI SOKOLOVA STANDS UP AND GOES FOR THE PIN! BUT HE SHOULD BE WATCHING AS LOOK WHO'S STEPPING IN! IT'S ANGELO BRANDO RUSHING IN TO TRY AND BREAK UP THE PIN BY SOKOLOVA – BUT THE REVENANT! THE REVENANT RUSHES IN FROM THE APRON AND CHARGES TOWARDS ANGELO BRANDO! THE CRACKDOWN BY THE REVENANT SENDING HIM DOWN, A BRUTAL LOOKING CURBSTOMP AS ANDREI DOMINANTLY HOOKS THE LEG OF SUNEO! IT'S OVER!
Referee: ONEEEE!!!!!……TWOOOOO!!!!!!……THREEEEEE!!!!!
(DING! DING! DING!)
("goosebumps" by Travis Scott ft. Kendrick Lamar plays throughout the arena as The Revenant and Andrei Sokolova have their hands raised by the referee before quickly putting them down and turning their attention to each other.)
Bella Braxton: AND HERE ARE YOUR WINNERS…..THE TEAM OF THE REVENANT, AND ANDREIIII SOKKOOLLOOVVAAAAA!!!!
Rich Russillo: Well, that's got to be one hell of a dick-measuring contest right there. Those two used Suneo and Angelo to showcase their abilities and see which man did it better, and tonight it was a dominant performance from two of REVOLT's most dominant Heavyweights. It's clear though that there was still a lot of animosity between them throughout the match, with the condescending tones and the hard slaps to the back, and right now it looks like it might escalate to something even bigger…..
(Andrei Sokolova raises his REVOLT! Heavyweight Championship high in the air before turning his attention to The Revenant who eyes the championship on his shoulder. The two get in each other's faces before they begin to shove each other backwards violently. The Revenant looks almost about to hit Sokolova before Bo Maro rushes in from ringside to push The Revenant back up as they look towards each other.)
James Peters: Clearly no love lost between these two heading into REVOLT 2 which is only a few days away from us! I honestly can't wait for it, The Revenant versus Andrei Sokolova! The Champion versus The Contender! The Dreadknight versus The Messiah of Your Mind! A shoving match that could have easily gotten violent before Bo Maro came in and defused the situation, and now you can see The Revenant and his manager on the ramp taunting Sokolova as he raises his title high! Wow!
Rich Russillo: A real treat up next! One half of the Liquid Swords in action, Impact taking on a very hungry VIP!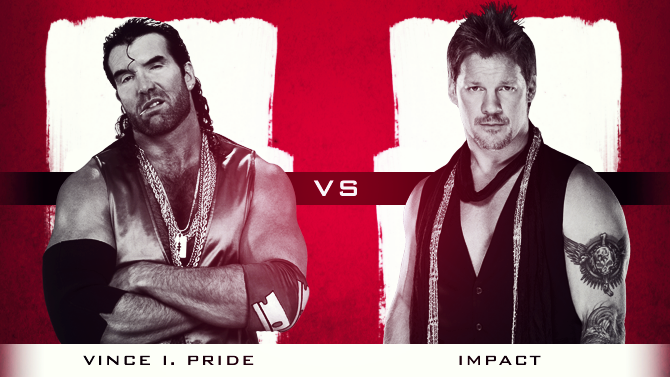 (Commercial break)
(Camera fades back to the ring)
( DING! DING! DING! )
Bella Braxton: This following contest is a singles match scheduled for ONE FALL!
( "Can I Live" by Jay-Z hits, and the crowd gives a thunderous ovation as the white lights flicker from the stage and emanate a blinding glare … we then see Impact walk out to the stage, dressed in Liquid Swords themed ring gear, closely trailed behind by Mr. DEDEDE, who is in his ring gear and rashguard with a Liquid Swords shirt over it and his hair in a ponytail. The two walk down the ramp holding their REVOLT! Tag Team Championships. )
Bella Braxton: Introducing first, accompanied by his tag team partner Mr. DEDEDE, hailing from Seattle, Washington, weighing in at 240 POUNDS; he is one-half of the REIGNING REVOLT! TAG TEAM CHAMPIONS… IMMMMPAAAAAAAAACT!!!!
James Peters: Last week was truly a night of ups and downs for these two men right here. Though they got what they wanted out of having the official responsible for their loss against The Legacy Killas fired, they weren't so fortunate in the main event when Prince of Phenomenal was able to fight them off and capture a victory over Mr. DEDEDE.
Rich Russillo: Not to mention they still have The Legacy Killas hot on their heels. Impact tonight will be the Liquid Swords member in competition, but you've gotta think Hurricane Hawk and Ms. Extreme are watching this match – as well as the affairs of The Liquid Swords in general – ever so closely.
( "9" by Drake hits, and the crowd gives a mostly positive response in contrast to Imp's thunderous mixed response. VIP walks out to the stage dressed in his ring gear and vest, and he makes a confident stroll down the aisle. )
Bella Braxton: His opponent… from Toronto, Ontario, Canada, weighing in tonight at 280 POUNDS…. VVVVVV IIIIIII PPPPPPPP!!!!
James Peters: VIP has been quite vocal this week about how prepared he is to compete against a man like Impact, a man who is not only an all-time great but is probably the most talked about wrestler just in terms of generating buzz.
Rich Russillo: VIP sees Impact as a meal ticket, and Imp is a pretty hefty meal, pause. If VIP can knock off the Quintessential Champion, there's just about no reason why his name can't be immediately inserted into the Heavyweight Championship scene altogether!
( DING! DING! DING! )
James Peters: VIP enjoys both a height, weight and power advantage over the Quintessential Champion; with the two of them engaging in a little bit of trash talk right before the bell sounds. Now Impact fires off with a series of shoot kicks, lighting up the legs of the 6'8″ athlete out of Toronto, Canada. VIP creates a bit of distance by retreating, but as Imp goes after him VIP lights him up with a few forearms to the face for good measure! Stiff forearms at that, and VIP hits a BIG BOOT to the chest sending Imp backpedaling, and VP HITS A SWIFT CHOP TO THE THROAT OF MR. DEDEDE JUST AS HE GETS UP ON THE APRON! IMPACT rushes back at VP from behind, perhaps looking for a rear waistlock, but VIP breaks the grip and does a standing switch into a GERMAN SUPLEX! Impact lands hard after that one, and VIP rushes back after him to slide over him with a lateral press!
Ref: OOOOOOOOOOOOOOOONE!!! TWO-
Rich Russillo: Quick shoulder up by Impact, but VIP immediately follows up by hovering over his opponent, LOOKING FOR 0 TO 100!!!! DEADLIFT GERMAN SUPLEX JUST MIGHT BE ON ITS WAY!!! NO Impact is struggling, putting up as much of a fight as he can despite just being dropped on his neck, and Imp counters with a front wheelbarrow pin, this time hooking the legs of VIP now!
Ref: OOOOOOOOOOOOOONE!!!!
James Peters: Kick out from VIP, and the two rush back up – with Impact clearly beating VIP to the punch, and he rushes after VIP with a RUNNING CROSSBODY! BUT VIP CATCHES IMP RIGHT IN HIS ARMS! Imp fires off a few desperate elbows, but VIP COUNTERS WITH THE BACKBREAKER! AND HE DELIVERS A FALLAWAY SLAM, SENDING IMP FLYING ACROSS THE RING AND ROLLING DOWN TO THE OUTSIDE! DDD immediately comes to his aid, and Imp's definitely favoring the small of his back that – by the look and sound of it, hit the canvas pretty freaking hard. VIP beats his chest and raises both fists to the crowd, all while Imp is using the apron to pull himself up along with DDD's assistance. The official begins his count, but VIP tells the ref to not even bother, he leans over the ropes and PULLS IMPACT BY HIS HAIR UP FROM RINGSIDE AND ONTO THE APRON! BUT IMPACT FOLLOWS UP WITH A STUN-GUN! Faceplant into the top rope, and VIP stumbles away holding his face, allowing Imp time to recover. VIP rushes back, and Imp hits an over-the-ropes enzuigiri followed up by rushing up the turnbuckle while VIP collapses to a knee. Impact however isn't as quick as he needed to be, probably because of how hard his back hit the canvas and how little time he's had to respond since then. AND IMPACT MIGHT END UP HAVING TO PAY FOR THAT! VIP RUSHES UP JUST AS IMP IS ON THE TOP TURNBUCKLE, AND HE HOISTS IMP UP OFF THE TURNBUCKLE WITH A MILITARY PRESS THROW, TOSSING THE REVOLT! TAG TEAM CHAMPION ALL THE WAY ACROSS THE RING!!!
Rich Russillo: DAMN, Imp hit the canvas so hard he bounced off of it! And VIP does what any smart competitor would do, and that's slide over him for the cover!
Ref: OOOOOOOOOOOOOOOONE!! TWOOOOOOOOOOOOO-
Rich Russillo: But Impact with the shoulder up. Not too much of a shock there, we've seen Imp battle back from some of the more brutal onslaughts ever to be seen in a pro wrestling ring. What's even more amazing is how much poise this guy maintains even when he's been beaten within an inch of his life. Speaking of which, VIP's laying a beating on Imp right now, hammering away closed fist punches while mounted over his opponent! The referee doesn't take too kindly to that, ordering VIP to back away, but VIP drags Imp up by his head and flings him into the turnbuckle, before following up with a BACK ELBOW TO THE SIDE OF THE HEAD – IMP BLOCKS IT WITH THE FOREARM! Now Imp hits a knife edge chop to the chest! VIP with a right hand to the face! Imp responds with a right of his own! And another right! And another! Opting for the brawling style now! VIP however cuts Imp off with a knee to the midsection, bringing Imp doubled over before flooring him with a ax handle smash to the back of the head, clubbing both fists with an unrelenting blow!
James Peters: Imp is down on the canvas now, and VIP backs up to the corner and climbs himself up to the second rope… standing tall, almost towering over Impact despite not even being on the top rope… and VIP LEAPS OFF FOR THE BIG TIME ELBOW DROP!!! NOBODY HOME!!! VIP SENDS 280 POUNDS CRASHING DOWN ELBOW FIRST INTO THE CANVAS! THAT'S NOT GOOD FOR HIM AT ALL! VIP rolls up to his feet holding that right arm, man he could have shattered that elbow completely! AND IMPACT TAKES VIP OFF HIS FEET, SWEEPING BOTH LEGS, COULD HE BE LOOKING FOR THE WALLS!? ARE THE WALLS OF IMPACT UNDERWAY!?
Rich Russillo: VIP's putting up one hell of a fight to prevent that, and Imp is now in a situation where he has to tussle a man who's 280 pounds of muscle and get him to flip over, so instead Imp opts to deliver a SLINGSHOT! SENDING VIP UP AND FLYING FACE FIRST INTO THE TURNBUCKLE! Now Imp reels a dazed VIP in for the small package pin!
Ref: OOOOOOOOOOOOOOONE!!! TWOOOOOOOOOOOO-
James Peters: Kick out! I've seen slingshots like that knock people out, that is your head flying full speed straight into stiff, and very thin padding. VIP's already fully recovered, but Impact turns him around – just to eat a BIG TIME UPPERCUT! Imp hits the mat and rolls back to his feet, RUNNING BACK ELBOW! Impact ducks that, hooks the tights from behind and delivers a JUMPING KNEE TO THE BACK OF THE HEAD! Nice elevation by Imp to get VIP down to one knee, and Imp sprints to the ropes behind VIP and rushes back over for a BIG TIME BULLDOG, DRILLING HIM FACE FIRST INTO THE CANVAS! NOW IMPACT RECOVERS, AND IN PURE IMPACT FASHION SPRINGS TOWARDS THE ADJACENT ROPES TO DELIVER THE LIONSAULT!!!! FLIGHT SIGHTS CONNECTS, AND A HOOK OF BOTH LEGS!
Ref: OOOOOOOOOOOOONNNNEE!!! TWOOOOOOOOOOOOOO!!!
Rich Russillo: And a still game VIP kicks out! If you get to wrestle with men VIP's size, you'll know even just hooking their leg for a pin is something that requires effort, this guy has a ton of size and a lot of power, but apparently he's got resilience too! Impact looks like he wants to end this thing, you can just tell by the look in his eyes that he's got a clear path to the finish line, and he's standing over VIP waiting for the right moment to strike ….. VIP's back up …. and IMPACT WITH THE POUNCE, DELIVERING THE CODEBREAKERRRRRRRRRR!!!! EVISCERATION ON ITS WAY ….. WAIT A MINUTE …. WAIT A SECOND ….. VIP'S GOT HIM HELD UP IN THIN AIR! JESUS H. CHRIST!
James Peters: YOU'VE GOT TO BE KIDDING ME RICH! DO YOU KNOW THE KIND OF STRENGTH AND POWER THAT IT TAKES?? HE'S HOLDING UP A 240 POUND GROUND MAN… NOW HE'S GOT IMP SEATED ON THE TOP ROPES, AND DELIVERS A DISCUS PUNCH TO SEND IMP TUMBLING DOWN, TURNING HIM INSIDE OUT, LANDING HEAD FIRST ON THE APRON AND COLLAPSING DOWN TO THE RINGSIDE FLOOR! WE NEED A REPLAY OF THAT!
( Replay shows Impact attempting an Evisceration, but being hoisted up in mid air, seated on the ropes up on the third rope, and being hit with a discus punch sending spit flying out of Impacts mouth and showing him tumbling wildly down to ringside. )
Ref: 1! 2! 3! 4!
Rich Russillo: VIP's taking a moment to rest, and Impact is barely even able to stir after that one, I'm surprised his lights aren't completely out cold – if not for that brutal discus shot, then by that horrific fall to ringside! VIP decides to roll underneath the bottom rope as the referee's count hits six, and that consequently stops the ref's pin. VIP scrapes Impact up from the floor and delivers a BIG TIME IRISH WHIP, SENDING IMP ACROSS RINGSIDE AND FLYING KIDNEYS FIRST INTO THE BARRIER! That collision is gonna leave marks! NOW VIP STAMPEDES ACROSS RINGSIDE AND GOES FOR A MASSIVE BIG BOOT!!! BUT INSTEAD VIP TAKES OUT A SECURITY GUARD, AS IMP DIPS BELOW THE BOOT AND NARROWLY ESCAPES DECAPITATION! Impact rushes up the steel ring steps, and VIP drags his massive leg over the barrier to rush back at Impact. Imp, on the apron, can barely even muster up any offense, he's still grimacing from that nasty fall, and VIP TAKES HIM OFF THE APRON LOOKING FOR THE CRUCIFIX POWERBOMB!!!!!! THE VERY IMPORTANT BOMB, AIMED RIGHT AT THE GUARD BARRIER AT RINGSIDE!!!!
James Peters: MR. DEDEDE DRAGS IMPACT OUT OF VIP'S CLUTCHES! DDD makes the save for his Liquid Swords partner, and he pulls Impact as far away from VIP as he can…. but now VIP turns towards DDD, AND CHASES DDD ACROSS RINGSIDE! DDD RETREATS, TURNING THE CORNER, AND VIP IS RIGHT ON HIS ASS! DDD rushes into the ring, and VIP rushes up the apron, steps over the ropes, and charges right for DDD … but DDD sprints across the ring and dives through the ropes back to ringside, leaving VIP hovering of the ropes and shouting down at him .. but IN THE MEANWHILE, IMPACT SPRINGS FROM THE APRON, UP TO THE TOP ROPE, AND DELIVERS A DROPKICK ON VIP!!!
Rich Russillo: THE REFEREE GETS CAUGHT IN THE CROSSFIRE! VIP MOVES OUT OF THE WAY, BUT THE OFFICIAL GETS BLASTED WITH THAT DROPKICK! I COULDN'T TELL YOU WHO THAT FAVORS, BUT AS OF RIGHT NOW THIS MATCH HAS NO SUPERVISION!
James Peters: Impact is on the ground bewildered, looking at the official and crawling over to him, demanding that he wake up. But VIP HOISTS IMPACT UP FROM THE GROUND! 0!!! TO!!!!! 100!!!!!! DEADLIFT GERMAN SUPLEX, DROPPING IMPACT ON HIS NECK!!! MOMENTUM TAKES AN OUT-OF-IT IMPACT BACK UP TO HIS FEET, AND VIP CLEANS HIS CLOCK WITH A RIDICULOUSLY BRUTAL STIFF LARIAT!!! IMPACT TURNED INSIDE OUT ONCE AGAIN!!!!
( VIP shows off to the crowd, flexing and beating his chest while the audience responds in excitement. Mr. DEDEDE meanwhile walks over to the timekeeper to grab a steel chair. )
Rich Russillo: VIP IS FIRMLY IN THE DRIVER'S SEAT HERE, AND EVERYONE IN THIS ARENA KNOWS IT! NOW HE'S TURNED BACK TOWARDS IMPACT, WHO'S IN NO CONDITION TO CONTINUE, AND HE DRAGS THE TAG TEAM CHAMPION BACK UP… AND PULLS HIM IN, PERHAPS LOOKING FOR THE 6IX SPIKE!!!! THERE'S NO DOUBT IN MY MIND THAT SPIKE PILEDRIVER WILL END THIS MATCH IF IT'S DELIVERED….. WAIT WAIT WAIT! FROM BEHIND! IT'S DDD!
James Peters: DDD SWINGS A STEEL CHAIR STRAIGHT INTO VIP'S SPINE!!! VIP GOES DOWN!!! AND THE ONLY MAN THAT CAN PUNISH DDD FOR HIS ACTIONS IS CURRENTLY OUT OF COMMISSION! When there's no active referee, the ring becomes the devil's playground, and DDD's got the look of the devil himself in his eyes, as he batters up that steel chair and waits for VIP to rise again …. VIP certainly seems embattled, he's about as angry as he is in pain, that back is searing in pain but VIP's mustering everything he has within him to get a vertical base again! AND ONCE HE DOES, DDD TAKES ANOTHER SWING OF THE STEEL CHAIR!!!!!
Rich Russillo: VIP PUNCHES IT OUT OF DDD'S HANDS!!! WHAT!?!? DDD CAN'T BELIEVE IT! HIS MOUTH IS AGAPE IN SHOCK!
James Peters: IMPACT WITH THE EVISCERATION FROM OUT OF NOWHERE!!!!!!!! GOT HIM!!!! AND BEFORE VIP CAN EVEN COLLAPSE, DDD REBOUNDS OFF THE ROPES AND DRILLS THROUGH HIM WITH THE SPEEEEEEEEEEARRRRRR!!!!! AND DDD WILDLY RUSHES OUT OF THE RING AS THE OFFICIAL STARTS TO COME BACK TO HIS GOOD SENSES, AND IMPACT IS IN THE RIGHT PLACE AT THE RIGHT TIME WITH THE COVER!
Ref: OOOOOOOOOOOOOOONE!!! TWOOOOOOOOOOOOOOOOOO!!! THREEEEEEEEEEEEEEEE!!!
( DING! DING! DING! )
( "Can I Live" by Jay-Z hits, and Impact gets his arm raised by the weary referee. )
Bella Braxton: HERE IS YOUR WINNER, IMPACT!!!!
Rich Russillo: A damn good showing from VIP, but certainly not enough to ignore the obvious 2 on 1 onslaught that Liquid Swords have put him through! And in the end he tasted a combination that very few men on this earth could ever come back from, eating the Evisceration and Spear simultaneously one after another!
( DDD re-enters the ring, and celebrates the win with Impact, handing Imp his tag title as the two stand over VIP. )
James Peters: I'm seriously starting to question if these guys aren't taking advantage of their legendary status to pull stunts like this. I mean seriously, would any other team get away with as much as these two are? The cheating, constant interferences, negative attitude, starting trouble with management. It's getting to be too much!
Rich Russillo: These two have definitely made singles competition a near-impossibility against either one of them. Prince of Phenomenal may have caught lightning in a bottle last weak, but it's clear to defeat either Impact or DDD in singles competition you have to be able to handle dealing with both of them at once. It may not be fair, but it's the scenario that's currently in play.
(Commercial break)
( We open up to the ring where Talib Bari is standing by with his music playing. The ring is covered in carpet, and we have a table with a contract and pen on a clipboard, as well as a podium for each participant to be able to speak. The ring is HEAVILY guarded by security, with three security guards standing by on each of the four sides of the ring. Bari's music slowly dies down, and he gets behind the podium to talk. )
Talib Bari: What's good fam! Oklahoma, you've all been good to us man. You all been real gracious to us. Treated us well. Oklahoma MAKE SOME NOISE FOR YOURSELVES!
( The audience roars in applause. )
Talib: You've treated us with honor, respect, dignity; I appreciate dat. I hope we've given back just as much, I hope you all have been entertained tonight, but I want you to know something… there's still more. There's still more that we all have to give to you this evening, because you see ladies and gentlemen, you all are about to witness history. You all are about to see a history making moment take place right here, in this ring, right before your eyes. What we're about to see is special, because as of tonight we will make a match that I have been wanting to see for a long time official.
It's no secret, the Welterweight division is KILLER y'all. It's on fire. There's so much competition in this particular weight class, and that's because the level of competition is through the roof. But at the end of the day two men have firmly established themselves as the two best in this division. 'Crème de la crème' — for all my french people out there. One of these men won the first ever marquee event headline in REVOLT! history, and the other has won championships in just about every relevant wrestling promotion in existence… except REVOLT. Tonight I have the honor, the pleasure, the distinct privilege of calling these two young bulls out here, and I'm sure they got a lot to say to each other. So without further adieu…..
Introducing first, he is the REIGNING, DEFENDING, UNDISPUTED, UNCONQUERED, WELTERWEIGHT CHAMPION OF THE WORLD…. THE MAD MAX HIMSELF, MAXIMUS GRIER!!!!
( 'Long Live The Chief' by Jidenna hits, and Maximus Grier makes his entrance walking out to the stage in a fly Dolce & Gabanna three-piece suit with no tie, with dark shades on and the REVOLT! Welterweight Championship held proudly over his shoulder. Grier makes a confident stroll to the ring. When Grier enters, he and Talib shake hands before Grier climbs up to the top turnbuckle and shows off his Welterweight title to the crowd. He then takes a seat at the desk
Talib: Okay okay I see you! The Champ looking sharp. But it ain't a title fight if there ain't a challenger. Let's bring him out now, he is the ICONIC, LATIN ASSASSIN, LA PANTERA EL SSSSEXUALLLLL, TTTTTTTT LLLLLLLLLLL AAAAAAAAA!!!!
( "Ambitionz az a Ridah" by 2Pac plays, and TLA shuffles out, playing to the crowd while rocking dark shades and grey plaid vest, suit & tie. TLA hi-fives fans on his way to the ring, and continues his charismatic entrance to the ring constantly saluting the fans. Maximus Grier watches him intently, and TLA's music dies down once he hits the ring and daps up Talib Bari. )
Talib: "I won't deny it, Imma straight ridah" ay man that's how we get down. MAKE SOME NOISE FOR TLA AND MAXIMUS GRIER!!!!
( The crowd roars in applause while TLA and Maximus Grier sit at the table, maintaining feirce eye contact, all while Maximus holds up his Welterweight Championship to the crowd. Grier holds the title up to TLAs face, and TLA swats it away. )
Talib: Now gentlemen, before we do this we gonna do this right. Iight? I know how it is. I know how it goes down. A contract signing ain't a contract signing until both guys get an opportunity to talk that talk. But I know how you pro wrestlers like to get down. But we not gon' have that, aight? No funny business, no cheap shots, we not about to have tables turned over, chairs thrown, fists flyin'. None of that. I'll cancel this whole thing know what I'm saying? Let's keep it clean, keep the energy positive, save the fight for the fight night. We clear?
( TLA and Maximus ignore him. )
Talib: Iight. Let's give the challenger the opportunity to come up here and say what he's got to say.
( TLA gets up from his seat and walks over to the podium, but TLA inscrews the mic holster and removes the microphone from the podium. )
TLA: We don't need no podium ese, I prefer handling this face to face.
( TLA sits back at his desk, and sits across from Maximus with the microphone in hand. )
TLA: Maxy, my friend, mi compadre, let me tell you somethin homie. I think you are a star! I'm not here to lie to you homes, I'm not gonna sit here and pretend like I'm in some false reality or nothing. I have eyes ese, I see what you're capable of, and mi amigo you are one of the better wrestlers that I have ever encountered! No lies, no asskissing, no bullshit, I think what you do in this ring is pretty damn solid. You see ese, I'm a man of honor and of principle when it comes to this fight game. I believe in showing respect when respect is due, because I done locked horns with a lot of the greats to ever come into this industry. I know a great fighter when I see one, so when I look at you and I see a great wrestler, Imma tell you exactly what I see.
Calling it like I see it has been what I do more consistently than anybody else homes, and I've landed myself in some pretty deep shit many times before because I don't give two fucks about what people think when I got something to say. I just say it! But it can go both ways, it can go both ways because I can also tell a dude when I respect him. Unfortunately for you ese, it doesn't matter how much respect I got for you when I'm in the ring with you, as a matter of fact it would be better for you if I didn't take you seriously at all. Because you see, I don't got any intention of walking into REVOLT II and walking out without some gold around my waist chico. That's just not gonna fly with me! Unfortunately in this industry, "respect" doesn't mean nothing to people unless you're kissing they ass 24/7 and telling them what they want to hear. I'm here to tell you right now Maximus, I respect you, but I will not hesitate to resort to whatever method I gotta resort to to finish you cabron.
That means if I gotta play outside of the rule book, and do something that may not be 'legal' to finish the job, that's what the hell I'm finna do. And I don't think you prepared for that to be quite honest with you ese, because you're so used to this pampered life of doing everything "by the book". You ain't got the experience. You been in a lotta wrestling matches, but I don't think you ever been in a true FIGHT. I ain't here to wrestle with you homes, I ain't here to put on a 5 star classic that'll make the weebs cream they pants. I came here to FIGHT! I ain't here to ask for the Welterweight Championships, I'm here to TAKE that fuckin thing from you ese.
( TLA leans over the table, getting in Griers face. )
TLA: And if I gotta do it by knocking ya muthafucking head off, then that's what the fuck it's gotta be!
Talib (off-mic): Easy my man, easy.
( TLA gives off a coy smile. )
TLA: With all due respect, of course.
( TLA sits back in his seat and slipping the contract closer to him before signing it. He slips the contract as well as the microphone back to the center of the table, and Maximus Grier slips the contract closer to himself. )
Maximus Grier: Well TLA, it's always nice to get feedback from a veteran, so I appreciate the fact that you respect me. The problem is, I don't respect you.
( TLA sits up slightly, and the crowd responds accordingly. )
Maximus: Hey don't get hot with me because you throw around the term 'respect' like hot cakes. Respect is an extraordinarily strong word to me, and I'm too rich to show respect to just 'anybody'. You want to know the kind of people I truly respect? Legitimate legends. ACTUAL legends. I don't consider you in that class TLA, not even remotely. I never looked up to you, I never watched your matches growing up, I never wanted to be anything like you because I was too busy preparing myself to be among the greats, and eventually getting to compete with them. Have you accomplished a lot in your career? Sure you have. But I can't respect a man who I know I can beat. And in this case TLA, I know I can beat you, because I know I'm better than you.
I hope you want to win my championship as badly as you say you do, because maybe you might actually be of some entertainment for me. But I know how this is gonna go, because as much as you like to talk and as much as you'd probably hate to ever admit it, you have a ceiling. You don't have the same kind of gifts that I have, you're only capable of becoming so successful. I'm 24 years old, and I'm already more successful than the majority of people to ever step foot in this ring at my age. And the best part about me, "ese", is that I'm just getting started.
( Maximus slips the contract closer to him, and flips through the pages. )
Maximus: Don't take it personal TLA, you're a good wrestler, you're very good at what you do. You know how to keep people entertained, you're a great slot filler on a card. Unfortunately however, you just aren't championship material.
( Maximus signs his name on the contract, but the signing is interrupted )
( A big commotion is heard in the crowd, and everyone in the ring's attention turns to a part of the audience, where we see Chris Elite is seen emerging from the crowd. )
Talib: NAH WE NOT ABOUT TO DO THIS. SECURITY, *whistle*
( Security rushes over to Chris Elite, however a bunch of goons block security from Chris and make a clear path to the ring. The audience is going wild in a frenzy, and Talib Bari is calling for reinforcements. )
James Peters: WHAT IN THE HELL DOES CHRIS ELITE THINK HE'S DOING?
Rich Russillo: Whatever the hell he wants JP! Look at this, this is like a hostile takeover! There might be over FIFTY guys on Chris Elite's side, he's completely and utterly cliqued up!
( Chris Elite walks comfortably into the ring, and TLA and Maximus stand up looking ready to fight. Talib Bari dips out of the ring, and he's confronted by several of Chris Elite's goons. Talib turns the other way and runs away, retreating to the back with a speed-walk pace. Chris Elite picks up the microphone from the table. )
Chris Elite: Ay relax my guy we not here for all that. I'm not here for no violence, we could take care of all of that at Revolt II.
James Peters: WHAT DOES HE MEAN REVOLT II? HE'S NOT IN THE MATCH!
Chris Elite: Since you already signed your names on the dotted line, I might as well make it official: THIS MATCH IS NOW A TRIPLE THREAT MATCH!
( Chris Elite picks up the contract and signs his name above Maximus Grier and TLA's signatures, and the audience bursts into wild cheers as Chris Elite holds up the contract and bails from the ring, taking it with him. As more security rushes out to contain Chris, Chris jumps over the barrier and back into the crowd. )
Rich Russillo: CHRIS ELITE HAS FORCED HIMSELF INTO THE WELTERWEIGHT CHAMPIONSHIP MATCH! IT LOOKS LIKE THIS THING IS GONNA BE A TRIPLE THREAT MATCH!
James Peters: Chris Elite has taken matters into his own hands! He's got goons swarming this place, holding security off, turning Rebellion into a madhouse! And it looks like Maximus Grier and TLA are more than okay with this new entry! Any challenge is welcome in the eyes of these athletes!
Rich Russillo: Maximus Grier's challenge at Revolt II gets even more difficult! He may feel assured about his ability to defeat TLA, but Chris Elite as a part of the dynamic changes EVERYTHING, I'm sure he's got to be aware of that!
James Peters: The complexion of the Welterweight Championship scene has come to a dramatic change, thanks to Chris Elite. It looks like as far as he's concerned, there's some unfinished business in the Welterweight Title picture! That business will be settled at Revolt II!
(Camera fades to black and the REVOLT! logo buzzes)