(The camera zooms inside the arena.It gives us a view of the stage. One big LED screen with a smaller second one right on top of it. A narrow ramp down to the ringside area where the commentary booth is. We get a pan shot of James Peters giving a thumbs up to the camera while Rich Russillo rolls his eyes. The camera stops on a few fan signs before refocusing in on the commentators)
James Peters: HELLOOO EVERYBODY AND WELCOME TO SUNDAY NIGHT REBELLION! What a night we have in store for you as we have what is easily a Marquee Event headlining worthy match as one half of our tag team champions, Mr. DEDEDE takes on the Prince of Phenomenal! We also have the Heavyweight Champ Andrei Sokolova taking on "The Cracked King" Reginald Dampshaw! All that and more…. Right…. About…….. NOW!
("No One Is Untouchable" by Code Orange hits to loud boos as Stone Murdock marches down the ramp with the Middleweight Championship on his shoulders and an angry expression)
Rich Russillo: Our Middleweight Champion is here tonight in an unexpected appearance, he isn't booked in a match so I can't help but wonder what he has to say!
(Stone rushes to the ring to get a mic as he's getting ready to address the crowd)
Stone Murdock: Let's just cut to the chase, you all know why I'm out here. POP, last week you blindsided me and tried to humiliate me in front of the world, you knocked me off of my game and it cost me a match against Andrei Sokolova. Over the past week I have wanted nothing more than to extract my revenge on him, and I will stop at no cost to do so. Tonight's the night POP. You've walked around here like you own the damn place when the reality of the situation is that you're nothing more than a hasbeen living off of old glory! I'm the younger and better version of you, and all you'll ever be remembered as after tonight, is Stone Murdocks bitch! If you have it in you, you'd come out here right now, look at me like a man and square up, no blindsided attacks because you can't get to me any other way. No bullshit about how great of a legend you are… the time for talking is done. This ends tonight…
(Stone Murdock throws the mic down and gets in stance waiting for POP to come out and face him, but as moments go by no one comes out)
(Stone Murdock gets annoyed and picks the mic back up)
Stone Murdock: So you attack a man and try to humiliate him but you can't face him when being called out? It's not as easy when that person is equipped and ready to face you head on now is it? I've been waiting for the past week for this moment, if I have to walk out of this damn ring and cause hell backstage to find you then that's what I'll do. And you call yourself wanting to fight for this title?! Wait… that's it. Fuck it POP, I'll put this Middleweight Championship on the line right here right now if you have the balls to come out here and face me, this is the only chance you're getting, no way you'd turn this down, right? Let's get us a referee out here and make this thing official, cmon…
(A referee comes running up the ramp at Stone's request and enters the ring, Stone takes off his belt and hands it to the ref as they wait)
Stone Murdock: So what's it gonna be, POP? You willing to put your money where your mouth is? Here's your big ch–
("If I Had A Heart" hits to a huge mixed reaction as Prince of Phenomenal comes walking through the curtain with a confident look on his face and a mic in hand, he stops at the top of the ramp)
Prince of Phenomenal: Wait a minute, this isn't a prank right? You're literally willing to throw your whole title reign in the trash for the chance to fight me? I couldn't have asked for a better scenario!
Stone Murdock: Get your ass in this ring already.
Prince of Phenomenal: You don't gotta tell me twice..
(Prince of Phenomenal enters the ring as Bella Braxton begins talking)
Bella Braxton: The following cont–
Stone Murdock: Cut it, broad. Let's get this over with… this filth isn't even worth an introduction.
(Bella Braxton walks off as POP chuckles and both men get into their stance)
Referee: RING THE BELL!!
(DING! DING! DING!)
James Peters: And we're off to the races as both men get into stance and size one another up, Stone Murdock charges full speed ahead towards POP for a clothesline and it's ducked as Stone is then met with a pele kick!!!! Stone's dazed and POP is taking advantage of the situation at hand… he stars firing away at Stone Murdock landing shot after shot to his jaw and Stone doesn't even realize what's hitting him right now! POP irish whips Stone against the ropes and jumps up for A FOREARM SPLASH!!!!! POP HAS FULL CONTROL RIGHT NOW, HE'S FEELING IT! STONE IS SLOW TO GET UP AS POP STALKS HIS PREY… STONE SLOWLY GETS UP ONLY TO BE MET BY POP WHO GRABS HIM….. AND HE GOES FOR THE CROWN OF THORNS!!!!!! CROWN OF THORNS CONNECTS!!!! WE MIGHT HAVE A NEW CHAMPION!!!! THE PIN!!!
Referee: ONEEE!!… TWOOO!!… THREEEE!!
(DING! DING! DING!)
("If I Had A Heart" blasts through the arena as POP is handed the Middleweight Championship and celebrates it standing on top of the rope with the belt held high in the air)
Rich Russillo: HE DID IT! THE PRINCE OF PHENOMENAL IS A CHAMPION ONCE AGAIN!!
James Peters: I'm just confused at how this has all unfolded to suddenly, what the hell happened?!
Rich Russillo: I'll tell you what happened, POP just took Stone to the cleaners, that's what! Looks like God isn't the only one abandoning him as he can now kiss that title goodbye! A wrestling LEGEND now has the claim of being Middleweight Champ!
(POP celebrates some more as the camera goes to commercial)
(Rebellion comes back on air as Bella Braxton is shown in the ring)
Bella Braxton: The following is a tag team match and is scheduled for one fall! Introducing first…
('Young and Bitter' by Hot Tag Media begins playing as Dustin Diamond comes out to a chorus of boos. Diamond begins shadow boxing and pumps himself up as he gets into the ring.)
Bella Braxton: From New York, New York, weighing in at 205 lbs…DUUUUSSSSTTTTTIINNNN DIIIIIAAAAMMMMOONDDDDDD!!!
(The lights go off and then the music plays. The stage gets filled with some smoke and the lights play around like the theme music's beat. Kevin walks in with his hands open in a proud way, stands in the stage a bit, then flexes his way through the ring. After he enters the ring he goes in the corner, climbs the middle rope and talks to the audience in the arena, mocking their city, while his hands get raised up.)
Bella Braxton: And his partner, now residing in Los Angeles, California, weighing in at 264 lbs, "Badass" KEEEEEVVVVVIIIIINNNN AAAUUUUUUSSSTTTTIIINNN!!!
James Peters: An unlikely duo here tonight. Diamond and Austin don't really look like they have much in common and they're not doing much pre match strategy, as they keep to themselves in the corner.
Rich Russillo: Whether they hang out and touch dicks together is irrelevant, Peters. They're a team tonight so they gotta get on the same page and curb their egos.
('Bulls on Parade' by Rage Against the Machine begins playing as Ryan Ransik slowly and confidently comes out and walks to the ramp. His eyes are locked on both Diamond and Austin the whole time.)
Bella Braxton: And their partners, first, now residing in Baltimore, Maryland, weighing in at 247 lbs, he is "The Judge" RRRYYYAAAAANNN RAAAAANNNNNNSSSIIIIIKKKK!
James Peters: Ransik looks pumped up tonight! He hasn't taken his eyes off of his opponents yet! Diamond and Austin don't look bothered by it though.
Bella Braxton: And his partner…
("9" by Drake blasts out on the speakers as the crowd begins cheering. After a few seconds, however, the music stops and no one comes out.)
Bella Braxton: umm…And his partner!
(The song plays again but like last time, no one comes out. The crowd silences into a confused murmur.)
James Peters: So…where's VIP?
Rich Russillo: Maybe he's still recovering after getting his fucking head blasted open by Reginald Dampshaw III last week.
James Peters: Well miss Braxton looks as confused as us as does the referee. He walks over to Ransik and asks him if he knows where VIP is. Ransik shakes his head and shrugs. The ref is now asking if Ransik wants to forfeit the match. Ransik just looks at Diamond and Austin and says "Bring it on". Well! I guess we got a handicap match on our hands!
Rich Russillo: You know what they say, Peters. More muscles than brains.
James Peters: Look at Diamond and Austin. They're laughing and rubbing their hands! They can't wait! Austin walks over but Diamond stops him. Now they're arguing about who gets to fight Ransik! Ransik doesn't seem bothered by it as he's waiting for a fight. It seems Dustin and Kevin have come to an agreement and…they both bumrush him! They're beating him down! The ref is trying to stop it but they keep beating on him! The ref begins counting. They might get DQ'D here!
Rich Russillo: Ryan could've avoided all this by not being such a proud idiot. Just take the L and not get a beating in the process.
James Peters: The ref gets to 4 and they stop. Diamond goes to the other side of the ring and leaves to his corner. Austin walls over and says "Watch this" as Ransik slowly gets up. He gets to his feet…but Diamond tags himself in! Austin looks bemused by it. And Diamond slowly walks up to Ransik…PERFECT DIAMOND! The Ace Cutter slamming Ransik right into the mat! The cover is made!
Referee: ONEEE!!… TWOOO!!… THREEEE!!
(DING! DING! DING!)
Bella Braxton: Your winners, KEEEEEVVVVVIIIIINNNN AAAUUUUUUSSSTTTTIIINNN and DUSSSSTTTTTIIINN DIIIIIAAAAMMMMOONDDDDDD!!!
James Peters: Ransik had no chance here. He's gonna be mad about this loss and even more pissed that VIP ditched him!
(The camera cuts on Diamond smiling with his hands in the air and Austin still looking disappointed and amused by having his win stolen.)
(Camera fades backstage to VIP in a suite-like area laying on a couch being fed grapes by a group of females)
VIP: We not associating with losers anymore. That's the new motto. Hey Talib holla at me when you got some REAL competition for me.
(Camera cuts back to the commentary booth)
James Peters: Well… at least we know where VIP is at now. Anyways coming up we have two upstarts going at it, Angelo Brando takes on "The Outlaw" Liam Archer!
Bella Braxton: THE FOLLOWING MATCH IS SET FOR ONE FALL!!!!!
("End of Days" by Jim Johnston hits as smoke covers the ramp and stage and Liam approaches the stage turned away from the camera. After popping his collar on his jacket he turns around raising his fist as the crowd starts to cheer loudlyy.)
Bella Braxton: Introducing FIRST, RESIDING FROM BALLYMUN, DUBLIN, IRELAND…. WEIGHING IN AT 225 POUUUUUUUNNNNNNNNNNNDSSSSSSSSSSSSSSSSSSSSSSSSSSS!!!!!!!!!!!!!!! "THE OUTLAW" LIAMMMMMMMMMMMMMMMMMMM ARCHERRRRRRRRRRRRRRRRRRRRRRRRRRRRRRR!!!!!
James Peters: Liam Archer has been dealing with Lucian lately, but tonight his focus is all in on getting over on Angelo Brando!
("Starboy" by The Weeknd hits as Angelo Brando makes his way to the stage as the crowd starts to jeer and Angelo Brando shows off his shades covering his eyes. Angelo Brando smirks as he starts to walk down the ramp.)
Bella Braxton: And HIS OPPONENT, WEIGHING IN AT 220 POUNNNNNNNNNNNDSSSSSSSSSSSSSSSSSSSSSSSSSS!!!! "THE BLACK PRINCE" … ANGELOOOOOOOOOOOOOO BRANDOOOOOOOOOOOOOOOOOOOOOOOOOOOOO!!!!!!
Rich Russillo: Angelo Brando has a lot of potential but will he make it past Liam Archer? We will find out soon..
(DING! DING! DING!)
James Peters: And right away Liam Archer goes right after Angelo Brando, throwing punches and Angelo Brando backs himself into the corner as Liam Archer starts to follow up with hard right hand shots to the face of Angelo Brando! Liam Archer sends a hard knee shot to the gut of Angelo Brando and Liam Archer leaps for a springboard… OH MY!! A REVERSE DDT!!
Rich Russillo: Liam Archer is looking to take domination here! And.. whoa, wait do you see that James?
James Peters: HEY LOOK!!!! MISSILE DROPKICK TO THE BACK OF LIAM ARCHER BY LUCIAN BAAL, WHAT IS HE DOING HERE? And the referee calls for the bell, but it looks like Lucian Baal is not stopping! Lucian Baal sees Angelo Brando getting back to his feet and Lucian lifts Angelo Brando up on his shoulders in a fireman's carry position… OH NO!! THE BOOK OF BAAL!!! THAT FIREMAN'S CARRY DOUBLE KNEE GUTBUSTER CONNECTS AND ANGELO BRANDO IS LAID OUT!
Rich Russillo: Lucian did not forget about the match Liam costed him last week against Impact and there's hell to pay!! I don't blame him one bit!!!
James Peters: And Lucian Baal grips Liam Archer back to his feet and Lucian has a smirk on his face as he underhooks the arms of Liam Archer… LUX AETERNA…. THAT LIFTING SINGLE UNDERHOOK DDT CONNECTS AND LIAM LANDS NASTY ON HIS NECK AS HE HITS THE MAT!!! Lucian Baal looks like he has FIRE in his eyes as he stares right down at Liam before putting a foot on his chest and then Lucian looks out at the crowd as he raises his arms.
Rich Russillo: What a statement from Lucian Baal!!! He made STATEMENT just now and let Liam know why exactly he's a former world champion in this business!!! There's levels!
James Peters: An eye for an eye makes the world blind Rich, he could have gone about this with the rookie another way but instead he stooped to his level, there's no honor in that!
Rich Russillo: Honor shmonor! Listen, if Liam wants to survive here he's going to need to learn how to finish the fights he starts, he has Lucians undivided attention now so we'll see what he does with it going forward..
(A recap of Liquid Swords vs The Legacy Killas from two weeks ago plays with the controversial finish, as well as Liquid Swords confronting Talib Bari about the situation)
(Camera fades back to the arena as "Can I live" by Jay-Z begins to blare throughout the arena as Impact emerges from the back with his Tag Team Championship strapped around his waist. A few seconds pass as his music fades. Suddenly, 'Put Em' Up' by Lupe Fiasco starts to play as Mr.DEDEDE emerges with his title placed on his shoulder. Both begint to make their way down the ramp and towards the ring.)
Bella Braxton: Introducing the REVOLT! Tag Team Champions… IMPACT AND MR. DEDEDE… LIQUID SWOOOOOOOOOOOORDS!!!!!!!!!!!!!!!!!!!!!!!!!!!
James Peters: Welcome back to REBELLION! Tonight we may see the conclusion to this troubling saga: what's going on with the ref? Not only did he not see DDD's leg under the bottom rope two weeks ago –
(A replay is shown.)
James Peters: But that also happened last night with The Legacy Killaz vs Maximus Grier and Kassidy Heart!
(Another replay is shown of the referee's carelessness costing The Legacy KIllaz get the loss.)
Rich Russillo: Impact does not look happy, but at this rate I wonder if his only emotion is disgust.
(impact and DDD enter the ring as they are handed mics. They shoo Bella away as they begin to speak)
Impact: So… What did we tell you? The perception from outsiders looking in is that REVOLT! Pro Combat is the land where the brightest stars shine from above, illuminating the world in such a vibrant, beautiful manner! "Oh, we only have the best staff around!" that fat bastard Talib says as he's counting the money from the show and pocketing 25% of it. All of you from the back feel the need to pat yourselves in the back and feel content over the awful decisions you have created, thinking that in any way it'll be beneficial to anyone.
Mr. DEDEDE: And now we have all witnessed the incompetence lurking around REVOLT. We have competitors, crew members, ring announcers, commentators–
Rich Russillo: He's talking about you, Peters.
Mr. DEDEDE: Who are absolute garbage and fail at everything they intend to accomplish. And then individuals like ourselves, those who are extraordinary beings compared to the average man, have to suffer. We have to pick up after unprofessional swines and do damage control when these said swines ruin things that cannot be so easily corrected. There is one man in particular that continues to pop in everyone's head while they hear us speak. This man right there.
(Mr. DEDEDE points at the titantron that shows the following image.)
Mr. DEDEDE: Calling this swine a man is an embarrassment to anyone with the male genitalia dangling between their legs. The incompetence, ignorance and plain ol' STUPIDITY from this idiot has caused turmoil within REVOLT. Any bit of decency this joint had has completely diminished and vanished into nothing. We were cheated out of a rightfully won victory while our lackluster opponents savored it and basked in the glory.
Impact: Let me put the emphasis on LACKLUSTER opponents. And even those LACKLUSTER OPPONENTS experienced the same thing last night. This referee has proven that not only does he not know his craft, but he cannot realize the mistakes he has made and implement corrections. So why are we entertaining this bum any further? It's time to trim the fat from REVOLT. It's time for a public execution.
James Peters: Public execution?
Rich Russillo: DUH. Can't you see that the Liquid Swords need to publicly shame this fool in order to make an example out of him? That way everyone else can know that their actions have severe consequences.
Mr. DEDEDE: Ref… Your judgement day has arrived. Come before us right now if you don't want this to escalate to something worse than it already is.
(Impact and DDD face the ramp and patiently wait. After a few moments pass, a man in a referee jersey timidly walks from backstage. He shily makes his way down the ramp and enters the ring.)
Mr. DEDEDE: As many of you know, last week we spoke with Talib and he was on the verge of making the smartest decision of his life. We came to him with our valid concerns and demanded for this cancerous tumor to be eliminated as soon as possible. But what did he do? He tucked his tail in between his legs and said whatever he thought was going to rub us the right way. But tonight we want action. Tonight we will not take no for an answer. After we're done and finished with the ref, the embarrassing, involuntary loss we received will be taken off of the record books and no one will ever remember it happening. You would've still had a job if you had just done your goddamn job correctly. Now you're going to have to make line at the welfare office with the rest of the low-life scums in your social class. How putrid.
(Bella Braxton quickly walks into the ring and hands the old referee a mic.)
Ref: P-p-lease. Don't do this!
Impact: Don't do this? DON'T DO THIS? Do you realize the incredible chaos you have created due to your negligence and overall idiocracy? You don't deserve to be in this ring with us. You don't deserve to be contracted with REVOLT. And for the sins you have commited you must pay the price and live with the consequences.
"Yo, yo, yo! Chill out man!"
James Peters: Is that… is that Talib?
(The camera's search all around the building and find Talib in the nosebleed seats eating a tub of popcorn.)
Talib: Yo, shout out to the man who brought me this mic from all the way down there. I was just in a hunt for a snack, tho. You a real one. Imma add an extra digit to yo check, boy.
Impact: Talib…
Talib: Listen, y'all know that I love you guys and I would do anything to keep y'all happy. But I'm a bit iffy as to how this is turning out.
Mr. DEDEDE: Impact, I can't take this anymore – Get your fat ass over here and speak to us while we're in the same goddamn ring.
Talib: Yo… I'm not about to climb all those stairs.
Mr. DEDEDE: Climb? You're going downwards, idiot. Roll yourself over here.
Ref: PLEASE TALIB I HAVE 6 CHILDREN AND 2 OF THEM ARE GOING TO COLLEGE! MY CONTACT LENS WAS FUZZY DURING THEIR MATCH WHICH IS WHY I DIDN'T SEE ANYTHING. DON'T FIRE ME, PLEASE!
Mr. DEDEDE: Really? Who's going to benefit you more, Talib? This fool or the hottest act in professional wrestling today? Like we said last week, it's either him or us. We bring you sales, we bring you money. You know those green pieces of paper you use to satisfy your gluttonous lifestyle? Without us, all of that will be gone.
Talib: Whoa, relax! We don't talk about negative things here, we only focusing on the positive my brother. Even though my chakras aren't aligned tonight, I'd be a straight up fool to let you two leave. I can't get me another money makin' machine like you two. Yo, Johnny, I'm sorry brotha. But I have no other choice but to relieve you of your duties here at REVOLT.
(The referee with a sad and remorseful expression on his face is begging and pleading with Talib, as a regretful Talib looks away. The security guard then eventually come to escort the ref away)
Mr. DEDEDE: Lighten up Talib you look like you just witnessed a beheading. Be happy that it was his job and not yours, because Mike Silver would have certainly put an end to this stint as a promoter had you made the ignorant decision of choosing an incompetent referee over the biggest stars in this company.
Impact: Now phase two, we have established the fact that this referee– excuse me FORMER referee, could not do his job correctly which in turn cost us a match which goes on our record. We want right here right now for you to officially rescind that loss from our recor–
('Headlines by Drake' begins to play throughout the arena as Hurricane Hawk and Ms. Extreme stand at the top of the ramp with a mic in their hands. Impact and DDD appear bewildered as Hawk and Ms. Extreme talk amongst themselves.)
Impact: Are you going to stand there like a bunch of uneducated idiots or are you going to say something?
Hurricane Hawk: Ms. Extreme, do you hear that?
Ms. Extreme: Hmm… I think I do.
Hurricane Hawk: It sounds like this constant annoyance ringing in my ear.
Ms. Extreme: Yeah… I think… I think it's coming from over there, Hawk!
(Ms. Extreme points to a livid Mr. DEDEDE and an annoyed Impact standing in the ring.)
Hurricane Hawk: Oh! Of course! It's Liquid Swords bitching yet again because they can't accept the fact that they got played at their own game. Legacy Killaz are living up to their name, aren't they? One by one these so called "legends" are dropping like flies. Their inflamed ego can't let them live with the fact that talent such as my partner and I made them look like amateurs.
Impact: Amateurs? You've got to be kidding me. Whatever you're smoking, throw it away and never touch it again. If you were delusional before, you've transcended into full-blown retardation now.
Ms. Extreme: Hawk, he called us delusional! What else are you going to call us? Pathetic? Sad? Pitiful? All of these words describe you both. You both lost. It's a fact. It doesn't matter if you try to get this man fired. Everyone knows that you lost to us. Everyone will be constantly reminded of your failures no matter how hard you try to cover them up.
Mr. DEDEDE: You're actually proud of what happened in that match? If this INBRED had simply kept his eyes peeled then you two wouldn't have a so called victory to cling on to for relevancy. We gave Talib the ultimatum and he has made his decision loud and clear.
Talib: Listen, y'all…
Hurricane Hawk: Come on, Talib, give these boys what they want. But I have a better proposition for you. One that'll guarantee you MILLIONS.
Talib: Keep talkin'.
Hurricane Hawk: We've proven that we can beat these two mongrels with ease but they continue to be the opposition to our stance. How about you schedule the Legacy Killaz to face Liquid Swords one more time to settle this once and for all?
Talib: I like the way you thinkin' Hawky. Alright folks, next week, our main event of the evening is–
Ms. Extreme: No, no, no, no. We don't want a mesaily Rebellion or Resurgence match… We want a match… at REVOLT 2… and not just your standard tag team match. We want the titles on the line.
(Both Impact and Mr. DEDEDE begin to laugh as they grip their titles.)
Mr. DEDEDE: That's hilarious, it really is, but that's not going to happen. I don't know why the hell you two are out here to begin with. Talib, we need to talk about the elephant in the room. This swine is ruining the reputation your promotion is trying to build! You want that on your conscience?!
Ms. Extreme: Talib, take your time. Really think about it before you make such a rash decision. Like we said… this will guarantee you millions. You know how to reach us when you come to your senses.
(Ms. Extreme and Hurricane Hawk smile as their theme begins to play. Rebellion immediately fades to commercial.)
(Rebellion comes back on air as a replay of last weeks situation with Shackleford and RJ Skilled airs)
Bella Braxton: The following match is scheduled for one fall! Introducing first…
("Kill Your Masters" by Run The Jewels rings out in the arena. A mixture of boos and cheers, mostly boos are heard as Shackleford comes out from the back onto the ramp. Shackleford pays no mind to the jeers and smirks at the audience as he walks down the ramp.)
Bella Braxton: From Fratton, Portsmouth, weighing in at 240 lbs…SHHHHAAAAACCCKKKLLLLLEEFOOOOORRRDD!!!
James Peters: This is a battle between two heavyweights! Shackleford and Jason Skilled are going to do battle and you know it's going to be a full on fight!
Rich Russillo: You're goddamn right, Peters. We might have to scrape both men off the ground after this one!
Bella Braxton: And his opponent…
("Fly Away" by Lil Wayne plays as an inflated tunnel has been placed on the stage for Jason Skilled to burst out of. But instead of Jason, his father, RJ comes out alone. He enters the ring to a confused Shackleford and asks for a microphone.)
James Peters: What the hell is this?
RJ Skilled: Whoa whoa whoa. Shacky baby, hold on there a second, playa. Why's it always gotta be so hostile? Look. I see you puffing up your chest there, pahtna just hear me out. The heavyweights gotta stick together, you feel me? On one side, you got Andrei Soko-whatever with the strap thinking he's hot shit, and on the other, we got Scott Diamond tearing through motherfuckers like it ain't no thang. So what do you say we call this match off, you and my boy can grab some beers somewhere and work out an alliance of some sort. Help a brother out, you know?
Shackleford: You know, RJ. You have some good points. Let me think about it….Fuck you.
(The crowd pops for Shackleford's refusal to RJ)
RJ Skilled: Hmm…ya know, I figured you'd say that. So let me pass onto you something my grandmomma used to tell me when I was knee high. If you think a dog's about to bite yo ass…you're probably right. Turn around.
James Peters: Oh no! Jason Skilled just came in the ring while RJ was jacking jaw with Shackleford! Shackleford turns around INTO A SPEAR! Jason demands a referee to get into the ring. A ref slowly gets in and looks like he doesn't want to make the cover as Jason pins Shackleford's arms to the mat.
RJ Skilled: BOI! YOU BETTER DO YOUR DAMN JOB!
James Peters: The ref makes the cover!
Referee: ONEEE!!… TWOOO!!…
James Peters: Shackleford kicks out!
Rich Russillo: Shackleford looks pissed! And he should be! You don't attack a man from behind, especially after you have your daddy distract him!
James Peters: Shackleford slowly gets up and grabs his ribs. He shakes his head and runs towards Jason. He starts laying punches into the back of Skilled's head. The ref pulls Shackleford off as he's using closed fists. Skilled uses the advantage and hits a running european uppercut on him.
Rich Russillo: Shackleford hasn't been able to get much out the gate since that spear from Jason Skilled. He's gotta get it together if he hopes to mount any offense.
James Peters: Skilled picks Shackleford up off the mat and sends forearms into his stomach. Shacklefords stumbles backwards but gets his footing, and he slaps Skilled right in the face!
RJ Skilled: DON'T YOU DARE BITCH SLAP MY BOY! MY BOY AIN'T NO BITCH!
James Peters: I'm not sure that was wise by Shackleford.
Rich Russillo: Not wise? That was absolutely stupid!
James Peters: Skilled holds his mouth in disbelief and then charges at Shackleford! He's laying elbows to Shackleford's head. He pushes him before grabbing him back towards him….STREET DREAMS! HE COVERS HIM!
Referee: ONEEE!!… TWOOO!!… THREEEE!!
(DING! DING! DING!)
("Fly Away" picks back up as Jason Skilled looks down at Shackleford)
Bella Braxton: Here is your winner………. JASON SKILLED!!!!!!
James Peters: Jason Skilled came out with the victory, but it wasn't without controversy! I know what you're gonna say, Rich. "A win's a win.", but this is ridiculous. Shackleford has nothing to be ashamed of. He got screwed right from the get go!
Rich Russillo: No, Peters, actually you're right. Jason Skilled had to get his father involved. I'd be pissed too if I was Shackleford. I'd be going to Talib Bari as soon as he can to fix this shit.
(The referee holds Jason Skilled's hand as RJ is in the ring jumping up and down with joy. The camera fades as the Skilleds are celebrating.)
James Peters: Shackleford is definitely going to want to get his revenge, I don't see this issue ending any time soon…. On another note, another heavyweight in The Revenant takes on TLA in a battle of number one contenders… NEXT!
("Enter Sandman" by Metallica hits as The Revenant makes his way down to the ring to mostly cheers from the audience, alongside his manager Bo Maro)
Bella Braxton: The following match is scheduled for one fall. Introducing first, from Chicago, Illinois, weighing in at 245 pounds… THE REVENANTTTTT!!!!!
Peters: The Revenant is one of the great hand-to-hand combat fighters in this industry today. TLA is going to have his work cut out for him.
("Ambitionz az a Ridah" by Tupac hits as TLA comes down the side of the aisle in a low rider before walking out of the vehicle, coming down the ramp to a chorus of cheers from the audience)
Russillo: But TLA isn't anything to mess with either. He means business. The Revenant is going to have his hands full with TLA just as much as the other way around.
Peters: The tale will be told in the ring…
(Ding! Ding! Ding!)
Peters: The match is underway! The Revenant quickly looks to tie up with TLA, but TLA doesn't seem to be in any hurry whatsoever! Revenant isn't playing any games as he charges away at TLA… AND AN ARMDRAG TAKEDOWN! REVENANT CONNECTED WITH AN ARMDRAG TAKEDOWN ON TLA, AND THE CROWD IS WILD! Revenant is definitely a formidable opponent, but that shows you just how good his wrestling acumen his when he's able to trick a thoroughbred like TLA into playing his game. TLA quickly gets up, but he's a little dazed after taking that arm drag takedown, and now Revenant with a tweak to the eye of TLA! TLA staggers back, rubbing around his eyes… And Revenant with a chop block to the back of TLA's knee! Revenant is downsizing TLA before he gets the opportunity to get back to his feet and mount an offense.
Russillo: TLA is grasping at the back of his leg. He might be hurt, but you never know with this guy, he could be playing possum to beat Revenant! He wants everybody to know he's on the hunt. Revenant is doing everything he possibly can to limit TLA in the early going of this matchup. Revenant has TLA in a grounded headlock, but TLA quickly lunges over and gets his hand on the rope, but Revenant isn't in any rush to break the hold!
Ref: ONE! TWO! THREE! FOUR!
Peters: Revenant is forced to break the grounded headlock on TLA! Revenant gets back up to his feet and the referee is having a word with him, probably about a possible disqualification that could have occurred just a moment ago! Revenant pleads his case for a moment before going right back to work on TLA. Revenant is stomping on the head of the grounded TLA, and TLA is just laying there in pain on the mat. Revenant grabs TLA by the arm and pulls him back to his feet, but I'm not sure getting TLA back up to a vertical base is such a good idea. Revenant hooks his shoulder over TLA and he's going for that Vertical Suplex, but TLA forces all of his weight down to prevent Revenant from executing the move! TLA is trying to thwart Revenant here, connecting on a flurry of punches to the stomach of Revenant… BUT Revenant WITH ANOTHER TWEAK TO THE EYE!
Russillo: AND REVENANT SPRINGS OFF THE ROPES AS TLA STAGGERS BACK! RUNNING BULLDOG! THE RUNNING BULLDOG CONNECTS ON TLA AND REVENANT HAS A HUGE OPPORTUNITY HERE! TLA IS GROGGY, BUT HE'S GETTING BACK UP TO HIS FEET, AND REVENANT IS STALKING HIM LIKE A PREDATOR! REVENANT SEES HIM UP AND SPRINGS OFF THE ROPES… THE JUDGE! THE JUDGE! REVENANT CATCHES TLA BY THE THROAT! NO! TLA KICKS HIM IN THE GROIN, SIDESTEPPING IT AND GOING FOR A BACK SUPLEX!
Peters: BUT REVENANT LANDS ON HIS FEET! TLA WITH AN EXCELLENT REVERSAL BUT HE'S TRYING TO REGAIN HIS BREATH AS REVENANT LANDS ON HIS FEET AFTER THAT BACK BODY DROP. TLA SLOWLY TURNS AROUND, AND NOW REVENANT IS SPRINGING OFF THE ROPES AGAIN! RUNNING KNEE STRIKE! THE RUNNING KNEE STRIKE CONNECTS AND TLA IS LAID OUT! REVENANT WITH A SHOULDER OVER TLA!
Ref: ONEEEEEEEE… TWOOOOOOO….. THRRRRR—
Russillo: AND TLA WITH A SHOULDER UP AT THE VERY LAST POSSIBLE MOMENT! WOW, WHAT A SEQUENCE! Revenant thought he had TLA there for sure! He's in shock and disbelief as he stares in the eyes of the referee in frustration. Revenant initially set up TLA for the clothesline, but TLA reversed it beautifully, ONLY FOR REVENANT TO LAND ON HIS FEET AND CONNECT WITH THE RUNNING KNEE STRIKE FROM BEHIND! HOW DID TLA KICK OUT?
Peters: I have no idea, but that shows the kind of tough stuff that TLA is made of. Revenant rises back up to his feet, and he's pissed off now. He's gotta be thinking what more he can do to punish TLA and put him away. Revenant is just waiting for TLA to get up, but TLA hasn't moved a muscle just yet. He kicked out of Revenant's maneuver on pure adrenaline alone, but it's that adrenaline and those instincts that separates the greats from the average wrestler. TLA is now crawling over to the rope, unable to rise to his feet of his own power, and now using those ropes for leverage to try and pull himself up. Revenant walks right up to TLA and connects with a stinging stiff kick to the back, and TLA is definitely feeling it right now. You can see the red marks on the back of TLA. TLA is about halfway up, he's still looking dazed and lifeless, and you can see how happy with himself Revenant is. He's got every right to be for the match he's put on against TLA… And Revenant with one final spring off the ropes! THE EXECUTIONER! THE REVENANT HAS TLA HOISTED UP AND HE'S GOING TO GO FOR THAT INVERTED JACKHAMMER HE CALLS THE EXECUTIONER, BUT TLA SHIFTS HIS WEIGHT DOWN AND GETS BACK TO A VERTICAL BASE, KICKING REVENANT IN THE LEG — BUT THE REVENANT WITH A HEADBUTT TO THE FACE OF TLA, DID I JUST SEE A TOOTH RUSSILLO?? AND THE REVENANT TAKES TLA UP… THE EXECUTIONER! REVENANT TAKES TLA UP AND PLANTS HIM SQUARELY ON HIS HEAD, TLA IS LAID OUT AND LIFELESS ON THE MAT AND THIS IS REVENANT'S OPPORTUNITY TO CAPITALIZE! BALLGAME!
Ref: ONEEEEEE….. TWOOOO….. THRRRR—
THREEEEE!!!!
(TLA weakly kicks out a half second after being pinned)
(DING! DING! DING!)
("Enter Sandman" by Metallica hits as the referee raises The Revenant's arm. His manager Bo Maro quickly makes his way to the back as The Revenant stays in the ring to taunt and celebrate.)
Bella Braxton: The winner of this match by pinfall… THE REVENANNTTTTT!!!
Russillo: What a great showing by Revenant. TLA didn't have the juice tonight but you never know what's going to happen in these upcoming weeks as events unfold.
Peters: Revenant really asserted himself from the get-go. A generally back-and-forth match but Revenant came out on top.
(Andrei Sokolova is shown finishing watching The Revenant's match as he begins to walk away and towards his upcoming match as he's suddenly approached by a figure)
???: Done getting a good look at your fate?
Andrei Sokolova: Excuse me? And you are?
(Bo Maro appears onto the frame with a smirk on his face)
Bo Maro: Oh you know, THE Bo Maro, I manage the future Heavyweight Champion.
Andrei Sokolova: Future? I am the past, present, and future of this business and as far as I'm concerned no one manages me.
Bo Maro: Cute, but let me let you in on a little secret, The Revenant is coming for that title and he's coming for it at REVOLT 2. So cherish the last moments you have left with it. And as far as you go… he's coming for you even sooner, so be ready.
Andrei Sokolova: Well tell your client I'll be waiting. I'm not hard to find at all, he knows where to look. As far as this title here? Keep dreaming.
(Andrei Sokolova brushes off against Bo Maro as he continues to walk towards the curtain)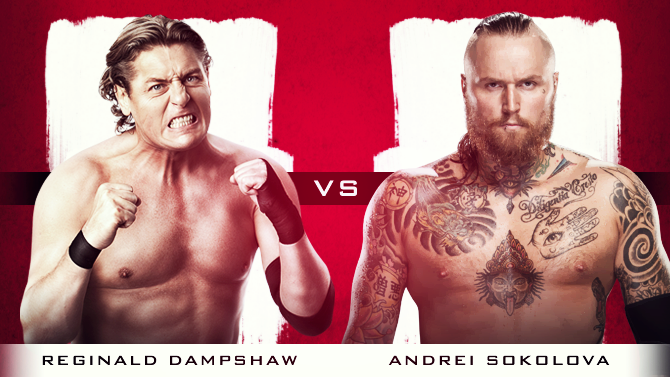 (Camera pans to ringside where "Jerusalem" by Emerson, Lake & Palmer hits as Reginald Dampshaw III walks down the ring alongside his manager Critchton Merriweather)
Bella Braxton: The following match is scheduled for ONE FALL! Introducing first, from Ryde, Isle of Wight, England, weighing in at 225 pounds, accompanied by Crichton Merriweather… REGINALDDDD DAMPSHAWW THE THIRDDDD!!!
Russillo: RDIII is looking to prove something tonight. He smells blood in the water and what better opportunity to elevate his status in REVOLT! than to show out against the Heavyweight Champion Andrei Sokolova?
("goosebumps" by Travis Scott hits as Andrei Sokolova walks down the ramp with his Heavyweight Championship around his waist, being received by mixed reactions from the capacity audience. Sokolova enters the ring, stares in the eyes of RDIII, unstraps his Heavyweight Championship and hands it to the referee who hands it to the timekeeper)
Braxton: And his opponent, from Doncaster, England, weighing in at 245 pounds… He is the REVOLT! HEAVYWEIGHT CHAMPIOOOOON…. "THE AGENT OF CHAOS" … ANDREIIII SOKOLOVAAA!!!!
Peters: Sokolova vs Reginald Dampshaw III is a match people have been looking forward to all week and I can assure you this crowd is going to be juiced getting to witness these two in action!
(Ding! Ding! Ding!)
Peters: This match is underway and Sokolova is eager to tie up with Dampshaw, and Dampshaw responds in kind, tying up with the Heavyweight Cha–NO! Dampshaw with a kick to the gut of Sokolova, catching him off his guard, quickly maneuvering him into a hammerlock! Sokolova yells out in agony for a brief moment before connecting with an elbow to the jaw of Dampshaw, breaking the hammerlock — but Dampshaw responds by charging forward, grabbing the back of Sokolova's head and trying to plant Sokolova's face with the running bulldog — but Andrei Sokolova demonstrates his impressive strength by forcing Dampshaw off of him, sending him flying into the ropes before he falls to the mat! Sokolova has put on a masterclass lately and he's showing why he's the Heavyweight Champion.
Russillo: One might say that. Sokolova isn't yet out of the woods as he's sucking wind after the fast-paced exchange to this match.
Peters: And Sokolova regains his breath, finds his footing, and is forcing Reginald Dampshaw back up to his feet. Sokolova has Dampshaw up and he connects with a punch to the mouth, following it up by wrenching his shoulder over the back of Dampshaw's neck, hoisting him in the air and attempting to plant him down for the Vertical Suplex — IT CONNECTS! The Vertical Suplex connects, laying out Reginald Dampshaw as Andrei Sokolova immediately transitions into a lateral press pin!
Ref: ONEEEEEEEEEEE!!!!…. TWOOOOOOOO!!!!…
Peters: But a kickout from Reginald Dampshaw III! Sokolova was trying to put Dampshaw early but to no avail as Dampshaw is one of the more resilient competitors here in Revolt! Sokolova connects with a handful of mudhole stomps to the pectoral region of Dampshaw, before yanking him up by the nape of his neck, AND CONNECTING WITH A EUROPEAN UPPERCUT! Wow! What a vicious European Uppercut to Reginald Dampshaw, sending him flying backward, backing him into the turnbuckles! Sokolova is now pressing his considerably sized boot into the throat of Dampshaw in the corner, and Dampshaw is writhing in pain!
Russillo: Dampshaw's going to have to find a way to wiggle out of this quickly or it could be over in the snap of your fingers. It's lights out for him if he doesn't find a counter-strategy to negate Sokolova's impressive arsenal of moves.
Peters: Sokolova releases Dampshaw, but his boot was brushed up against Dampshaw's throat so long, you can see its imprint! Sokolova doesn't waste any time going back on the offensive as he charges into Dampshaw for a corner clothesline, but Dampshaw moves out of the way, sending Sokolova shoulder-first into the turnbuckle! AND DAMPSHAW FROM BEHIND WITH A HANDFUL OF TIGHTS IS TRYING TO GET THE PIN ON ANDREI SOKOLOVA!
Ref: ONEEEEEEE!!!!… TWOOOOOOO!!!…
Peters: But a kickout by Sokolova! What a change of pace. An unexpected turn of events for Dampshaw right there, but the two competitors are right back up to their feet, and Dampshaw connects with a slap to the face of the Heavyweight Champion Andrei Sokolova, and Sokolova responds by violently charging into Dampshaw — ROUNDHOUSE KICK!
Russillo: NO! DAMPSHAW DUCKS UNDER THE ROUNDHOUSE KICK ATTEMPT!
Peters: And as Sokolova turns around to find Dampshaw, Dampshaw connects with a PUNISHING European Uppercut of his own! That got Sokolova right in the noggin, and he's falling back after that one! Dampshaw charges forward and flawlessly executes a running corner Clothesline after that European Uppercut, and finally Dampshaw has managed to get on the offensive against the stalwart Heavyweight Champion Andrei Sokolova! Dampshaw climbs up to the second rung of the ropes as Sokolova is backed against the corner, and he's pounding away at the head of Andrei, connecting with one punch after another, rights and lefts — BUT SOKOLOVA TAKES HIM UP, AND HE'S LOOKING FOR A POWERBOMB! SOKOLOVA IS GOING TO LAY DAMPSHAW OUT WITH A SIT-OUT POWERBOMB — NO, HE'S LOOKING TO THE OUTSIDE — AND SOKOLOVA DUMPS DAMPSHAW ON THE OUTSIDE, CONNECTING WITH A POWERBOMB AS DAMPSHAW TAKES A MASSIVE FALL! WHAT A TUMBLE! DAMPSHAW'S MANAGER CRITCHTON MERRIWEATHER IS CHECKING TO MAKE SURE HE'S OKAY, AND ANDREI SOKOLOVA LOOKS SATISFIED WITH HIMSELF AFTER THAT ONE!
Russillo: WOW… Sokolova just proved why he's built for the Heavyweight fight. He's willing to go where most wrestlers won't to win his matches. But you can tell after hoisting Dampshaw up and dumping him on the outside, he's EXHAUSTED! The punishment he took from Dampshaw has taken its toll on Sokolova almost as much as that Powerbomb to the outside Sokolova just delivered!
Peters: Sokolova now gathers himself and rolls under the bottom rope and to the outside to find Reginald Dampshaw III. Sokolova stomps on him as if he were a fly, yanking him back into the ring, following shortly thereafter, and now Sokolova hooks the leg for the cover! This could do it!
Ref: ONEEEEEEEEEEE!!!!… TWOOOOOOOOOOOOOO!!!!… THRRR—
Peters: BUT DAMPSHAW WITH THE KICKOUT! Sokolova thought he had Dampshaw there, but that moment catching his breath cost Sokolova a victory just now. He's going to have to finish this the old-fashioned way. Sokolova takes Dampshaw back up to his feet, and Dampshaw's eyes are glazed over! He's groggy, his vision is obscured, he's seeing stars right now and on dream street, Russillo… BUT WHAT'S THIS?! CRITCHTON MERRIWEATHER IS ON THE RING APRON, AND THE REFEREE IS ARGUING WITH HIM! SOKOLOVA GOES OVER AND HE'S NONE TOO PLEASED WITH MERRIWEATHER! THE TWO EXCHANGE WORDS, AND CRITCHTON MERRIWEATHER WITH A SLAP TO THE FACE OF SOKOLOVA! SOKOLOVA IS IRATE, CLOTHESLINING MERRIWEATHER OFF THE RING APRON, AND HE TURNS AROUND — THUMB TO THE EYE BY DAMPSHAW, AND DAMPSHAW REELS HIM IN! THE FAMILY NAME! THAT OSAKA STREET CUTTER LAYS THE HEAVYWEIGHT CHAMPION ANDREI SOKOLOVA OUT, AND REGINALD DAMPSHAW DROPS INTO A COVER! BALLGAME!
Ref: ONEEEEEEEEEE!!!!… TWOOOOOOOOO!!!!… THRRR–
THREEEEEEEEEEE!!!!!
(Ding! Ding! Ding!)
("Jerusalem" by Emerson, Lake & Palmer hits as Reginald Dampshaw III's hand is raised by the referee. His manager Critchton Merriweather is still recovering on the outside, laid out, but Dampshaw is satisfied)
Bella Braxton: The winner of this match by pinfall… REGINALLDDD DAMPSHAWW THE THIRDDD!!!
Russillo: What a victory for Dampshaw, and what an assist by Crichton Merriweather. What's this?!
(Reginald Dampshaw III yanks the mic away from Bella Braxton)
Dampshaw: I know Talib Bari is watching in the back. I just handily defeated Revolt's Heavyweight Champion. I proved I could beat a champion here. Therefore, I deserve championship opportunities. Despite what that THUG Malcolm Jones said last week, I deserve to be the one facing Hurricane Hawk for the Light Heavyweight Championship. While he's been yapping I've been laying waste to several competitors in that ring, proving myself! I staked my claim to that status tonight and I expect to be treat commensurate to the ability that I just demonstrated. Bari, do you hear me?
Peters: Well, he has a point… He did what it took to win.
(Talib Bari appears on the titantron)
Bari: You right. You just defeated Andrei Sokolova, so regardless of how it happened, we gotta acknowledge it happened. So, Dampshaw, I'll evaluate and next week I'll make an official decision regarding the Light Heavyweight Championship. I suggest you tune in.
(Titantron fades out. Dampshaw appears unsatisfied with Bari's answer but drops the mic as his manager Critchton Merriweather recovers. The two of them scurry to the back, noticing Andrei Sokolova showing signs of recovering, as "Jerusalem" by Emerson, Lake, and Palmer once again hits)
James Peters: But up next we have our MAIN EVENT of the evening! We've heard from both men earlier tonight and now they'll be competing against one another, it's a clash of champions.. POP vs DEDEDE.. NEXT!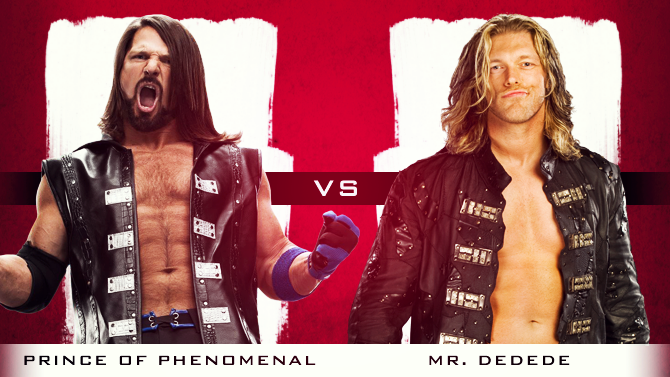 (Commercial break)
(The camera opens back up to the venue, and "Put 'Em Up" by Lupe Fiasco is playing over the sound system as Mr. DEDEDE and Impact are in the ring – Impact wearing ripped skinny jeans and a black hoodie, and DDD wearing his ring gear with an authentic Liquid Swords t-shirt over his rashguard. The two are showing off their REVOLT! Tag Team Championships, much to the chagrin of the crowd.)
Bella Braxton: The following is a MAIN EVENT contest scheduled for ONE FALL! Introducing first, accompanied by Impact, weighing in tonight at 241 POUNDS… HE IS ONE-HALF OF THE REVOLT! TAG TEAM CHAMPIONS, MMMISTEEEEEERRRRRRRR DEEEEEEEEEEEE DEEEEEEEEEEE DEEEEEEEEEEEE!!!
James Peters: We're set for singles action here on this Sunday Night Rebellion main event, featuring a man who knows the main event scene like the back of his hand, "THE GAWD" Mr. DEDEDE! And he's set to take on a man who's already had one hell of a night thus far!
("If I Had A Heart" by Fever Ray hits, and Prince of Phenomenal walks out to the stage confidently, showing off the Middleweight Championship around his waist to the crowd before hi-fiving fans on his way to the ring.)
Bella Braxton: His opponent, residing in South Beach, Florida, weighing 220 POUNDS… HE IS THE NEEEW REVOLT! MIDDLEWEIGHT CHAMPIIIIIOOOONNNN, PRIIIIIIIIIINCEEEEEE OOOOOOOOF PHENOMENAAAAAAAAAAAAL!!!!
Rich Russillo: If you're just tuning into the show, you'd better have a good explanation why, because you missed out BIG TIME! Prince of Phenomenal is walking into this main event that has been heavily anticipated since the moment it was announced, but he's walking into this now as the REVOLT! Middleweight CHAMPION!
James Peters: This is a match that could sell tickets just about anywhere in the world, featuring two of the best pure athletes in the history of this business! Not to mention, two of the biggest egos – one of which got even BIGGER after an impromptu title win off of Stone Murdock!
James Peters: There's certainly no overselling the capabilities of these two men. Do you have any advice for Prince of Phenomenal going into this thing? Is fatigue going to be an issue here?
Rich Russillo: Well POP is a man that can go the distance with most people, but Mr. DEDEDE is NOT like most people. He's also got to watch out for Impact. We can see Imp staring daggers at POP as he enters the ring, but I'd just say he wants to keep his radar on at all times for any shenanigans. This young man has been able to compete at such a high level, so it's clear he's as intuitive as a pro wrestler can get in this industry, however with the mindset the Liquid Swords are in, you can't go into a match with either guy expecting standard competition unfortunately.
(DING! DING! DING!)
James Peters: DDD and POP have quite a bit of history together, as these two champions get into a grappling stance and begin to slowly circle the ring … IMPACT RUSHES UP ONTO THE APRON! AND POP, CLEARLY ON EDGE KNOWING WHAT LIQUID SWORDS ARE CAPABLE OF RUSHES AFTER HIM FOR A WILD RIGHT HAND! Impact jumps off the apron before it can connect, and DDD SCOOPS HIM UP FROM BEHIND FOR A SCHOOL BOY ROLL UP! NOT EVEN A ONE COUNT! POP kicks out, but DDD scrambles back behind POP and takes him back down for an O'CONNOR ROLL INTO THE ARMBAR!!! POP MIGHT BE IN REALLY BIG TROUBLE!!!
RIch Russillo: Not quite JP! POP's made sure to roll through with that armbar and get enough leverage to shoulder-roll out of it and quickly escape! Both men scramble to their feet, and POP ACTUALLY IS QUICKER TO THE DRAW, DELIVERING A LOW ROUNDHOUSE! BUT NOBODY HOME, DDD DUCKS THAT LIGHTNING FAST BLOW! He straightens up and shoves POP into the ropes, and just as POP hits the ropes DDD LIFTS THE LEG FOR A BIG BOOT! But POP clings his arms onto the ropes just as he's set to rebound off of them, and now look at Impact from behind! Impact grabs the boot of Prince of Phenomenal, stopping POP in his tracks and causing yet another distraction! It hasn't even been two minutes and Impact's been swarmed all over POP like the buzzard that he is. The official walks over towards Imp and gives him a verbal citation, but POP SPRINGS OVER THE ROPES ONTO THE APRON, AND DELIVERS A WILD KICK TO THE FACE FROM THE APRON! BUT IMP JUMPS OUT OF THE WAY! DDD charges at POP from in the ring with a running attack, but POP slings his shoulder through the ropes and leaps over the ropes, somersaulting down DDD's back and sprinting across the ring, to ricochet right off of them and deliver a BIG TIME HURRICANRANA! DDD TURNED INSIDE OUT! DDD rushes back up to recover, and POP DELIVERS ANOTHER ARMDRAG! DDD RECOVERS, AN INSIDE OUT ARMDRAG!
James Peters: DDD rushes out of the ring and bangs his hands on the apron out of frustration. But look at POP, as incredibly as he's performing, you can just tell he's overly exerting himself far too quickly. I don't think it's wise for him to do that, because if Mr. DEDEDE decides he feels like running out the clock, POP could very well be just minutes away from being easy pickings.
Rich Russillo: I agree with that completely. Hell that might be the elephant in the room here, and you can see DDD's anger quickly subsiding, with him walking up the ring steps and stepping back into the ring while Prince of Phenomenal challenges him to a knuckle lock… now DDD closes in, but delivers a kick to the midsection! POP caught the boot, and delivers a WINDMILL KICK! DDD hits the ground and recovers at the corner, pulling himself up rather quickly before facing an ONCOMING JUMPING FOREARM! DDD side-steps it, and delivers a shoot kick to the ribs! He follows up with a STIFF right hand to the top of the skull of a doubled over Prince of Phenomenal, and now with POP backed into the corner DDD delivers several precise body shots! DDD takes POP by the wrist and fakes an Irish whip, and instead yanks him back mid-whip to deliver a HARSH IRISH WHIP INTO THE CORNER! POP hits those turnbuckles kidneys first and collapses to the mat, and DDD drags him away and plops over him for a cover.
Ref: OOOOOOOOOOOOOOONE!!! TWO,
James Peters: A shoulder up by POP. DDD drags himself up quickly, and just as POP is back up to a knee DDD delivers a ax-handle clubbing blow to the head, and follows it up with a KNEE DROP straight into the kidneys! DDD rolls through it, gets back up, and delivers an elbow drop to the same location, and follows up with an even more impactful elbow drop to the back of the head! DDD looks at Imp, and Imp makes the "tap out" signal which prompts DDD to hooks POP's arm with his leg and DELIVER A CROSSFACE!!! NOT A USUAL MOVE IN MR. DEDEDE'S REPERTOIRE, BUT DEFINITELY A GREAT MOVE TO HELP WEAR POP DOWN! Prince of Phenomenal is fighting the crossface with everything he has, trying desperately to pry the lock apart while the referee gets into the right line of vision. POP is mustering up all the strength he has to push himself up from the mat, but DDD is a deceptively large individual, he might not be as bulky as he was in say 09′, but when he puts enough mass behind a submission hold most people have trouble even moving let alone escaping… BUT POP IS UNLIKE MOST PEOPLE, AS HE MANAGES TO TURN HIMSELF OVER AND STACK DDD ONTO HIS SHOULDERS IN AWKWARD POSITION, REF LOOKING TO SEE IF BOTH SHOULDERS ON THE MAT, AND POP EVEN MANAGES TO HOOK A LEG!
Ref: OOOOOOOOOOOOOOONE!!! TWOOOOOO-
Rich Russillo: DDD ROLLS THROUGH THE PIN TO RE-APPLY THE CROSSFACE, BUT POP TURNS HIS BODY APPROPRIATELY, AND COUNTERS WITH A PINNING BRIDGE!
Ref: OOOOOOOOOOOOOOONE!!! TWOOOOOOOOOOOOOOO!!!
James Peters: DDD HOISTS HIMSELF AND POP UP FROM THE MAT, LIFTING THE BRIDGE AND TURNING HIMSELF AND HIS OPPONENT AROUND, LOOKING FOR A BACKSLIDE PINNING COUNTER! BUT POP TURNS HIMSELF AND DDD AROUND, DELIVERING A JUMPING CLOTHESLINE! POP SPRINTS FOR THE NEAREST TURNBUCKLE IN FRONT OF HIM, SPRINGS TO THE TOP ROPE, AND DELIVERS A PHOENIX SPLASH!!!!!!!! DDD ROLLS BACKWARDS TO DODGE THAT INCREDIBLE MOVE, AND POP MANAGES TO ROLL THROUGH THE PHOENIX SPLASH JUST AS DDD ROLLS BACK UP TO HIS FEET… NOW DDD JUMPS TOWARDS POP, SPEAR?!?!?!?
Rich Russillo: POP INTERCEPTS HIM WITH ANOTHER JUMPING CLOTHESLINE! DDD COMBAT ROLLS UNDERNEATH IT, POPS BACK UP, SPINNING BACKFIST!!!! POP LEAPFROGS OVER IT!! PELE KICK!!!!! BEAUTIFUL PELE KICK CAUGHT HIM RIGHT IN THE TEMPLE!!! DDD COLLAPSES DOWN TO HIS KNEES, PROBABLY OUT OF IT! Prince of Phenomenal however is sucking wind and sucking it hard, pause! Prince of Phenomenal is sluggishly dragging himself over to DDD, trying to catch DDD before he can evade the potential pin fall…. and IMPACT DRAGS DDD UNDER THE BOTTOM ROPE, HELPING HIM BAIL OUT OF THE RING!
(The crowd boos, and Impact tells the front row to "politely fuck off" before helping DDD recover and talking him back into this match.)
James Peters: The referee looks about as unhappy as these fans are. Impact again acts as a saving grace for Mr. DEDEDE, and DDD looks like he's shaking off the cobwebs, motivating himself to get back into this thing. Impact gets another earbeating from the referee, but admittedly Imp is probably well within his right to come to his partners aid. There's not necessarily any rule against it, but it's generally considered to be not good etiquette. DDD's back up,
Rich Russillo: LOOK AT PRINCE OF PHENOMENAL!!!! HE'S ON THE TOP TURNBUCKLE, AND HE LEAPS OFF!!!! DIVING MOONSAULT TO THE OUTSIDE!!!!! BOTH MEMBERS OF THE LIQUID SWORDS GET TAKEN DOWN!!! THESE FANS ARE ON THEIR FEET FOR THAT INCREDIBLE MOVE, AND POP PUMPS HIS FIST IN EXCITEMENT AFTER DELIVERING THAT ATTACK! POP manages to drag himself and DDD back up, and as the referee begins his count POP sends DDD back into the ring before following up, stopping the official's count at 'three'. POP slides over DDD upon following him into the ring, hooking both legs this time for the cover!
Ref: OOOOOOOOOOOOOOOONE!!! TWOOOOOOOOOOOOOOOO!!!
James Peters: DDD kicks out! It was a brilliantly executed moonsault, but not enough to put the legendary Mr. DEDEDE away. Now the Middleweight Champion keeps an eye on DDD's movements, as DDD crawls over to the apron on the far side of the ring and looks to use the ropes to pull himself up. Perhaps he also wanted to create a bit of distance as well, but in the wrestling ring distance can be dangerous, so POP follows him up and climbs up to the 2nd rope … and PULLS DDD UP BY HIS FLOWING BLOND HAIR … BEFORE RAINING DOWN PUNCHES TO THE SIDE OF THE HEAD, WITH THE FANS COUNTING ALONG BEHIND EACH BLOW!
Crowd: 1! 2! 3! 4! 5! 6! 7! 8! 9!
Rich Russillo: DDD RAKES THE EYE OF PRINCE OF PHENOMENAL! AND HE FACEPLANTS POP INTO THE TOP ROPE WITH A SITOUT FACEBUSTER! POP stumbles away, and DDD springs over the ropes to deliver a BEAUTIFUL CORKSCREW CROSSBODY ON PRINCE OF PHENOMENAL! NOW A HOOK OF BOTH LEGS!
Ref: OOOOOOOOOOOOOOOOONE!!! TWOOOOOOOOOOOOOOOO!!
James Peters: KICK OUT BY PHENOMENAL! Mr. DEDEDE is back up to his feet and is hovering over Prince of Phenomenal… and delivers a DISRESPECTFUL SLAP ACROSS THE FACE! POP RESPONDS WITH SOME GROUNDED KICKS, LOOKING TO KICK THE LEGS AND THE MIDSECTION, BUT DDD FIRES OFF WITH A FLURRY OF FOREARMS, HAMMERING OVER THE HEAD OF THE MIDDLEWEIGHT CHAMPION! Now DDD hooks POP … PERHAPS LOOKING FOR A DEADLIFT EGO DEATH DRIVER!!! DEADLIFT MICHINOKU DRIVER MAY BE ON IT'S WAY, BUT POP WILL NOT BE TAKEN UP WITHOUT A FIGHT, POP IS KICKING HIS LEGS AND CREATING AS MUCH OF A FUSS AS HE POSSIBLY CAN. … AND HE'S BACK DOWN ON THE MAT, TAKING DDD DOWN WITH HIM FOR THE SMALL PACKAGE PIN!
Ref: OOOOOOOOOOOOOOOOONE!!! TWOOOOOOOOOOOOOOOO!!
Rich Russillo: FRANTIC KICK OUT BY DDD! The two recover, DDD with a kick to the midsection, AND DRILLS POP INTO THE MAT WITH A STANDARD DDT! BUT DDD ROLLS THROUGH THAT, ROLLING HIMSELF AND POP BACK TO HIS FEET, AND DELIVERS A HIGH IMPACT IMPALER!!!! DDD TURNS POP OVER ONTO HIS BACK, AND CONFIDENTLY HOOKS THE LEG FOR THE COVER!
Ref: OOOOOOOOOOOOOONE!!! TWOOOOOOOOOOOOOOO!! THRRRRRR-
James Peters: A DEFIANT SHOULDER UP BY PRINCE OF PHENOMENAL! DDD seems a bit frustrated by that, I think he put every bit of force he could into drilling those consecutive DDT's, especially that high impact impaler. DDD may very well be signalling for the end however, because he's walking over to that familiar place and getting into that familiar stance …. DDD'S KNEELED BY THE TURNBUCKLE CORNER AND HAS A LOOK ON HIS FACE THAT SAYS A THOUSAND WORDS!!!! PRINCE OF PHENOMENAL DOES NOT HAVE ANY IDEA WHAT'S COMING, HE'S HOLDING HIS THROBBING HEAD AND IS TRYING TO RECOVER AS QUICKLY AS HE CAN, BUT WHAT GOOD IS A RECOVER IF YOU'RE GOING TO WALK WORSE INTO A LANDMINE? OR EVEN WORSE, A SPEEEEEEEEEEAR!!!!! DDD TAKES OFF!!!!!
Rich Russillo: POP EXPLODES WITH A BICYCLE KNEE TO THE FACE!!!! POP INTERCEPTS THE SPEAR WITH A MASSIVE BICYCLE KNEE!!! AND NOW DDD'S TRYING TO MAKE THE ESCAPE AGAIN, BUT POP IS COMING RIGHT AFTER HIM, DRAGS HIM UP, AND IS LOOKING FOR THE STYLES CLASH!!!! CROWN OF THORNS MAY BE ON ITS WAY …. BUT DDD'S FIGHTING IT WITH EVERYTHING HE HAS, THE MAN KNOWS A FINISHING BLOW WHEN HE SEES ONE, AND HE'S LOOKING TO AVERT DISASTER – KICKING HIS LEGS AND CENTERING HIS GRAVITY …. NOW DDD COUNTERS WITH A BACK BODY DROP, SLINGING POP OVER THE ROPES! Prince of Phenomenal lands on the apron however, averting a rough tumble to the floor, and as DDD comes after him POP delivers a BIG TIME ENZUIGIRI OVER THE ROPES, CLOBBERING DDD UPSIDE HIS HEAD! DDD rolls away, and POP GRABS AHOLD OF THE ROPES, LOOKING FOR THE SPRINGBOARD PHENOMENAL FOREARM!!!!
James Peters: DAMN IT NO! IMPACT GRABS HIM BY THE LEG FROM BEHIND! THE REFEREE SAW IT, AND BEFORE POP CAN EVEN TURN AROUND, DDD CHARGES BACK AT THE DISTRACTED PRINCE OF PHENOMENAL WITH A BRUTAL HAYMAKER! POP GOES TUMBLING DOWN TO RINGSIDE!
(The official walks over and leans over the ropes, pointing at Impact as he stands at the bottom of the ramp.)
Ref: YOU! ARE! OUT OF HERE!
Rich Russillo: WHAT!?
(The official points to the direction of the dressing room, and Impact immediately protests this in explosive rage.)
James Peters: THE REF JUST SENT IMPACT BACK TO THE SHOWERS! IMPACT HAS BEEN OFFICIALLY BEEN EJECTED FROM THIS MATCH! DDD AND IMP ARE FURIOUS!
(DDD corners the ref, complaining endlessly while Impact backs up the aisle, being consulted by two other referees. Impact barks abusive language at both officials, but they both insist on Impact heading back to the dressing room.)
Rich Russillo: Well the official can only ignore so much! Impact will no longer be allowed back at ringside for the duration of this match, and DDD seems absolutely livid about that fact! But that doesn't look like it'll be the hill he dies on, instead he opts to pursue a recovering Prince of Phenomenal who's down at ringside on all fours, looking out of it after receiving what looked like it could have been a straight up, knock-out blow. DDD follows POP up and drags him up by the wrist just to SEND HIM HARD INTO THE RING STEPS WITH A BRUTAL IRISH WHIP!!! POP'S BODY BOUNCES OFF OF THOSE METAL STEPS, AND WHEN FLESH MEETS STEEL, STEEL WINS EVERY SINGLE TIME!
James Peters: You could tell DDD took out some rage with that attack! DDD drags POP up and sends him back into the ring, and …. and NOW DDD PULLS THE STEEL STEPS OUT OF PLACE!
Rich Russillo: This does not look good at all…. DDD drags the steel steps and slings them over the ropes, right into the ring! The official does not look happy about this at all, but DDD doesn't seem to give a damn what the official has to say after that call! DDD slowly enters the ring, stalking Prince of Phenomenal as he's holding his left arm in a lot of pain, and DDD steps through the ropes to deliver a BIG TIME big boot, taking POP down! DDD steps on POP's chest, and lifts the corna horns taunt while placing the boot over his chest for a brash, arrogant pin.
Ref: OOOOOOOOOOOOOONE!! TWOOOOOOOOOOOOOOOOOOO!!!
James Peters: POP throws the boot off his chest , almost in defiance to the disrespect! AND DDD DROPS OVER POP, DELIVERING A FLURRY OF CLOSED FISTS INTO THE FACE OF THE MIDDLEWEIGHT CHAMPION! THE REFEREE'S DEMANDING THAT DDD LIGHTENS UP ON THOSE PUNCHES!
Ref: 1! 2! 3! 4!
Rich Russillo: DDD completely ignores the official, and the referee manually DRAGS DDD OFF OF PRINCE OF PHENOMENAL! This official has had it up to here with Mr. DEDEDE's antics, and DDD throws up his hands feigning innocence – just to follow up with a boot to the skull of Prince of Phenomenal! DDD walks over to those steel steps and he drags those heavy, jagged metal steps over to one of the corners, and stands them up in an erect manner, leaning against the corner. Now DDD walks back over to Prince of Phenomenal and drags him up by his scruffy hair… just to SEND HIM FLINGING HEAD FIRST INTO THE SOLID METAL STEPS! OUCH! THAT HEAD JUST GOES BOUNCING OFF THAT METAL, AND POP LEANS SEATED AGAINST THE STEPS IN PAIN! NOW DDD BACKS ALL THE WAY ACROSS THE RING……. OH MY LORD NO, DON'T TELL ME… DON'T TELL ME….. SPEEEEEEEEEEEEEARRR!!!!!!! INTO THE SEATED POP WHO'S LEANED AGAINST THOSE STEEL STEPS!!!!
James Peters: POP JUMPS OUT OF THE WAY!!! DDD'S HEAD IS DRILLED INTO THE STEEL STEPS, AND HIS EYES GO ROLLING DAMN NEAR IN THE BACK OF HIS SKULL!!! PRINCE OF PHENOMENAL SPRINGS UP TO THE TOP TURNBUCKLE IN ONE BOUND, AND DDD IS LAID OUT NOT EVEN MOVING, NOT ABLE TO RESPOND …. CHAPTER SIX!!!!!! HOW!?!? HOW IN THE HELL DID HE DELIVER THAT!?!?
Rich Russillo: THAT EPIC SPIRAL TAP CONNECTS ONTO MR. DEDEDE, AND HE DROPS OVER DDD WITH THE COVER!
Ref: OOOOOOOOOOOOOOOOOOONE!!! TWOOOOOOOOOOOOOOOO!!! THREEEEEEEEEEEEEEEEEE!!!
(DING! DING! DING!)
("If I Had A Heart" plays, and Prince of Phenomenal is handed his Middleweight Championship and raises a fist in victory despite not being able to get up from the ground.)
Bella Braxton: HERE IS YOUR WINNER… PRINCE OF PHENOMENAL!!!!
James Peters: ARE YOU KIDDING ME? WHAT A FREAKIN NIGHT FOR THE PRINCE OF PHENOMENAL!
(Impact rushes into the ring, and POP bails through the ropes and celebrates with the fans in the front row.)
Rich Russillo: An absolutely incredible night for that man at ringside! For the first time in his career POP lands a defeat over Mr. DEDEDE in singles action, in the main event of Rebellion – and he leaves this night with the REVOLT! Middleweight Championship as well! This is a night that will go down in REVOLT! history!
James Peters: Impact can only scowl at POP after a victory like that, this young man has hit a stride that we haven't seen in… quite frankly in years! He spent his late teens and early twenties dominating the independent circuit, he spent his mid twenties on top of the wrestling world and now he returns as a man who still has many years left in his career, but ultimately returns in as good – if not better than he's ever been!
(DDD is in the ring recovering, and Impact helps DDD out of the ring while POP is raising his title surrounded by excited fans at ringside.)
(Camera fades to black and the REVOLT Logo Buzzes)