By Michael Lanza
December 28, 2018 9:00 AM
Around this time last year I was still working heavily on the independent circuit, I hadn't yet scored my big breakout gig with EAW and I was freelancing around several upstart companies. Little did I know that a year from now I would be where I am at this moment, giving my review for the biggest company in the world. It's amazing how much can change in just one years time and now that I think about it, EAW could very well be saying the same thing about itself. The Elite Answers Wrestling we know entering 2019 is not the same Elite Answers Wrestling that we knew entering 2018, and that's a good thing. I have covered the pro-wrestling industry for several years and have seen the evolution of it, witnessing many eras. From the SNY era, to AWF, to the EAW and ACW rivalry, all the way to the Beyond Elite era, I've seen names come and go and I've seen companies rise and fall. Never in my 25+ years of covering this profession have I witnessed a company completely reinvent itself in the way that I saw EAW do this year.
We all read the dirt sheets and saw the reports regarding backstage turmoil which eventually lead to a split in the company. It was weird enough to report that EAW's very founder left the company to invest somewhere else, but when it was all said and done everything ended up becoming full circle for the greater good of EAW. We witnessed a lot of stars rise this year, a lot of new faces enter the business and become household names, some major unexpected returns, and we also waved goodbye to some of our most beloved wrestlers. The first quarter of 2018 was plagued with backstage drama from all angles which in turn resulted in a mass exodus of the toxicity that plagued the halls of EAW, ushering in a new era which opened the doors for several new stars to be created. This was spearheaded by the merger with REVOLT! Pro Combat. While the likes of Rex McAllister, Diamond Cage, Jamie O'Hara, and Theron Nikolas was holding the fort down in EAW, stars were being made on the other side of the George Washington Bridge and the wrestling world was taking notice. A lot of people found it interesting how the chairman of EAW would be a member of a company that could be considered a potential rival especially considering the factors that lead to this company's ascension, but that cold day of April 2nd, 2018 changed everything. Names like Sienna Jade, Kassidy Heart, Andrei Sokolova, and Maximus Grier were amongst the most prominent names who everyone looked forward to seeing on a platform such as EAW's. While some of them rose to the occasion, some of them succumbed to the pressure and didn't pan out as we hoped.
The Grand Rampage set the stage for a lot of what we see today. It was at that night where Rex McAllister established himself as a household name by becoming the EAW Champion, which also kickstarted Diamond Cage's quest to avenge his defeat and finally recapture the championship. This essentially set the stage for two Elitist of the Year candidates as well as a match of the year. Darkane arrived during that night as well establishing himself as the number one contender, we all knew it was only a matter of time from there until the championship was in his grasp, ushering in #DarkaneTimes. The unexpected return of Ronn Banks as the 30th entrant sent shockwaves all throughout the world, it was there where he'd eliminate Theron Nikolas and kickstart the feud between the two men which then lead to the screwjob heard around the world at Pain for Pride which then lead to The 1%. Chris Elite capped off his rise to the top, building on the momentum that began in October 2017 after defeating Mr. DEDEDE to obtain the Gawd Contract. He managed to use this contract to his advantage and become the man to end Jamie O'Hara's historic 11-month championship reign. In controversial fashion nonetheless, but it wouldn't be Chris Elite if it wasn't controversy. The feud between Impact and Jamie was one of 2018's brightest moments as two of the greatest of all time clashed in a war of words like only they know how to, week after week. They then laid it all on the line at Pain for Pride in a clash of the titans that saw Impact come out on top. Piggybacking off of the Jamie O'Hara feud, we saw Impact and the spouse of Jamie, Cameron Ella Ava take her shot at facing Impact in a feud that would eventually reunite the Liquid Swords and things went left really quick with the inclusion of Mr. DEDEDE. I think that statement alone speaks for itself, I'm not touching that any further.
The biggest event of the year, Pain for Pride was a moment in itself that I could go on all day about, now that time has passed and the recency bias has worn out, I can look back on this event and say that it is a top 3 Pain for Pride in my opinion, right there with the first two. That aside, my feelings about the event are more of the same as it was when I reviewed days one through four back in June.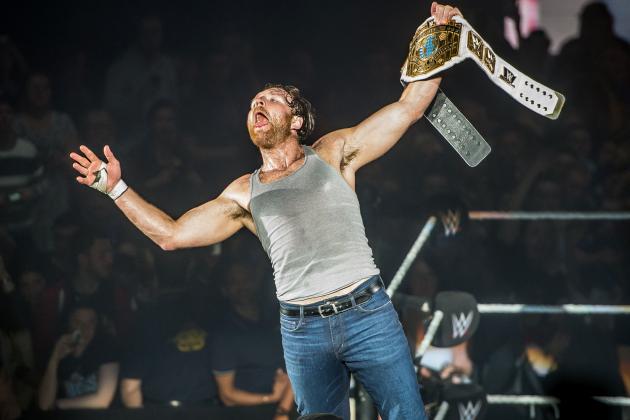 Empire was the brand that really broke out this year and became a huge deal, gaining a cult-like following. Ratings for the brand surged to an all-time high which trickled down to historic ratings for related programs such as True Vixens as well as all-time high merchandise sales. Securing the FOX deal was only the icing on the cake. I won't credit this to the quality of the show or the champion that represented it for 3/4ths of the year because those were absolute clusterfucks that don't deserve any credit. I will credit the talent that made up the brand though. Empire lost its world champion earlier this year and a lot of shortsighted people panicked about what would become of the brand. The arrival of the freeweight division really brought Empire up to another level and did more than make up for whatever little pieces left prior. When people thought Empire would get weaker, it only got stronger and ushered in its strongest pool of talent ever assembled. Sienna Jade, Kassidy Heart, and Raven Roberts were the standouts and three surefire future world champions, then you have the dominos that fell resulting in the arrival of people such as Tyler Wolfe and Remi Skyfire. Long gone are the days when Empire could just be looked at as the show where there is one female who's talent compared to the rest creates a huge gap that allows her to run the brand with an iron fist while everyone else plays catchup.
The competition on Empire has become so perfectly balanced that I could name eight people off the top of my head who I could see winning a world championship on any given day. A big year for returns as we witnessed the legendary Kendra Shamez return to her brainchild and rule as assistant GM. We also saw the return of the longest reigning Vixens Champion of all time, Cleopatra as her arrival immediately shook Empire to its core and changed the very structure of the brand. The Dirti Diva, Amber Keys also made her way back to EAW for the first time in over ten long years. She has been a forgotten legend so to speak over the years. As the all-time great conversation has long evolved from the days of AWF where the likes of herself, Curious Girl, and Jenny Orton dominated those debates, the ascension of EAW in a post-AWF world made those names become afterthoughts as the Sabina's, Kendra Shamez's, and Cameron Ella Ava's would then become the topic of debate. Amber dusted her boots off and made an unexpected return to the ring and has become the most pleasant surprise of 2018 for me return wise, she's proven that can go toe to toe with pretty much anyone from any era. Amber and Cleo helped knock the former champion off of her high horse as we witnessed the rise of the Queen of Death, Madison Kaline's journey finally came full circle as she managed to capture the Unified Womens World Championship to cap off the year. I'm very optimistic for Empire in the upcoming year, I think the Jaded Wolfe Hearts tandem will do some amazing things as a group and as solo entities. Andrea Valentine had a pretty successful 2018 herself but she is primed to go into an even greater gear come 2019. Raven Roberts has the New Breed Championship but something tells me that this is only the beginning for her. There are also some newer names who I will get to later on.
Tag Team wrestling in EAW has always been hot and cold, but we witnessed some pretty amazing teams form this year. Teams like MarrKade and Jaded Hearts have the potential to become all time great tag teams in EAW history in the even that they stick it out. It's very rare that you see two people start out with one another who both display future world champion potential, but when we do see that, those are usually the teams that become remembered amongst the greatest. Jaded Hearts look to chase history and become the first team to ever capture the Empire Tag Team Championships as well as the Unified Tag Team Championships, while MarrKade look to establish themselves as the hands-down top tag team in all of EAW today. They had an amazing year going toe to toe with the likes of Mr. DEDEDE and Cameron Ella Ava, they then dethroned Drillmatic, if they can successfully defend against the Blicky Boyz and then the Jaded Hearts it will be really hard to deny their place not just in 2018-19, but in EAW history. Aside from the two most prominent teams in EAW today, we've witnessed the formation of some very interesting teams that should be looked out for going forward such as The Monster & The Devil, Queens Court, Crowes Nest, The Score, and Black Cabal. I look forward to seeing what these teams bring to the table come 2019, as well as who else emerges.
Biggest concern:
In making new stars, often times you run into the issue of some people getting too much too soon and peaking early, which in turn leads to someone burning out. This has happened in the past, back in 2012 when the likes of Kawajai, Moonlight Predator, and Colin Kaline were all thrust into prominent positions while they rose to the occasion at the moment, they failed to stand the test of time. If there is going to be any concern regarding the likes of the several new names that have become stars this year it will be the question of whether they can sustain their momentum and success and expand their success from just being a moment in time, to becoming an actual legacy.
Biggest surprise:
I'm actually mad at myself for being surprised by this man after all of these years, Mr. DEDEDE's uncanny ability to reinvent himself time and time again is my biggest surprise of 2018. Just when I think I've seen the final form of Mr. DEDEDE he comes back with something that keeps the fans on the edge of their seats, whether it be trolling the LGBTQ community into believing that he's an ally for the sake of making a profit, or stabbing his career-long friend and partner in the back at the biggest stage in order to get one up, settling an old grudge and essentially ushering in a new phase. His participation in the 1% opened the door for a more twisted and sadistic version of himself, where we'd see him terrorize Cameron Ella Ava and her family for months on end in a way that made me second guess why I decided to cover this profession. While he probably might be hiding his face from embarrassment for a while, I'll try to keep my head on a swivel so that when he does return I'm not absolutely appalled at what he has up his sleeve.
Names to be on the lookout for going forward:
While it's obviously only a matter of time before the likes of a Noah Reigner solidifies his spot as the face of this new era, it'd be lazy of me to name the man holding the Cash in the Vault briefcase, or any other person who I have already told people to be on the lookout for in the past. It'd also be easy for me to name the current EAW Champion, Ahren Fournier who capped off a breakout year with his GOAT Champion campaign, and is now ruling Showdown. That'd be too easy. Instead, I'll leave you with two names, Serena Bennett and Drake King. If their performances in their respective Elimination Chambers didn't turn you into believers then you just aren't trying to believe. Drake King is still a work in progress who is finding his voice and lane beyond just the Ok Movement, however that movement spearheaded him into greatness. What started off as a pun and a joke that the fans ironically got behind turned into a serious cult-like following as we've witnessed Drake grow from an upstart to very well possibly becoming the future of this company. If he continues to ascend at the rate that he did in 2018, his success is all but guaranteed. Speaking of guaranteed success, while Drake is still a work in progress, Serena is as close to a finished product as you can get. If her performance at Road to Redemption is any indication of things to come, then Serena Bennett is on a fast track to becoming a top name on Empire sooner than later. For someone who had been forced into a position in the chamber, she looked like she fit right in, coming so close to winning the whole thing as one of the final two. So much so that she's taken notice of the great Kendra Shamez who rehired her and even came out of retirement for a shot at facing her. There are some people who you can look at and just say they have "it", and whatever "it" is, Serena Bennett embodies that. I will go out on a limb and say she'll be a Female Elitist of the Year candidate when it's all said and done.
Biggest takeaway from 2018:
That EAW reign just won't let up. The faces may change but the action remains. In the face of public scrutiny, PR disasters, and a complete overhaul of the company's very fabric, it only came out looking stronger than when it went in. Often times the phrase "new era" gets thrown around but it is safe to say that this was EAW's most tide shifting year since 2014. This year ushered in much-needed change and created new stars just like that. I wasn't sure how it would fare following the merger and the Grand Rampage and I certainly didn't imagine it becoming even bigger, but here we are. It's scary to think that this year only set the stage for what is to follow in the future. With recent returns of legends, the modern day stars, and the future stars who are currently rising, EAW has a perfect clash and mix of talent, the cream of the crop will rise to the top, and 2019 we'll see who that exactly will be.
Michael Lanza is a broadcast journalist and columnist who has covered pro-wrestling since the late 1990s. He has a BA in Journalism as well as a BA in Media Ecology, and worked ten years across Canada as a Hockey, Basketball and Pro-Wrestling analyst. He is an occasional host of Canada-based talk show "Off The Record" which is known for being highly controversial, as Lanza prides himself in asking the 'tough questions' and conducting interviews in an unscripted, uncensored fashion.